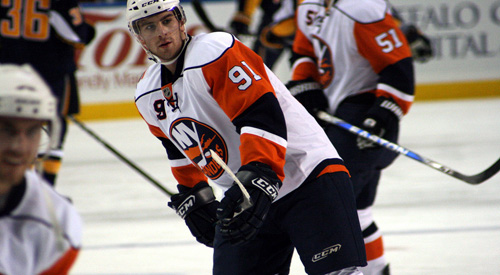 John Tavares, where's my cake?
October 27, 2010
Have siblings? Not me, not yet at least. So I'll have to stick to living my life vicariously through New York Islanders center and long lost chum John Tavares. The reason I bring it up is because we've been going through a lot of changes lately, John and I. We sort of grew up together.
Yeah, sure, he's a genetically-gifted power-play goal scoring hockeybot and I'm a wannabe magazine trapped in a website's body, but It wasn't that long ago when neither of us mattered, at least not on the stage that we wanted. Oh wow those were some times. Boy, has a lot ever changed.
On Sept. 28, 2008, John and I spoke for the very first time. It was the first official interview on TheGoodPoint.com. He was just a whelp back then, no bigger than you or I, still playing hockey for the Oshawa Generals and giving interviews in a Norman Bates tone. He was scoring lots of points, he always scored points, but was held prisoner in a league he outgrew long before.
I remember that you couldn't tell by his attitude, that he would take over hockey, but he eventually would… Okay, it might not have happened yet, but it will.
Back then he talked about how much he liked the Blue Jays and Blockbuster Video. Not the type of thing you'd expect from a potential point-plus-per-game player still shy (even now) of the legal drinking limit in the country he now calls home.
[php snippet=1]
I admit, I expected fancy sunglasses back then, way back before I met him. I expected flash and attitude even though he hadn't technically been drafted yet by an NHL team. Part of me imagined John Tavares putting hydraulics in a platinum-plated Cadillac and then driving around Oshawa freestyling about gold and giving paparazzi the finger. It made sense way back then, to me at least, because come hell or high water he was destined to go first overall in the 2009 NHL Draft. I'd have done it.
But then I remembered that he was barely old enough to drive without the supervision of an adult. And then I met him.
There's nothing quite like thinking back to what it was like back then, back when John had yet to experience what life would be like as a pro and I had yet to experience what it would be like to write about what it would be like to be one too.
He's in his second year with the New York Islanders now, and we haven't spoken in quite some time. I guess when all that growing up happens you're bound to grow apart. One day we'll talk again and I'm sure and I'll remind him about how we talked back then, back before I talked with anyone else.
I wish I could have dropped him a line when Adam Burish slammed him into the ice earlier this season, but couldn't. He left the game and didn't play in the next few on account of a nasty concussion.
I wished we could have caught up when he recovered and scored a goal in his first game back, but couldn't. He got a goal and an assist in the next game too.
And I definitely wish now that we could talk about the hat trick he dropped on Tomas Vokoun and the Florida Panthers last weekend, but in all likelihood we probably won't.
Though it was never something you'd considered up for debate, John matured at a rate far more impressive than either you or I; he left me and my own endeavors off in the dust.
But now don't get me wrong, more men and women celebrate fancy things that he does over in Long Island than what I do over here on the internet, but that's not to say I haven't inspired a high five or two of my own. As a matter of fact I can say quite assuredly that as dominant as John will be over the course of the next two decades (and he'll be dominant), he'll never have the same fan base in the Philippines that I have now. What can I say? They love me there.
The reason I'm bringing all this up now isn't just because John is getting closer and closer to taking over the NHL like last year's Steven Stamkos and I'm stuck reminiscing about the good old days. It's not because of the hat trick either. You see, I'm bringing all this up because I'm not so good at remembering birthdays. Sometimes I even forget my own.
At the end of last month I was supposed to celebrate the second anniversary of my very existence, almost two years to the day that I met John Tavares for the very first time. Naturally, I forgot, given my tendency to do such things and the fact that I have no siblings to remind me with cake.
Though it makes no sense now – it's almost November – it sure would have been nice to at least get a card from the only real person who's been there since day one.
[php snippet=1]