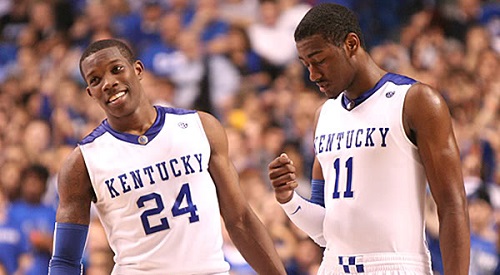 Cat by Cat Comparison: John Wall and Eric Bledsoe
January 11, 2013
Back in 2009, coach John Calipari of the University of Kentucky welcomed a class of recruits for the ages to Lexington. The biggest name in that group was a young man named John Wall, but he wasn't the only highly-regarded point guard to join the Wildcats that season. The other was 6'1" Alabama native, Eric Bledsoe. Despite being forced to log heavy minutes at the unfamiliar shooting guard position to accommodate Wall – and playing in the shadow of his more famous and charismatic teammate for a year – Bledsoe was impressive enough to attract the attention of the Los Angeles Clippers, who traded for him on draft day in 2010 after the Oklahoma City Thunder initially selected him with the 18th overall pick.
In the beginning, the NBA careers of Wall and Bledsoe mirrored their collegiate ones. The Clippers didn't exactly trust Bledsoe enough to give him significant minutes. So while the electric Wall danced and dished his way to an impressive 16 and 8 assists per game and finished second in the Rookie of the Year voting behind Blake Griffin, Bledsoe struggled.  However, starting in the lockout-shortened 2011-2012 season, the fortunes of the two guards started to shift.
That year, with expectations high for Wall in his second season, the Wizards point guard failed to improve on his rookie campaign. His Player Efficiency Rating slightly improved from 15.8 to 17.7, but examining his individual numbers reveals that Wall did not demonstrate significant improvement in any category. Perhaps even more tellingly, the abysmal Wizards once again finished last in their division and were a far cry from the playoffs.
Meanwhile, Bledsoe once again had a relatively unremarkable regular season in 2011-2012, but he began to break out in the postseason. The new-look "Lob City" Clippers completed a first-round upset of the fourth-ranked Memphis Grizzlies in the playoffs and Bledsoe was considered one of the biggest parts of that success. When he was on the court in that series, Bledsoe, a ravenous defender, hounded Grizzlies point guard Mike Conley into .250 shooting on field goals, and a disastrous minus-19.4 rating.
[php snippet=1]
Coming into this season, both Wall and Bledsoe faced intense scrutiny. With Wall, the question was whether he could show real improvement as a player in his third season and finally lead the Wizards to a winning record or the playoffs. With Bledsoe, fans and media were anxious to see whether his incredible playoff performance from the previous season was a fluke, or whether he could break through and become a difference maker for the title contender Clippers.
So far in 2012-2013, the results have been indisputable.
Granted, Wall hasn't really had the chance to respond to his critics given that he has missed every game of the season with a stress injury in his left knee (an injury that was expected to heal in eight weeks, but has dragged on to three months). But with reports that Wall will be returning to the Wizards lineup soon, now seems like a good time to examine the Bledsoe/Wall situation with regards to which point guard is actually more valuable and/or a better player midway through their third season in the NBA.
Although it may be a little unfair to Wall given his current situation, any discussion of these two point guards has to begin with the phenomenal season that Bledsoe is currently having for the Clippers. He's being mentioned as a potential Most Improved Player candidate, and with good reason. The Clippers are winning (a lot), and Bledsoe is putting up standout numbers in limited minutes. He also has more than a few highlight plays to bolster his case.
But the numbers alone aren't easy to overlook.
According to Basketball Reference, Bledsoe has a PER of 19.8 (higher than likely All-Stars Rajon Rondo and Deron Williams, among others). He also has a sensational defensive rating of 97.5, good enough for seventh in the league currently. Spelling Chris Paul, Bledsoe has only averaged 18.5 minutes a game this season, but his per 36 minute stats tell the story of how effective he has been: 16.9 PTS, 5.1 AST, 5.2 TRB, 1.3 BLK (!), and 3.0 STL (!). Those numbers call to mind a young (somewhat less offensively inclined) Dwyane Wade, and if Bledsoe was playing starter's minutes there is little doubt he would be a serious candidate for Defensive Player of the Year.
While Bledsoe has been enjoying a breakout season, however, Wall has been watching from the bench as his Wizards limps towards a likely last-place finish in the NBA standings. To make matters worse, Wall found himself the target of some harsh criticism earlier this season from former Orland Magic coach Stan Van Gundy.
"I don't think John Wall's good enough to be the guy that you build around," Van Gundy said. "I think he's got great speed and quickness, but point guard is a decision-making position. That's what makes you great as a point guard, is your decision-making. I haven't seen any indication that John Wall is a great decision-maker."
It's probably tough for Wall to swallow those remarks given that he isn't in a position to defend himself with his play on the court. But the unfortunate fact is that Van Gundy's statements pretty much sum up the general opinion about the Wizards point guard at this time in his NBA career. What has made Wall such an exciting prospect in the past has been his athleticism and, as Van Gundy alludes to in his remarks, remarkable speed. Michael Wilbon once described Wall's as the kind of quickness "that embarrasses defenders". But that gift of speed may have been part of Wall's undoing. He has the look of a player who has relied strictly on superior quickness and athleticism to excel in high school and college, and has now plateaued using that approach against superior athletes at the pro level.
When Wall is able to use his quickness to get the rim, he fares well, having shot .580 in the restricted area in 2011-2012. But when he settles for a jumper (as defenses often try to force him to do), the results aren't pretty. Wall was a disappointing .310 on midrange jumpers as a rookie, and barely improved to .330 from that area in his second season. He was similarly unimpressive from three-point range as a rookie, so much so that he nearly gave up shooting them in his sophomore year. But he still missed most of the ones he did take, successfully converting a paltry 3 of the 42 three-pointers he attempted in 2011-2012.
With that in mind, the first step towards improvement for Wall is obviously to improve his jump shot. Other speedster point guards like Derrick Rose and Russell Westbrook have been forced to undergo similar transformations early in their careers, and became better players for it. If Wall becomes even a somewhat credible threat from distance, teams will be forced to guard him more closely, which will open up more opportunities for him and his teammates. Another concern is that Wall led the league in turnovers in his second season, averaging nearly four a game. Clearly, Wall has to improve his decision making. But also, if he is able to draw more defensive attention to himself via an improved jump shot, his teammates will more often be in good position to receive easy passes, thereby hopefully eliminating some of those turnovers.
Of course, Bledsoe isn't without his faults, either. Like Wall, his jumper has also been criticized as unreliable. But unlike Wall, Bledsoe has demonstrated improvement in that area throughout his career. His shooting percentages have gotten better in nearly every area this season, particularly three-point shooting. Bledsoe also actually turned the ball more often on a per-minute basis than the notoriously turnover-prone Wall in his first two seasons, but, once again, he has improved each year, and is turning the ball over at a career low rate in 2013-2013, despite a career high in usage rate (meaning he has the ball in his hands more than ever). All this indicates that the previously overlooked Bledsoe has committed himself to improving his skills in ways that the highly-touted Wall has so far failed to do.
Obviously, both Bledsoe and Wall are young, immensely gifted point guards. Wall was more highly regarded at the start, but thus far their careers have been marked by the stagnation of Wall's game and the marked improvement of Bledsoe's. Of course, there could be some coincidence at work here, as well. It's also worth noting that Bledsoe has been serving a two-year apprenticeship under point guard deity Chris Paul while John Wall has been alternately banged up or trying to drag results out of one of the more forgettable rosters in recent NBA history.
But to begin the second half of 2012-2013, Wall is finally healthy and playing alongside two new, talented teammates in veteran big man Nene and rookie sharpshooter Bradley Beal. He is out of excuses. Three short years ago, he was regarded as the next big thing. Today, given his lack of development and injury issues, the Clippers probably wouldn't even exchange once-unheralded Eric Bledsoe for the former No. 1 overall pick in a straight-up trade. Hopefully, John Wall will take that fact as a challenge and dedicate himself to maturing as a player in some of the same ways that Bledsoe has.
If he does, Wall may someday be able to once again overshadow his former teammate.
[php snippet=1]