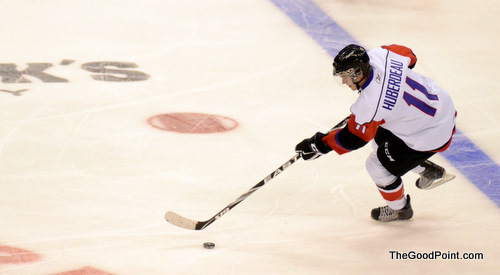 Jonathan Huberdeau: Draft stock on the rise
January 24, 2011
With projected top-three pick Gabriel Landeskog sidelined, and Adam Larsson ineligible as a member of the Swedish Elite League, the 2011 Home Hardware CHL/NHL Top Prospects Game served as an opportunity for a handful of less talked about, yet equally skilled, future NHLers to shine.
Although the other half of the consensus "top four" for the 2011 NHL Entry Draft Canadians Ryan Nugent-Hopkins and Sean Couturier were at the Jan. 19 event, a few less heralded but rising stocks left meaningful impressions on NHL teams.
One of them was Jonathan Huberdeau, a St. Jerome, Quebec native who has been positioned in a multitude of top-20 spots in mid-season predictions.
Ryan Kennedy, a writer and copy editor of The Hockey News, has been the keenest on Huberdeau's talents, granting him the No. 5 spot in their mid-season top-10 ranking. TSN's insider, Bob McKenzie, has him sitting in the nine-spot, while International Scouting Services ranked the left winger just past the half-way point in the first-round, at No. 19. The NHL's Central Scouting Rankings have the 6″1′, 171-pounder in fourth among North American skaters.
It's safe to say at this point that the 18th overall pick in the 2009 QMJHL Entry Draft will surpass his major junior draft spot when the NHL Draft comes along in June.
(Oh, and he could easily pass off as Barney Stinson's doppleganger – which can't hurt his chances.)
[php snippet=1]
After the game at the Air Canada Centre, Huberdeau who was one of four Saint John Sea Dogs skaters to partake in the event expressed the irrelevance of the rankings on his daily life.
"Someone just came up to me after practice and said 'you're a top four'. I don't look at the lists; I don't know when they come out," said Huberdeau.
The Team Orr assistant captain digressed further by noting that he appreciates the consideration but will continue to play as he has since the beginning of the year, in order to alleviate any assemblage of unnecessary pressure.
Clearly he has other things on his mind, like producing for the No. 1-ranked major junior club in the nation.
His New Brunswick-based squad is currently 38-5-1-2 in 2010-11, a record that can be largely attributed to Huberdeau's explosive sophomore campaign. Look no further than the QMJHL leaderboard for evidence as he tops all skaters in plus-minus (plus-39), is in an seven-way tie for sixth in game-winning tallies (five) and is third in total points (69).
The intangible aspects of Huberdeau's play, however, are what is setting him up for promotion in the aforementioned rankings. His dismissal of a third period fight with Myles Bell at the Prospects Game undoubtedly showed team-first competence and grace under pressure.
Huberdeau joked about the unwelcomed invitation from Bell, citing survival as a main deterring factor.
"I'm not a fighter and [Bell] is big. I know him and I said to myself 'I'm not going to go against him – I don't want to die tonight'. I wanted to stay on the ice and play my game."
He had already done his share of damage on Team Cherry anyways, with a goal and an assist in the first two periods. The charismatic forward, who turns 18 on June 4 just 20 days before the draft assuredly illustrated that he has both exceptional talent and a good head on his shoulders.
"At the Prospects Game you want to play like you would in a regular season game. If you want to prove that you can play defense, it's the same thing as scoring," said Huberdeau. "It's important because there are a lot of scouts who want to know what kind of player you are and you just have to play your game."
The next time Huberdeau will travel west to the Greater Toronto Area will likely be in May to compete for the heralded Memorial Cup. However, with months of hockey to be played before the Sea Dogs can make any kind of Memorial Cup travel plans, contributions from their No. 1 NHL prospect will be essential to their success.
Wouldn't it be fitting if 2011 was the year of the Sea Dogs' first Memorial Cup appearance as well as the franchise's highest NHL draft pick?
Jonathan Huberdeau, suit up.
[php snippet=1]