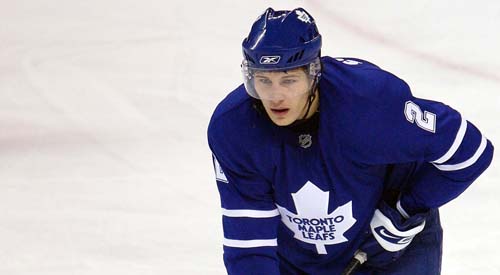 JVR-Schenn trade evidence of heightened expectations
June 27, 2012
The trade that had been bandied about for months finally reached fruition on Day 2 of the 2012 NHL Entry Draft, with the Flyers sending winger James van Riemsdyk to the Leafs in exchange for defenseman Luke Schenn.
Gauging the early analysis of the one-for-one swap, many see it as a good old-fashioned hockey trade.
In Schenn, Philadelphia adds size, physicality and depth to their blueline, something they've been lacking with Chris Pronger suffering from post-concussion symptoms. In van Riemsdyk, the Leafs add size and skill up front, two traits their forward corps has missed dearly the past few seasons.
While the deal certainly addressed some glaring needs for both clubs, this trade also showcases the heightened expectations and scrutiny that high draftees are faced with in this day and age.
Analysts and fans have labeled both players as underachievers, just a few short years into what should be lengthy careers. For van Riemsdyk, visions of a high scoring power forward weren't realized in Philadelphia. While in Schenn's case, the promises of a shutdown defenseman proved to be too much for him to live up to in four seasons donning the blue and white.
The problem that lies at the heart of this issue is the expectations that are heaped upon top prospects in this era of hockey. For top-10 selections – especially those lucky enough to be selected in the top-five – immediate dividends are expected. In a new, seemingly unforgiving hockey landscape, if the jump to the NHL isn't made quickly and swiftly, the term "bust" starts to get muttered in hushed tones. 
[php snippet=1]
There is a prevailing opinion that prospects are better prepared to withstand the rigors of professional hockey at a younger age today, and to a degree, that is true.
Junior players in the CHL have the luxury of playing a pro-like schedule, complete with lengthy travel, back-to-back games and intense training, all while ensuring their homework is handed in on time. Prospects are also educated on the importance of eating properly from as early as 14 or 15 years of age, when the pressure to endear themselves to scouts reaches a boiling point.
While honing skills is integral for those expecting to make the jump from junior to the NHL, in the salary cap era youngsters make the jump simply because young, affordable talent is needed in order to compete. With teams locking up their top talent to expensive, lengthy contracts, players on entry-level salaries represent an economical way to fill holes in the lineup.
For James van Riemsdyk and Luke Schenn, however, the expectation was that these players would step into their respective lineups and contribute immediately.
For the most part, Schenn did what was asked of him during his rookie season, before experiencing the dreaded "sophomore slump." For van Riemsdyk, he was derided for playing two years in the college ranks before totaling 35 and 40 points respectively during his rookie and sophomore campaigns.
Neither player left an indelible mark during their rookie seasons, but both performed admirably.
Schenn was thrust into an undesirable role and rushed to the NHL. This was due in large part to the patchwork defense corps the Leafs had assembled in 2008. With their defense consisting of Tomas Kaberle, Pavel Kubina, Ian White, Jeff Finger, Anton Stralman and Mike Van Ryn at the time, there was a hope that inserting the 19-year-old Schenn into the lineup would improve the team. It didn't. Instead, it created unfair expectations for Schenn; ones he would never be able to live up to.
In van Riemsdyk's case, by the time he entered the NHL, he was buried on the depth chart behind the likes of Mike Richards, Jeff Carter, Simon Gagne, Scott Hartnell, Daniel Briere and Claude Giroux. Seeing a shade under 13 minutes of ice time per game makes his 35 points as a rookie all the more impressive. But the fact that he didn't flourish into the player he will one day become is due to the Flyers not having the necessary room for him to develop properly at the NHL level.
Thus, being labeled a "bust" or an "underachiever" so early into their respective careers is a ridiculous notion. As players with 1989 birth years, the prime of their careers is a ways away yet and to judge them solely on a limited sample size is a less than prudent decision.
It is the estimation of yours truly that van Riemsdyk will flourish given that he'll receive ample opportunity to put his prodigious skill set to use in Toronto. Likewise, Schenn will benefit from playing on a deeper team with more talented players.
These two players aren't the only ones in the league that face the unrealistic expectations from management, analysts and fans however. To further illustrate the sometimes-asinine hopes and projections heaped upon high draft picks, take a look at the competing and prevailing opinions of two other young players associated with the Leafs and Flyers in Nazem Kadri and Brayden Schenn respectively.
Expectations were sky-high for both after being selected fifth- and seventh-overall in the 2009 NHL Entry Draft, but Kadri has faced undue scrutiny, while Schenn revels in glory thanks for the success Philadelphia enjoyed last season. In the eyes of many Kadri is already a bust, having not made his mark, or even played a full NHL season for that matter, only three years removed from his selection. To hear fans and analysts tell it, Schenn is the second coming on a young, dynamic, exciting Flyers team.
Yet, how one bestows the "bust" label upon Kadri and the "future star" label upon Schenn is beyond me. They are different players, with Schenn playing a rugged two-way game and Kadri playing an agitating skill game. Kadri currently has 19 points in 51 career NHL games. Schenn has 20 points in 63 career NHL games.
This is precisely why expectations need to be tempered when discussing and debating prospects and young players alike. It's too early to call players such as Luke Schenn, Kadri and van Riemsdyk "busts" or "underachievers." Likewise, it's too early to determine if Brayden Schenn is a future star or not. All four players have unrealized potential, but that potential can be damaged if they're not handled in the right manner.
The realization that taking the time to develop one's skill set at the junior, NCAA or AHL level is nothing but beneficial to a young player's career and would go a long way toward eliminating the hyperbole that has become so prevalent in today.
And as much as many hate to admit it, the lockout of 2004-05 proves this.
With players such as Jason Spezza, Eric Staal and Thomas Vanek plying their trade in the American League during the lockout, their improvement was marked. All of those players returned to the NHL better prepared to make an impact due to their time in the minors, and it's something to which we get to bear witness on a nightly basis in the present day.
The key to refraining from setting up one's self for disappointment with regards to expectations from a top prospect in this day and age is not only expecting a little less, it's realizing that achieving success, like all good things, takes time.
[php snippet=1]