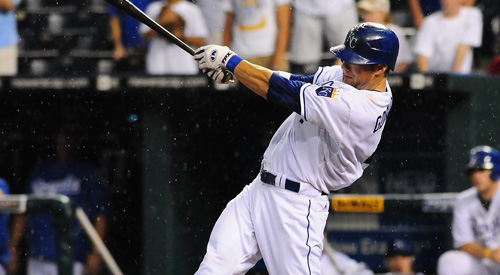 How the Kansas City Royals are building a playoff contender
April 20, 2012
Justin Verlander starts Alex Gordon with a fastball low and away for strike one. Gordon steps out, gathers himself, and promptly laces Verlander's changeup down the right field line for a double. Eric Hosmer then walks on five pitches.
Billy Butler, a hitter with veteran poise at the ripe age of 26, pushes the ball toward the right field foul line; it drops in, barely escaping Brennan Boesch's diving grasp. Gordon scores and the Royals are tied with the Tigers 1-1.
Jeff Francoeur strikes out, and Mike Moustakas thought it looked fun so he does so too.
Not an ideal inning for the Royals, but still an indicator of the type of team they'll soon become.
Built around a core group of Butler, Gordon (28), Moustakas (23) and Hosmer (22), the Royals are ready to buck the idea that they're simply cannon fodder for playoff-bound teams. They're ready to turn Kauffman Stadium into a fortress. They're ready to prove to the league that to associate them with continued mediocrity is a mistake.
At nearly every position they have one of the following: a) a young, developing player who's beginning to make strides in the big leagues, or b) a high-level prospect close to – or at least expected to be – making a big league appearance.
Here's the list. 
[php snippet=1]
Catcher: Salvador Perez (21) is a promising player who hit .339 over 39 games with the Royals after being called up. He's also signed to a long-term club friendly contract. He's currently on the disabled list due to a lateral meniscus tear, but the injury isn't expected to have any long-term effects.
First Base: Hosmer nearly won AL Rookie of the Year in 2011 and shows a ton of upside. He will be the centerpiece of a Royals offense which already features solid hitters in Gordon and Butler.
Second Base: Chris Getz (28) currently holds down the spot but prospect Christian Colon (22) is a solid defender with the potential to provide more offense than Getz. He won't be a star on the Royals' current team but could become a solid contributor who will bring depth to the Royals' line-up.
Shortstop: Alcides Escobar (25), the former Brewers' shortstop, possesses a great glove which occasionally flashes with a golden hue. His bat is weak and he's probably thought of best as a poor man's Elvis Andrus, but by playing premium defense at the premium position he brings a ton of value to both the Royals defense and pitching.
Third Base: Mike Moustakas is a sure-handed defender who's flashed a potent bat in the Royals system. He's yet to have a major impact in the bigs, but is still young and occasionally goes on hitting streaks which have excited Royals' fans. There's currently a limited number of third basemen who can both field their position well and bring fear to opposing pitchers, so if Moustakas can develop the way he's expected to he'll make the Royals one of the few teams with a combo-threat at third. If he doesn't work out, the Royals have Cheslor Cuthbert (19) in their minors. Cuthbert could develop into a balanced hitter with power to all fields, and if both he and Moustakas develop well the Royals will have a wonderful problem to navigate. Moustakas and Hosmer will make a lot of outs together over the next five years.
Outfield: Francoeur mans right and has rebounded with the Royals to put up decent offensive numbers while using that cannon on his right shoulder to cut down base runners, but he's seen as more of a stop-gap until some of the Royals outfield prospects can make it to the show.
Wil Meyers (21) will likely take over for Francouer, possibly by the end of this year. The converted catcher can flat-out hit, lighting up the Arizona Fall League last year with a .360 batting average to go along with a .481 OBP, four home runs and eighteen RBIs. A solid showing at Triple-A this year will solidify Meyers as the right-handed bat to slot in between Hosmer and Moustakas, giving the Royals a fearsome punch in the middle of the order.
Bubba Starling (19), was the fifth-overall pick in last year's draft and it won't be long before he's listed as the Royals' top prospect. Still a few years from any kind of big league appearance, Starling is the kind of five-tool player teams build around to become great. What's better is that by the time he makes his appearance, the Royals should have an enviable group of young starters beginning to enter their primes. The Royals team that Starling debuts with has the potential to be scary-good.
Lorenzo Cain (26) is the current Royals center fielder. Another Brewer farm-hand, Cain is an average player who helps his team on defense and has the potential to be an average lead-off man. A solid base runner who gets on base at a reasonable clip, Cain will never be a star, but teams rarely field stars at every position (yes, ghost of Steinbrenner, except your team), and Cain won't hurt the team by playing 150 games a year. He plays slightly above average and should be at least a 1 WAR player for the Royals each season.
If – and that's a big if – these position players develop well for the Royals, they will not only have a deep and powerful lineup, they'll have an athletic and rangy defense. Their pitching will only have to be somewhat effective to rack up a ton of wins. But really, the Royals' pitching talent should be well above average.
Speaking of the hurlers, starting pitcher Luke Hochevar (28) fits in more as a number three or four than ace. And if he remains with the team, he will provide the Royals with some much needed pitching depth.
Jonathan Sanchez (28) fills a similar role. He has awesome stuff but poor control and isn't the kind of starter you want to send out in game one of the World Series. As a starter near the back end of the rotation though, he provides excellent value.
Danny Duffy (23) may feel a little forgotten. The lefty debuted at age 22 and after a solid showing in the minors,carried high expectations. He stumbled, posting a 5.64 ERA, but his xFIP (Expected Fielding Independent Pitching – basically an ERA that's been adjusted to remove unfair fielding factors – see fangraphs.com for an in-depth description) was a more respectable 4.53. And at only 23, Duffy still has time to improve. He has an upper 90s fastball with a few decent off-speed offerings and if he can keep the ball down (as he did in the minors) he should develop into a high-end number two starter, or possibly their number one.
Mike Montgomery (22) is the Royals' best pitching prospect. When he makes it to the bigs it will be down to him and Duffy for the number one spot in the rotation. He possesses high-end stuff with solid build (6-foot-5) and will form a great one-two punch with Duffy. His last year was a bit of a disappointment as he posted high walk and hit numbers which saw his ERA skyrocket. However, the stuff is there, and if he makes strides in the minors in 2012 he'll find himself in the Royals rotation by the end of the year.
Jake Odorizzi (22) was acquired from the Brewers in the Zack Greinke trade along with Escobar and Cain. Odorizzi isn't projected to reach the level of Montgomery or Duffy, but should be a decent option in the rotation after them. Matched up against the middle of other team's rotations, Odorizzi will provide the Royals with a number of quality starts while striking guys out and keeping the ball in the park.
If there's one hitch to the Royals rebuild it is the lack of a dominant front-line starter. They'll have a deep rotation which should win them plenty of regular season games, but when it comes to those postseason starts, where one loss can change the momentum of a series, they may not have the stopper of some other teams.  They won't have an ace like Verlander, Roy Halladay or CC Sabathia, but fortunately, their bevy of hitting prospects can be used as trade bait for a starter. The Rays' David Price may be available by the time they're ready to make a run and the Rays will always trade if they're offered the right value.
It won't be this season, Royals fans. It may not be the next. But it cannot be doubted that this is an organisation on the up. And more than that, it's an organisation that has developed internally and as such will be able to control their roster for an extended period of time. A Royal revival is under way.
[php snippet=1]