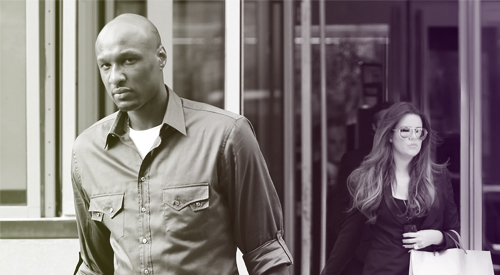 The Kardashian distraction: Lamar Odom and the Lakers' implosion
August 2, 2011
The Los Angeles Lakers are coming off their least successful season in half a decade. With the greatest head coach of all time making his supposed victory lap, the two-time defending champions came up way short of expectations.
Things were especially ugly at the end, with the Lakers squeaking past the New Orleans Hornets only to be swept by the champion Dallas Mavericks, routed heartily by 36 points in Phil Jackson's final game.
Sadly, the twice-reigning champs didn't even go down fighting (unless you consider Andrew Bynum sucker-punching a man two feet shorter than him, then maybe).
Either way, this is not what we're used to from a team coached by a man rightfully believed to be the supreme wizard of basketball. It was hardly a proper ending to a legendary coaching career. Some are quick to blame bad ingredients for a terrible meal, but perhaps this is why Jackson was more depressingly coy than usual in press conferences following the meltdown.
Or maybe Jackson was just done with all the drama. After all, in his historic career this is the first time he's seen one of his players star in his own reality TV show. NBA players have always had an ego, but never have they had an apparatus like reality TV that allows them to unabashedly stroke and cultivate their marketing-friendly personae.
This, however, is Lamar Odom's life now.
[php snippet=1]
If I was a man in his 60s with the sensibilities of an English Lit professor who dabbled in soft drugs, the last people I might want to associate with are camera-people from E! Entertainment. I'd also have a slight concern that the glitz and distraction of the Kardashian sisters might also render my sixth man unable to properly concentrate on basketball.
Kobe Bryant, the maniacally obsessed superstar devoted to becoming the greatest champion ever, is pissed too. The first one to know his kingdom is in trouble is always the King. On that fateful May night when Dirk Nowitzki's Mavericks embarrassed the reigning champs, you got the sense that Bryant, from his metaphorical throne perched atop the Staples Center, started to see a once-mighty empire fall apart at the seams: Bynum picking on children, Odom jealously shoving Nowitzki like a flustered buffoon, and the rest of his purple and gold troops throwing down their swords.
Learning from Jackson, Bryant is playing his cards close instead of yapping at the mouth, and making it count with his actions.
Perhaps it was NBA union rep and long-time teammate Derek Fisher who mentioned to Bryant that it would toss Lakers' owner Jerry Buss for a loop if he explored options of playing in Turkey during the NBA lockout, Bryant must've looked back and realized the current Lakers don't have the bright future he thought they once did.
LeBron James' exodus to South Beach stole the attention that the Lakers were owed (ie, an attempt at Jackson's unprecedented fourth three-peat and Kobe's MJ-tying second), Blake Griffin is quickly supplanting Bryant as the high-flying King of L.A., and with NBA labor negotiations in a bad, bad place, the future seems much less purple and golden for the Black Mamba.
Bryant's interest in playing in Turkey does much more to aid his NBA brothers than his Laker brothers. After a season spent not practicing to save his ailing knees, a season of who-knows-what-to-expect foreign ball is not going to be good his body and, in turn, the Lakers' hopes. As the single greatest player of his generation and the most important active veteran in the NBA, Bryant's dedication to the NBAPA cause is admirable and no one should blame him for putting the union before his team.
In combination with the work stoppage, the amount of distractions around the franchise even on a good day may have likely made the decision to explore international options easier for the increasingly-sensible Bryant.
At the center of the Lakers' unabashed self-interest is Lamar Odom. A useful life lesson is that the person to blame is usually the one with their own reality TV show.
Now, I, personally, haven't seen every episode of Khloe and Lamar, but I do believe that Khloe Kardashian may indeed be a succubus. Let me explain.
Khloe and Lamar is about, what else, the lives of Khloe and Lamar. It also includes their friends and family: the Kardashian sisters, Odom's brother-in-law and professional leech Rob, as well as managers, drivers and other people with whom they occasionally interact, including some of Odom's Laker teammates on occasions. It's one of those scripted reality shows where the primary stars are led to a series of promotional events interspersed by contrived arguments, with bad situational editing and an offensive lack of criticism for obnoxious behavior.
It's representative of a new dangerous cross-promotion between the entertainment industry and the NBA, one that fans of the game approach with caution. Along with sound effects during games and the increase of luxury boxes in stadiums, it's one of a number of ways the NBA, one might think, is trying to make the league less about basketball and more about brand.
One episode of Khloe and Lamar involves Khloe's insistence that Odom talks to and makes amends with his estranged father that always asks him for money. Because the couple had the B-list Hollywood version of a shotgun wedding and don't seem to know all that much about each other, Khloe doesn't know that Odom's father is a deadbeat dad that seems to use his as an ATM. Khloe doesn't know that every time her husband is forced to confront this, it's an obvious source of shame. After lots of passive-aggressive nagging, Odom is finally confronted by his wife and forced to deal with his dad via speakerphone in the back of a limo in front of the E! cameras.
In the scene, you can tell Odom is embarrassed, no one likes having their dirty laundry trotted out in front of the national media – especially not having their masculinity undermined by a new wife in the process. Always the agreeable star to open up to the camera to promote his personal brand, Odoms tells all about his delinquent, uninspiring father. Khloe, glowing like the fame hungry, attention-obsessed ego-maniac that her and her sisters are celebrated for being, relishes in the spotlight of being the loving wife of what she wants you to think is her tragically-broken husband.
The show isn't all that different from the various incarnations of Basketball Wives that are in themselves a cottage industry to entertainment media and professional basketball in Hollywood. The shows paint the NBA world as exotic, rich and glamorous.
The Kardashians introduced everyone to this kind of obnoxious-glamour-wealth and have linked it to the NBA, with Odom and Khloe as well as Net's forward Kris Humphries' upcoming marriage to Khloe's sister, Kim, doing just the same.
In Odom's case, he represents something valuable to the Lakers that has nothing to do with winning basketball games. Given the other ways he is able to make a contribution to his team, it makes his 2010-11 Sixth Man of the Year award all the more fitting. The number of Lamar Odom jerseys sold will jump some percentage points due to his newfound popularity, and Kim, Khloe and the other one might make news on gossip sites for going to Lakers game and making the Staples Center an instantly more appealing place to be seen.
Other than that, the benefits to the Lakers and to basketball fans are slim to none.
In the second month of the NBA lockout with no end in sight, things have never been more unpredictable in the NBA. The very viability of players to make huge salaries that feed their families and entourages is at risk, and players are banking on their celebrity to remain in the spotlight – whether through shoe endorsements in China, playing in Turkey, or in Lamar's case, allowing an audience of millions to see first-hand how his wife refuses to allow him to make basic decisions about his own life.
Now the Lakers, the NBA's flagship franchise, are arguably facing the biggest transition since the arrival of Shaquille O'Neal in 1996. The flagrantly ugly end to their playoff run, Phil Jackson's retirement and the not-so-smooth non-hire of non-replacement Brian Shaw (the job, of course went to Mike Brown), Ron Artest's spiritual awakening, Bryant's knees succumbing to whims of Turkish hardwood, and the oft-awaited changing of the guard in the Western Conference all point to the fact that the Lakers' next season might be more of a disappointment.
The Kardashian Distraction is the one thing that makes trading Odom nearly impossible, which is sort of a Catch-22 for the Lakers. Odom's personal and business interests are too tied to the entertainment industry, and his life is now so firmly ingrained in the LA scene that it would be silly (professionally and economically) for the fading veteran to start new somewhere else. His TV show doesn't work in Minnesota or Utah or Toronto – if they try, it becomes something so absolutely condescending he'd alienate hard-working small market fans. For the few NBA markets that could keep his TV show a demographic fit – the Knicks and Clippers, maybe one or two more – it's hard to picture them making space for Odom (and his contract, and his baggage) when they already have huge marketable stars in the infancy of their tenures.
While the Lakers struggle to get back to championship form, it will be a difficult route that may not include Kobe Bryant. With him gone, this leaves a gutted Laker team with no real basketball stars but players that are still marketable. If there is one team able to rely solely on hype and style it is the Los Angeles Lakers, I just hope it doesn't come down to that. We don't need another Clippers team in L.A.
[php snippet=1]