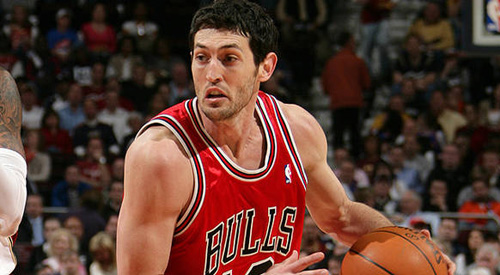 The Hinrich Maneuvre
October 31, 2012
As fans of any major sport, we all have favorite players growing up. There are those we naturally root for and others we choose to root for – it could be for any reason – their talent, their grittiness, their attitude. A player might just happen to be one of the best players on your favorite teams or perhaps they played for the college you once attended. Sometimes they're the best in the league and many times they're not.
Back in high school, I had a pair of Kirk Hinrich autographed basketball shoes on my shelf at home. The Chicago Bulls had been so bad for so long – until Kirk Hinrich came along. I was one of the few who consistently watched the Bulls through their post-Jordan last place finishes. But after Hinrich joined the team, it was suddenly competitive again, a playoff contender with a seemingly strong nucleus including players like Ben Gordon and Luol Deng.
LeBron James, Carmelo Anthony, Dwyane Wade, Chris Bosh, and Hinrich, what do these 5 players have in common? All were taken within the first seven picks of the 2003 NBA Draft, and the five of them also made up the NBA All-Rookie team for that season. The Bulls and the fans were hoping Wade, a Chicago native, would drop to them at pick number seven. Still, coming off a great career at Kansas, Hinrich was a Bulls fan himself and excited to play for his favorite team growing up. Trust me when I say, at the time, it made sense that Hinrich developed into my favorite player.
Hinrich played seven strong seasons with the Bulls, all the way through Derrick Rose's sophomore season and an epic 2010 playoff series with the Boston Celtics in which he and Rajon Rondo had to be separated after going at it on multiple occasions. Even after such a long time in Chicago, and after moving to shooting guard and the role of defensive specialist to accommodate Rose at the point, Hinrich was still showing the passion, grit and integrity that endeared him to Bulls fans in the first place.
[php snippet=1]
The infamous summer of 2010 then came along – one in which James, Wade and numerous other stars were free agents. The Chicago Bulls wanted to put themselves in a position to sign two max-contract players to play alongside Rose. The Hinrich trade was nothing more than a necessary evil to make room on the payroll for this possibility. When he left after the Bulls traded him to the Washington Wizards, Hinrich ranked eighth in Bulls history in points (6,902), first in three-point field goals made (812), fourth in assists (3,004), fourth in steals (655), sixth in three-point field goal percentage (.379) and seventh in minutes played (17,502).
There was no doubt that Hinrich's career in Chicago had been strong. He didn't become a star like the guy the Bulls originally wanted, Wade, but he had been a solid player and a fan favorite. The Bulls ended up settling for Carlos Boozer during the free agency bonanza, but they still went on to lead the NBA in regular season wins thanks to Rose's MVP season and the replacement of former coach Vinny Del Negro with Tom Thibodeau.
Meanwhile, Hinrich was solid but struggled to find his niche in Washington and with his next team, the Atlanta Hawks. His minutes and overall stats declined quickly from what he had put up as a Bull. Yes, the University of Kansas had retired Hinrich's No. 10 Jayhawks jersey in 2009, but outside of small circles there in Lawrence, and in the city of Chicago, Hinrich's name didn't ring much of a bell.
After Hinrich was traded, I had figured it was time for me to take those autographed shoes off that shelf and put them to use. For two years of pick-up basketball, I wore this eventually ragged pair of kicks out until it wasn't even safe to wear them anymore. When someone guarding me happened to spot my autographed shoes, they would often ask, "Who signed them?" There was nothing they could do to hide their disappointment in my answer. Maybe I should have just lied and named one of my current favorite players, but for some reason, I retained some leftover pride that I was wearing these shoes autographed by another individual who had once been my favorite player, removed from that title thanks to time and circumstance. The days of Hinrich leading the Bulls were definitely over, and NBA fans had quickly forgotten he had ever done it in the first place.
During the 2012 NBA Playoffs, Rose tore his ACL and the Bulls went from title-contenders to a first-round knockout. With Rose scheduled to be out for an extended period of time, there was clearly an opening at the point guard position for the Bulls and as luck would have it, Kirk Hinrich was a free agent. To Bulls management, he seemed like the perfect stop-gap as point guard and he was interested in the position as well.
I've heard some Bulls fans and analysts confused by the move, thinking it to be a step backward. In reality, the exact opposite is true, as Hinrich knows how to run a team and will still be able to contribute, especially defensively, once Rose returns to the fold. He's not the player he was when he made the All-Rookie team or even three seasons ago, but nobody should expect him to be. He's here to lead the Bulls through a tough time without one of the best players in the league. He won't put up impressive stats and he will probably struggle at times, which is fine. Considering the monetary restrictions in the NBA today, there wasn't a better move the team could have made to stay competitive without negatively impacting their future. It's easy to expect a bigger move having become accustomed to watching your team lead the league in wins, but sometimes you need to accept the cards you are dealt.
Derrick Rose is injured and nothing is going to change that for the time being. Good organizations know how to make the best out of a bad situation, and the Bulls – the league leaders in wins the last two years – are just that. Even though they would be better off with the 2010-11 MVP playing, there is some part of me excited to see Kirk Hinrich back and playing point guard for his original organization one more time.  No, it doesn't make any sense on paper. It doesn't have to. But maybe, just maybe, it will work out.
[php snippet=1]