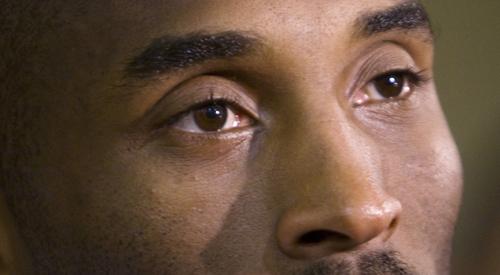 Kobe Bryant was born in my backyard
May 27, 2009
When I was nine years old I had a tree fort. It was pimp. In a sense, it was within those four wooden walls where the thought of this very website was conceived. Amongst those trees late in the summer of 1996 I stumbled upon a revelation that would forever alter the direction of my life.
I'm tempted to say I never knew back then, but that would be a lie. After unwrapping one particular pack of UD3 basketball cards (an overpriced by-product of Upper Deck's monopoly on the trading card market) my world would change forever.
Though I'd long been familiar with the NBA on NBC and had a special place in my heart for Dennis Rodman and the Chicago Bulls, my allegiance as a sports fan had yet to be declared. As any youth raised in the clutches of Canada, my relationship with the nation's frozen past-time had subtly flourished. Whether young Austin Kent would succumb to the throes of the hockey-obsessed or escape into the comparatively untraditional realm of basketball fanhood was still very much up for debate.
I'm wearing an oversized t-shirt in my memories of that fateful day, with a perfectly-crafted mushroom cut hidden beneath a backwards cap and the sounds of Alanis Morissette echoing in the background. I'm not alone as I seat myself on a balcony extending out towards my tire swing – trading cards in hand – but I may as well have been. As far as moments in time are concerned, this was the one where I discovered Kobe Bryant.
Foil packaging tossed aside, mouth open and transfixed, I pause to survey each artefact like a palaeontologist at work in the Montana plains. Deliberately memorizing each published statistic before flipping from one card to the next, I develop a mind that would go on to hold more needless statistics than Mike Breen's laptop. Latrell Sprewell, Anfernee Hardaway, Gary Payton. These are the figureheads that have come to symbolize my youth, accompanied by the one who would forever change it. I'm speechless when it happens.
[php snippet=1]
Seventeen-year-old Kobe Bryant is leaning back against a brick wall, his knee uncomfortably propped to hold a basketball as he rests. Two more balls lay beside him casting shadows amongst his weight-bearing foot. He's different now than the man you see today; younger, lankier and infinitely more impressionable. He has thin white stripes on the rims of his shorts and a U-neck Lakers jersey. What he lacks in street cred (or his now trademark scowl) he makes up for in child-like approachability. He looks like the type of boy who would take Brandy Norwood to his high school prom. He was that type of boy.
This was a photo opportunity for a series of rookie cards in a 60-card set. Today the lot can be had for less than $50. The card itself has since vanished from my possession, likely misplaced or ruined, but its impact remains. It's a fitting and typical end for any childhood Holy Grail.
In the 13 years since that moment when I was first exposed to Bryant, much has happened. Championships happened. Allegations happened. Even 81 points happened. In my own life, a significantly less exciting transformation happened as well. As kids unfailingly grow up, so too did young Austin Kent, but not without vivid recollection of a mantis-looking rookie out of Lower Merion.
There was something intriguing about Kobe Bryant back in the late 1990s, an energy you could sense before beginning to define. For the hordes of pre-Colorado Lakers haters, it was the cheapened stench of one man's marketability surpassing his ability to produce; his arrogance overshadowed only by his unearned reputation. Here was a bony kid with no business in the NBA All-Star game riding the coat tails of Michael Jordan's legacy farther than anyone dared before.
For the Bryant faithful, it was simply the intangible manifestation of a post-Jordan star. It was comforting to know that the NBA's image rehabilitation process had proactively begun. In anticipation of an eventual Michael Jordan retirement, the league had mobilized, happily led by a fool-hardy kid who jumped high and bit off more than he could chew.
That summer before his rookie year, Kobe Bryant hadn't yet won the 1997 Slam Dunk championship nor debuted alongside Shaquille O'Neal at The Great Western Forum. He'd never been coached by Phil Jackson, won championships, been married, cheated, gotten ripped apart by the media or had any tattoos. His slate was clean and his portfolio empty.
It wasn't long after I identified that skinny Laker as the player through whom I would live vicariously when his name started to mean more to me and to everyone else than I'd originally anticipated. Suddenly the unexplainable attachment I'd had to this glossy piece of cardboard would take on the form of faith and vested interest. The bandwagon I'd unwittingly climbed onto began rolling faster and faster and the evolution of Kobe Bryant had officially begun. My vested interest soon blossomed to fixation and eventually obsession.
What happens next is no secret. Boy grows up while NBA rookie turns to NBA star. Boy becomes manboy and eventual man while NBA star transcends stardom to reach global icon status. Boy-turned-man detaches himself from childhood hero in attempt to unbiasedly cover basketball for TheGoodPoint.com.
Though much has been said about Kobe Bryant's history with adversity, this very month his legacy is at stake. The reputation he has meticulously crafted over the past decade has been called into question by LeBron James and the Cleveland Cavaliers.
After surviving the inherent character defamation of a bitter split with Shaquille O'Neal and sidestepping a legal nightmare in 2004 that would forever mar his career, Kobe Bryant has to finally defend his status as one of the NBA's greatest players. Win the championship, and he's one step closer to supplanting Michael Jordan as the greatest shooting guard in the history of the game. Lose, and he's out of the conversation forever. Lose to the Denver Nuggets in the Western Conference Finals, and he never should have been there.
For the fans that have loyally stood by the arrogant, callous and perhaps "true" Bryant for the past five years, this post-season is truly telling. Meanwhile, the masses who originally hung onto the pre-Colorado mini-fro toting high school phenom have since left the party. Nobody left is in this for his personality but rather his hell-bent lust for greatness. To see him fail is to see their investment fail.
These days, humbled by rain and the trials of time, that tree fort from so long ago sits silent and unperturbed. Its former inhabitant, caught up in the chaos of the 2009 post-season, stops to reflect on that summer of 1996 before turning on the television to see if the hunch he had then will actually come true.
[php snippet=1]