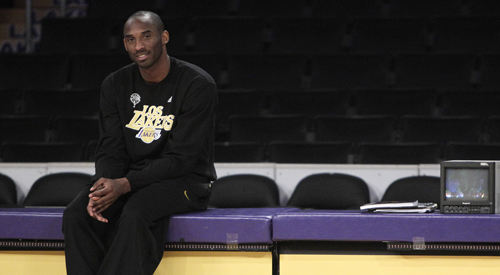 Bryant to be front and center in NBA Finals
June 3, 2010
These are the days of wine and roses in the NBA. This is the time of the year that anybody and everybody looks forward to: the best-of-seven NBA Finals.
Nitpick all you want, but this is the classic Finals matchup, the one that seems universally constant: Lakers versus Celtics. The two teams you're more likely to see on ESPN Classic than any other.
Doesn't it feel weird that in a league with 30 teams; a league where every team is subjected to a salary cap and talent is spread so thin, these two teams should end up here again for the second time in three seasons?
There just isn't a ton of room at the top, I suppose.
Yes, the Lakers are good. But they aren't great. Would this season's Lakers get past Shaq and Kobe in 2000? Or past Magic and Kareem? How about Wilt and West? In a best of seven?
See, that's the catch, the inevitable equalization of pro sports. The more people watch, the more money flows into it, the more even the league becomes. Teams are limited by what they spend. If you're lucky, your team has a superstar, not two or three.
[php snippet=1]
Inversely, though, this means the impact of a good player is much greater. One really good player means so much more when he is the team. Witness the Toronto Raptors, sans Chris Bosh.
Another example: Kobe Bryant, who, if you haven't noticed, is having an amazing postseason. He's playing an average of 40 minutes, scoring about 29 points and handing out six assists per game. This great play is what's carrying the Lakers to the finals. I don't think it's too early to realistically consider him for Finals MVP.
It's an easy call and with plenty of good reason; the biggest reason, of course, being that statistically, 2010 has been one of his best postseasons.
So far, his numbers are better than three of his trips to the Finals with Shaq (they're pretty close to his 2001 numbers: 43 minutes, 29 points and six assists per game). They're not far behind last season's, either.
This extends to a game-to-game basis, too. In the final four games of the Western Conference Finals, Bryant scored at least 30 points. In three of them, he had what I like to call a rich man's double-double: more than 10 rebounds/assists and more then 10 made baskets.
But a closer look shows just how valuable Kobe is right now: he has the highest PER (25.2) of anybody left in the postseason. He's second in the NBA to teammate Pau Gasol in Win Shares with 2.5. His usage percentage – a metric defined by Basketball Reference as an estimate of how many plays use a player – is 32; when he's on floor, almost a third of the Lakers' plays use him. Obviously, he's important to the Lakers success.
Think back to game five of the Western Finals. The Suns tie the game with 3.5 seconds left on a three pointer – their third shot that possession. Who did the Lakers go to for the must-hit shot?
They made sure that it was Kobe – not Gasol, not Freddie Bynum, not Ron Artest – who was taking the biggest shot of that series. Taking the inbound pass from Lamar Odom, Kobe dashed to his right, found an opening between Steve Nash and Grant Hill, spun, jumped and let one go.
Sure, it missed, but think about the dynamics of that shot. He ran to his right, moving away from the basket. When he took the shot, he was facing the stands and had two men right on him. Run, catch, jump into a spin and shoot, all in less than two seconds. Yeah, it was short but it was on line, too.
How many players could hit a shot like that? How many could even get that shot off? Not to mention that in the pivotal game of the series, Bryant had 30 points, 11 boards and nine assists.
Yeah, Kobe is an easy pick for Finals MVP. But don't take my word for it, take it from Jerry West, who called Bryant "the greatest Laker player we have ever seen" in an interview on Fox Sports Radio.
That's from a guy who was there for Wilt and Kareem, and Shaq and Magic, for titles over the Knicks and over the Celtics. If anybody knows what great is, it's him.
[php snippet=1]