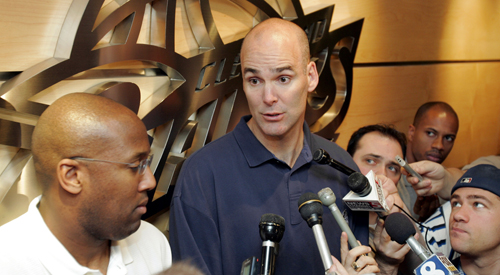 Winning over LeBron James
August 20, 2009
In a couple of months, the Cleveland Cavaliers will enter a realm of uncertainty as they embark on a season that will dictate the team's future. Not surprisingly, that future depends on the future of their franchise player.
As has been a point of discussion throughout the NBA for much of the past year, the 2009-10 season is the final year of LeBron James' contract. The reigning league MVP will be heading a list of top tier players who will most likely test the free agent market next year. Many are wondering whether James, an Ohio native, will stay with the "hometown" Cavs or be lured away to the bright lights of New York.
Cleveland has certainly benefited from King James and has become one of the top teams in the Eastern Conference, not to mention a top draw for television ratings. However, there have been persistent rumours about the Knicks preparing a huge offer for the small forward. Having (arguably) the best player playing in the city with the largest television market would be an ideal fit; not only for the NBA, but also for ESPN, TNT and every company James has endorsed.
It's sufficient to say Cleveland general manager Danny Ferry is caught between the proverbial rock and hard place.
"It's a tough spot for any GM to be in when you've got players like James and Chris Bosh on the market," says Ryan McNeill from HoopsAddict.com. "Ferry wants to keep James, but there's no guarantee."
[php snippet=1]
For their part, the Cavs have been busy this offseason. They resigned centre/forward Anderson Varejao to a six-year deal worth $42.5 million. Cleveland also signed former Raptor shooting guard Anthony Parker and small forward Jamario Moon, who finished last season with the Miami Heat (Parker and Moon were also teammates in Toronto). However, their biggest move was a trade that sent Sasha Pavlovic and Ben Wallace (who would later sign with Detroit) to the Phoenix Suns, in exchange for Emir Preldzic and Shaquille O'Neal.
Ferry's moves this summer have left fans, reporters and bloggers wondering about the team's direction. Some, like Stu Holdren, editor of NBA Noise, feel the Cavs are mainly looking at the short term picture.
"The addition of O'Neal in particular tells me that Cleveland is swinging for the fences," says Holdren. "O'Neal still has enough left in the tank that he can be a great addition to a championship caliber team, but not enough that he will be a significant contributor in the following years to come."
It's clear Ferry is putting together a team to entice his franchise player to stay. As pointed out by Holdren, an appearance in the NBA finals and perhaps a championship would persuade James to remain with Cleveland. However, what appears to be a top contender on paper could translate into something completely different on the court.
"Most mainstream media are impressed with Cleveland's moves, but I'm not sold personally," states McNeill. "It will be hard for LeBron to stay with the Cavs if this all backfires."
Another issue for the Cavs to consider is their main competition, namely Boston and Orlando.
Holdren notes that Cleveland's roster transactions weren't only influenced by James' pending free agency, but also by a need to strengthen their roster in an improving Eastern Conference.
"Orlando's additions of Vince Carter, Matt Barnes and Brandon Bass were a clear example of the rich getting richer in the East," explains Holdren. "Boston also added Rasheed Wallace and likely would have been a serious contending threat had Kevin Garnett been healthy in the playoffs. So regardless of how the LeBron saga unfolds, the Cavs had to continue to improve to remain on par with the competition."
It's clear the Cavs will be under immense pressure to perform well this season. A winning record and a tremendous playoff run would lead to the high probability of LeBron James staying in Cleveland. However, if the Cavs fail to overcome the Celtics and Magic, then the money-filled dump trucks from New York (or any other well-financed team) will be difficult for James to ignore.
[php snippet=1]