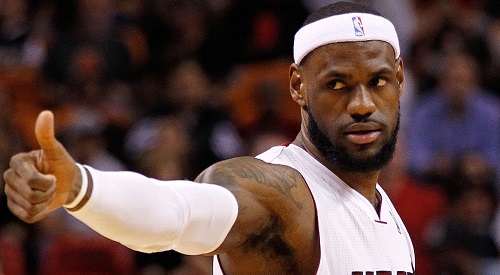 Taking LeBron James for Granted
March 15, 2013
Both the Miami Heat and LeBron James have reached critical mass. James is far and away the best player in basketball right now. Forget head and shoulders, he's waist-high above everyone else. And the Heat? They're blowing through teams like it's nobody's business, winning 17 straight games and losing exactly once in the month of February.
So why was ESPN putting the Blackhawks point streak in the same sentence? They were still losing games! Why are people chipping away at LeBron, trying to find something they can be negative about? The Miami Heat aren't just the best team in basketball right now, they're making a case to be one of the best teams of all time.
A routine night for LeBron is a career night for the average NBA athlete. When he kicks into a higher gear, watch out: he can take a game over without actually seeming like he's doing anything special. Let's go to Game 12 of this win streak, a 141-129 win over Sacramento in double overtime. In the second extra frame, James hit a three, then a long jumper and two free throws during a two-minute stretch. Nearly single-handedly, he turned a one-point lead into a 10-point lead. He scored 11 points in that quarter, every Heat basket save two. And on those two, James received assists.
The staggering thing is how routine James makes such a takeover seem. In that game, James was going about his business, hitting shots and passing the ball. He wasn't the focus of the game, like he was in his Cleveland years. And after Sacramento's Marcus Thornton hit a three, it was almost like he just decided he didn't want another overtime and went a step beyond what the Kings could do.
[php snippet=1]
It's an otherworldly season for James right now. He's reaching career highs for WS/48 and PER. Only Michael Jordan and Wilt Chamberlain have ever put together a season like this. Those two and Kareem are the only players with better WS/48, too. All around, this season is something special for LeBron.
This is why Miami is playing at a historic pace. Their win streak is currently tied for eighth-best in NBA history, putting them in elite company: the Chamberlain and Jerry West-led Lakers, the Jordan-era Bulls and the Kareem-led Bucks. Notice a connection?
So what do we talk about when we talk about LeBron? His pre-game dunks? Of course that's what the media focuses on. After all, he couldn't hold a candle to the greats, right MJ? Never mind that Jordan's 50 years old, obsessed with old scores and has a black hole of a drafting record. Let's take the guy who ruined Kwame Brown at his word and discount James' statistical and on-court dominance to a weaker NBA.
I sometimes fear that I'm not appreciating LeBron enough. He's a generational talent and occasionally I'll think that's enough reason to watch an otherwise meaningless regular season game. But I rarely follow through on that: at best, I'm a flicker, going between a couple games and maybe something else. I sometimes wonder if I'm taking his amazing season for granted. I wonder how many others feel the same way.
Over at the New Yorker, Ian Crouch recently wrote a short post about LeBron that touches on the unique baggage around James. "Unlike other fascinating and polarizing athletes … the controversies that have attached themselves to James through his career have only been emotional ones," he wrote. And it's true: from his dunking to The Decision, all the controversy has been, well, banal. Certainly nothing like baggage around Kobe Bryant, Allen Iverson or Jordan.
Remember, James is 28, right about the age where players usually start hitting their peak. But it feels like he's been here forever. This is his 10th season; the 10th time he's been logging major minutes. He's never really been hit by injuries, playing at least 75 games per year, plus playoffs (minus last year's shortened season, of course). Right now, he's 29th among all active players in minutes played, putting him among people like Metta World Peace, Richard Hamilton or Pau Gasol, all of whom are several years older.
Still, controversy lingers around LeBron. MVP talk is at its core like shouting into a void, since everyone defines the MVP in their own individual way, but in 2013, James is far and away the best player in basketball. So why are people making a case for Kevin Durant? James still leads in him in both PER and WS/48, and he's not far behind in shooting stats, either. Could it be we're still upset over The Decision and the way this Miami team came together? What needs to happen before we move on?
February was a special month for LeBron and the Heat. And maybe they should heed the words of Shakespeare., since their streak can't last forever. But still, LeBron is hitting rare air for basketball players. It might be a while before we see a team this dominant again. The haters be damned. Enjoy it while it's here.
[php snippet=1]