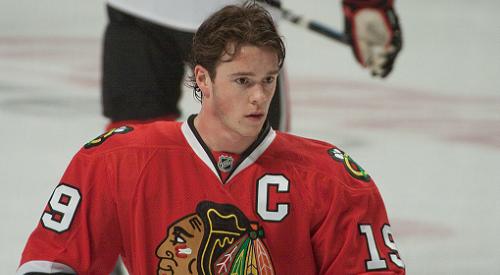 Demographics and NHL Captains
November 11, 2010
For as long as men and women have invested themselves in the triumphs of their sports heroes, they've had a special spot in their hearts for the ones who wear the "C." These are the ones who, at the end of the day, shoulder the blame for every loss and accept the task of delivering every in-game speech. These are our leaders, our spokesmen, and the designated representatives of the teams we pledge our allegiance to. There has always been a certain romance to the thought of being the captain of a sports team, and in no sport more than hockey.
Maybe it's because their equipment is so impersonal that hockey players are the only ones who wear consistent visual proof of leadership – or maybe because jerseys that big need to be filled with something – but unlike any of the other three major professional North American sports, when hockey players work their ways up the management ladder, their jerseys are branded as such.
In 2010-11 all but one of the NHL's 30 clubs had designated a team captain – the sole exception being the Atlanta Thrashers still adjusting to life after Ilya Kovalchuk. For everybody else the men in charge were as clearly identified as the men who play in net. They ranged from Canadian to Finnish, from young to old, and from dominant in the scoring column to, well, Craig Rivet. What follows is a breakdown of what it takes to be the captain of a hockey team, and what that means to the rest of the world.
[php snippet=1]
It isn't just a number…
The average age of all NHL captains this season is 30.6. It's a perfectly logical number when you think about it. At 30, NHL players have been around long enough to know how the league works. They've been through at least one contract (their rookie deal), probably two, and they've spent enough time with colleagues and referees to have gained the respect necessary to establish a professional trust. It also doesn't hurt that players at 30 are still capable, physically, of leading their teams by example, as opposed to older players in the twilights of their careers who've slowed down a step or two. As much as we like to celebrate the Nicklas Lidstroms and Daniel Alfredssons of our generation for kicking ass and taking names well into senectitude, there are far more journeymen players who hang up their skates in their early 30s as a result of roster spots stolen by younger, more desirable team assets. To the tar pits with you!
On the other hand, the case where a player fresh out of junior hockey takes over the reigns as team captain is also few and far between. This season (and last) Jonathan Toews has been the youngest player to wear the "C" at 22 years old. Sidney Crosby, named the youngest captain in NHL history back in 2007, remains the second youngest captain in 2010, now at 23. Peculiar then, is the fact that there are more 25-year-old team captains than any other age, including Ryan Getzlaf, Shea Weber, Mike Richards, Dion Phaneuf and Alex Ovechkin. The next most common age – or mode, for stats dweebs – is 31.
Is this a sign of how captaincy is changing in professional sports? Not necessarily. It's hard to imagine it today but 10 years from now we could very likely be watching greybeards Getzlaf and Richards still plugging along with the Anaheim Ducks and Philadelphia Flyers, trying to lead groups of ragamuffin 20-somethings to the same Stanley Cup Finals they were once led to early on in their careers.
They always were more responsible up north…
Given the demographics of the NHL, it comes as no real surprise that 18 of the league's 29 captains were born in Canada, a total of just over 62 percent. The funny part is that, of the six Canadian franchises captains, only 50 percent were born there. Granted it may be a small sample size and Swede Henrik Sedin only inherited it after Canuck Roberto Luongo conceded it in Vancouver, but still. The next most represented country is, of course, the United States of America where Dustin Brown, Brian Gionta, Jamie Langenbrunner, Doug Weight and Chris Drury could just as easily pass for a list of chartered accountants to the casual sports fan without a subscription to NHL Center Ice as they could NHL All-Stars.
Does this mean that American captains have less marketing potential than their more renowned Canadian counterparts? Or are teams in grand scale American markets more inclined to reach deeper into the talent pool to pick out a captain of the same nationality as their fans. Of the four teams based in and around Los Angeles and New York City, all are born in the US*. I raise this mostly in jest, tending to think of it more as a coincidence than anything else, but it's worth consideration. If in five years John Tavares isn't wearing the "C" for the New York Islanders, then we might be on to something.
Of the remaining six NHL captains, three are Swedish (Sedin, Alfredsson and Lidstrom), one Slovakian (Zdeno Chara), one Russian (Ovechkin) and one Finnish (Mikko Koivu). All of Koivu, Sedin and Ovechkin which were assigned to the roles after Lidstrom became the first non-North American trained player to captain a team to a Stanley Cup in 2008.
*American Gionta in Montreal is the anomaly, but that could open an entire bag of Quebec separatist questions of its own.
Seniority amongst the masses…
In this snapshot of the NHL landscape in 2010, the respective tenures of team captains with their clubs ranges from half a season to nearly two decades. It begs the question of just how long players typically spend with a given franchise before they're considered captain material. Lidstrom, the de facto dinosaur exception of virtually every category studied, is the most tenured player currently taking on a leadership role in the NHL. Though he only took over the position in 2006 following the retirement of Steve Yzerman, Lidstrom has been skating in Detroit for 18 seasons. The next longest stint belongs to Colorado's Adam Foote with 15.5 seasons across two tenures (and two cities) with the franchise.
On the opposite end of the scale is Phaneuf and the Toronto Maple Leafs. Though for years the identity-less Leafs sought desperately anyone who could handle the pressures of the Toronto media and tie their skates at the same time, finding a player to fill the role departed by Mats Sundin was no easy task. Partway through last season they found just who they were looking for, pried him away from the Calgary Flames and offered him the role of captain less than a full year later.
Points speak louder than words…
An age-old question that has puzzled sports fans since the dawn of time is what exactly it takes to be a leader. Can players respect a passionate, motivational forward as much as they should if he's never scored more than 50 points in a season? Could they follow an inspirational defenseman that can't find consistent playing time on any of the club's special team lines? Maybe not. But can they rally behind their team's leading scorer if they quietly put points on the board and nothing less?
The most obvious solution is that a player would have to be some sort of desirable combination of both. Of the 21 forwards who currently represent clubs as captains, they average 0.87 points per game, or roughly 71 points in an 82 game season. Of course there are exceptions, the most notable in 2009-10 being Ovechkin's 1.51 rate and Drury's 0.42 – as far as forwards are concerned the range of offensive production across captains is truly limitless. From a defensive standpoint, the average is 0.40 points per game, a figure lessened considerably by Foote's 0.13 and Rivet's 0.19 (those must be some motivational speeches).
The deceptive thing about points per game averages is that they don't sufficiently describe a player's overall impact on a game, tangible or intangible. If we've learned anything from these stats it's that players don't have to be threatening triple digits in the points column to gain the respect of their peers, but if they refuse to take the body or block a shot in addition to struggling offensively, you can imagine they won't have that "C" on their sweater for long.
| Player | Team | Tenure | Age | Position | Points | PIM | Games | PTS/G | PIM/G | Country |
| --- | --- | --- | --- | --- | --- | --- | --- | --- | --- | --- |
| R Getzlaf | Anaheim | 5 | 25 | F | 69 | 79 | 66 | 1.05 | 1.20 | CDN |
| Z Chara | Boston | 4 | 33 | D | 44 | 87 | 80 | 0.55 | 1.09 | SLO |
| C Rivet | Buffalo | 2 | 36 | D | 15 | 100 | 78 | 0.19 | 1.28 | CDN |
| J Iginla | Calgary | 13 | 33 | F | 69 | 58 | 82 | 0.84 | 0.71 | CDN |
| E Stall | Carolina | 6 | 26 | F | 70 | 68 | 70 | 1.00 | 0.97 | CDN |
| J Toews | Chicago | 3 | 22 | F | 68 | 47 | 76 | 0.89 | 0.62 | CDN |
| A Foote | Colorado | 15.5 | 39 | D | 9 | 64 | 67 | 0.13 | 0.96 | CDN |
| R Nash | Columbus | 7 | 26 | F | 67 | 58 | 76 | 0.88 | 0.76 | CDN |
| B Morrow | Dallas | 10 | 31 | F | 46 | 69 | 76 | 0.61 | 0.91 | CDN |
| N Lidstrom | Detroit | 18 | 40 | D | 49 | 24 | 82 | 0.60 | 0.29 | SWE |
| S Horcoff | Edmonton | 9 | 32 | F | 36 | 51 | 77 | 0.47 | 0.66 | CDN |
| B McCabe | Florida | 2 | 35 | D | 43 | 83 | 82 | 0.52 | 1.01 | CDN |
| D Brown | Los Angeles | 6 | 26 | F | 56 | 41 | 82 | 0.68 | 0.50 | US |
| M Koivu | Minnesota | 5 | 27 | F | 71 | 50 | 80 | 0.89 | 0.63 | FIN |
| B Gionta | Montreal | 1 | 31 | F | 46 | 26 | 61 | 0.75 | 0.43 | US |
| S Weber | Nashville | 5 | 25 | D | 43 | 36 | 78 | 0.55 | 0.46 | CDN |
| J Langenbrunner | New Jersey | 7.5 | 35 | F | 61 | 44 | 81 | 0.75 | 0.54 | US |
| D Weight | NY Islanders | 2 | 39 | F | 17 | 8 | 36 | 0.47 | 0.22 | US |
| C Drury | NY Rangers | 3 | 34 | F | 32 | 31 | 77 | 0.42 | 0.40 | US |
| D Alfredsson | Ottawa | 14 | 38 | F | 71 | 22 | 70 | 1.01 | 0.31 | SWE |
| B Richards | Philadelphia | 5 | 25 | F | 62 | 79 | 82 | 0.76 | 0.96 | CDN |
| S Doan | Phoenix | 14 | 34 | F | 55 | 41 | 82 | 0.67 | 0.50 | CDN |
| S Crosby | Pittsburgh | 5 | 23 | F | 109 | 71 | 81 | 1.35 | 0.88 | CDN |
| J Thornton | San Jose | 4.5 | 31 | F | 89 | 54 | 79 | 1.13 | 0.68 | CDN |
| E Brewer | St. Louis | 5 | 31 | D | 15 | 46 | 59 | 0.25 | 0.78 | CDN |
| V Lecavalier | Tampa Bay | 11 | 30 | F | 70 | 63 | 82 | 0.85 | 0.77 | CDN |
| D Phaneuf | Toronto | 0.5 | 25 | D | 10 | 34 | 26 | 0.38 | 1.31 | CDN |
| H Sedin | Vancouver | 9 | 30 | F | 112 | 48 | 82 | 1.37 | 0.59 | SWE |
| A Ovechkin | Washington | 5 | 25 | F | 109 | 89 | 72 | 1.51 | 1.24 | RUS |
[php snippet=1]