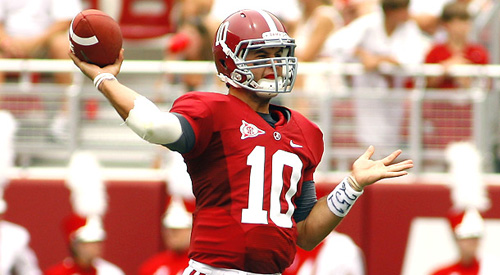 Why a LSU-Bama rematch still poses problems for the BCS
January 8, 2012
LSU and Alabama will meet for the second time this season in Monday night's BCS Championship Game, and while that's a remarkable result and perhaps a deserved one, it isn't an all-around positive for the BCS system.
That's somewhat surprising, as in the leadup to LSU's Nov. 5 regular season game against Alabama, it was easy to see that earlier clash as one that would prevent this rematch and indict the BCS in the process. At that time, the Tigers and Crimson Tide were ranked No. 1 and No. 2 respectively by both The Associated Press and the BCS standings, and there was a strong argument to be made that they were college football's top two teams. Thus, a regular season game between them seemed to offer the potential for having the most crucial clash of the college football season in November rather than January.
Amazingly, that hasn't happened. A narrow 9-6 overtime win for LSU in that November game combined with undefeated performances by both teams and stumbles by every other contender to set the Tigers and Crimson Tide up for a rematch in Monday night's BCS Championship Game, and some would even use that as a defense of the BCS system; it was able to look past two top teams playing in the same division of the same conference in a way that say, a conference-champions-only playoff wouldn't. However, this result poses two other gigantic issues; the lack of opportunity for challengers and the threat to the meaning of the championship game itself. 
[php snippet=1]
First, the opportunity issues. There isn't a particular problem with LSU and Alabama being selected to play for the title; both had tremendous seasons, with LSU going undefeated and knocking off a huge number of high-profile opponents along the way and the Crimson Tide only losing that one November game to the Tigers. The issue is that they're the only two teams given a shot. This year actually proved substantially more winnowing than usual on that front, as most of the teams that had claims to being the best could be denied by one argument or another. Big Ten champion Wisconsin lost two games along the way to Michigan State and Ohio State, and two-loss Pac-12 champion Oregon had the disadvantage of one of their losses being a neutral-site year-opening blowout 40-27 loss to LSU. Smaller-conference foes like Boise State and Houston had their bids for perfect seasons foiled by the likes of TCU and Southern Mississippi, and Big East champion West Virginia and ACC champion Clemson each lost three games. However, that still left one serious contender standing: Oklahoma State.
On many fronts, the Cowboys were actually more qualified than the Crimson Tide. Both teams suffered one loss, but Oklahoma State still won its conference; Alabama didn't even win its division (as LSU took the divisional and conference title). The Cowboys beat seven teams that finished with winning records, while the Crimson Tide only beat three, and Oklahoma State picked up twice as many wins against teams ranked in the final BCS standings.
Still, the Crimson Tide had their own qualifications; Alabama's defense was historically dominant all season, and their only loss came against the nation's top-ranked team, while the Cowboys tripped up against lowly Iowa State. The problem isn't really the selection of Alabama over Oklahoma State, but rather that the only means for choosing between two teams that are so close is the BCS' simple composite of human and computer polls. As Yahoo!'s Matt Hinton wrote, "When a strong contender that effectively earned 50 percent of the vote is rewarded with zero percent of the opportunity, the system has failed."
BCS controversies over who gets into the championship game and who doesn't amongst evenly-qualified teams are nothing new, though. See the issues around USC being overlooked in 2003, undefeated Auburn's omission in 2004 and undefeated Boise State and TCU being passed over in 2010, just to name a few. What's new with this game is that the result itself is somewhat in question.
If LSU wins, there's no problem, but if Alabama wins, the Crimson Tide and Tigers will each have beaten each other once this season. Moreover, Alabama's loss would be at home in Tuscaloosa, while LSU's would be in the "neutral site" of New Orleans. New Orleans is sure to be packed with plenty of LSU fans, so that may not turn out to be a huge argument, but it's worth noting that LSU's season-long resume would still likely be more impressive with a loss; in addition to claiming division and conference titles, the Tigers had a tougher SEC schedule and played more difficult out-of-conference games against top opponents like Oregon and West Virginia, while Alabama didn't face many top teams at all.
The BCS will crown the winner of this game regardless of who it is, as will the coaches (contractually obligated to vote for the winner of the championship game), but some AP voters have already said they'll vote for LSU even if the Tigers lose, and they have a point.
If there ever was a situation that could theoretically prove the value of a BCS system, it would be this one. A system based on polls to pick championship berths is full of problems, but it does have the advantage of being able to handle top teams being from the same division of the same conference; by contrast, in the NFL, NHL or NBA, even if the two best teams are in the same conference, they can't possibly meet in the championship game. However, in just about every other sport, teams with similar resumes have a chance to prove themselves in the playoffs, rather than being denied the way Oklahoma State was here. Moreover, in other sports, the championship game clearly decides a winner; here, it may not. If even a scenario like this that could have proved the value of the BCS still has incredible problems, maybe that's further impetus to scrap the system and push for a playoff.
[php snippet=1]