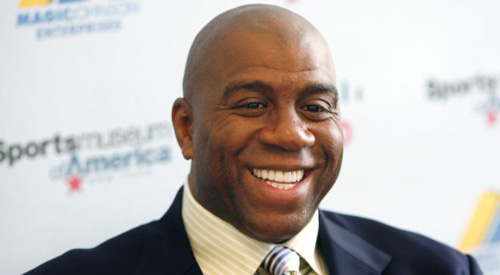 All it took was a bit of Magic
March 30, 2012
"Magicians guard an empty safe," wrote Jim Steinmeyer in "Hiding the Elephant," an engaging history of illusion and magic, using the adage to wax eloquently on the great pains that magicians take to guard the secret to each trick – but when that secret is unlocked, there's very little true surprise revealed.
This brings us to the most famous member of the Los Angeles Dodgers' new ownership group, thanks to an easy one-time payment of $2 billion.
Who doesn't love Magic Johnson?
It doesn't matter if it's in East Lansing, Los Angeles, Dayton or anywhere else across the United States: Wherever he goes, Earvin "Magic" Johnson is roundly beloved and admired.
He was a uniquely gifted basketball player for the MSU Spartans and LA Lakers, charismatic on and off the court. Following his HIV-induced retirement in 1991 (and then re-retirement in 1992), he transitioned to a highly successful life as a businessman and philanthropist and stayed as loved as ever. When his talk show, "The Magic Hour," was cancelled within two months of its premiere in 1998, the failure turned into a shrug-your-shoulders-and-laugh punchline rather than a target for mean-spirited gibes. Is his NBA analysis, first for TNT and now for ESPN, anything worth swooning over? No, but it doesn't cause any irritation either. He's endearing. He's Magic. 
[php snippet=1]
Now the questions are asked: What difference will Magic make? How will the Dodgers fare with Magic Johnson as an owner? This isn't the same as Nolan Ryan owning the Texas Rangers; this is more the equivalent of Derek Jeter purchasing the New York Rangers (give or take 20 years from now).
For the benefit of all of those folks wondering how Magic will do with owning a professional baseball franchise, it should be pointed out that he already owns pro baseball franchises, and quite a few of them at that. He's part of Mandalay Baseball Properties, which owns and operates the Dayton Dragons, Erie SeaWolves, Frisco RoughRiders and Oklahoma City RedHawks. Among those, most notably, the Class-A Dragons have sold out every game in the franchise's history, a streak that began in 2000, while the RoughRiders rank among the Class-AA's leaders in attendance each season.
Yes, Major League ball is different than Minor League ball, but here we unlock the empty safe: The secret to being a good owner is having resources and a canny brain trust in place, leading to consistent and continuous success. Period. Everything else is smoke and mirrors – and perhaps a great (or lousy) PR machine.
There is no grand secret as to why Peter Angelos bombs in Baltimore and Bill DeWitt, Jr., flies high in St. Louis. It does not matter to the Seattle Mariners' future that their owner, Hiroshi Yamauchi, has never watched an M's game and likely will never watch an M's game. (link: http://aol.sportingnews.com/mlb/story/2012-03-27/mariners-owner-hiroshi-yamauchi-tokyo-never-seen-game) (It's certainly stunning news to hear, though. Really? Not one game? Not even if King Felix is on the mound and the game is being played on your native soil? Hey, to each their own.)
Gray area aside, there are most certainly good owners and bad owners, and every sports fan knows which is which.
Good owners win. Bad owners lose.
Yes, In the hallways, classrooms and message boards of public opinion, it is possible for a losing team to have a pretty good owner – but only if extenuating circumstances are in order. But a winning team, particularly a championship-level winning team, cannot by its very nature have a terrible owner. If it does, it will not win for long. That or the complainers among the fandom should have their motives called into question.
A prime example is raised in Bruce Nash and Allan Zullo's "The Baseball Hall of Fame" concerning The Boss of the Yankees, George Steinbrenner: "On April 27, 1982, a crowd of 35,000 at Yankee Stadium rose to its feet and broke into a spontaneous chant: 'Steinbrenner sucks! Steinbrenner sucks!' "
Those Yanks were coming off a bitter 1981 World Series loss to the Dodgers; a 3-1 defeat that day to the Angels dropped them to 6-9, casting forth a decade of misery for the Bombers.
Fourteen years later, they won their 23rd Championship, beginning a string of four titles in a five-year span. You'd be hard-pressed to find a Yankee fan now who thinks poorly of Steinbrenner.
There is a prime difference, though, between The Boss and Magic. In New York, there was no doubt that George Steinbrenner ran his franchise (even though he famously pledged absentee ownership at his introductory press conference).
In contrast – and you can call me crazy – but I sincerely doubt that Magic Johnson will be hugely involved in the Dodgers' operations. Hey, sure, he might call out Matt Kemp in the press, and he might wave at the TV camera from his comfortable seat in the owner's box, and he just might give a call to a coveted free agent every now and then.
Most of the time, however, I would think he'll sit back at home, relaxing with his family, all the while the Dayton Dragons keep on selling out their games (the streak is at 844 entering the 2012 season).
Meanwhile, should the Los Angeles Dodgers, on the shoulders of Kemp and Clayton Kershaw, happen to win more games than expected this season in the always topsy-turvy NL West, the chatter will strike up once again. How does he keep succeeding at everything not named "The Magic Hour"?
It's Magic.
[php snippet=1]