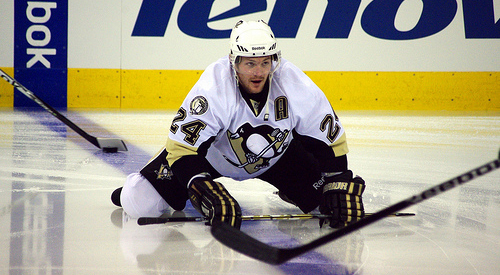 Answering the Matt Cooke question
March 23, 2011
Is there such thing as a lost cause when it comes to player behavior in the NHL? Is there ever a point in time where the risks associated with a particular individual outweigh the contributions he could even possibly provide the league and the team he represents?
The questions beg to be answered.
You may not have noticed the urgency of the situation, nor Gary Bettman for that matter, but just because something's not seen, that doesn't mean it's not there. Just ask Artem Anisimov, Scott Walker, Fedor Tyutin or Marc Savard.
Before Matt Cooke's victim list gets any longer, not that it's limited to the players mentioned by any means, the NHL needs to figure out where to draw a necessary line. Suspensions can be issued, but messages aren't necessarily delivered.
Cooke, as any number of competent news outlets have already informed you, has been nabbed for the duration of the 2010-11 regular season and the first round of the playoffs for a wild elbow that violently connected with New York Rangers defenseman Ryan McDonagh.
The question isn't whether the suspension was just, or whether it was fitting, but rather, whether it was necessary at all. Is there any point in trying to rehabilitate a man's behavior through public and financial punishment when he's mishandled his responsibility as a professional hockey player nearly half a dozen times already before?
Though it comes few and far between these days, the NHL deserves at least some credit for increasing the length of punitive suspensions for "repeat offenders," a designation created specifically to identify those who never seem to learn from their mistakes.
[php snippet=1]
But the arrangement isn't without its own set of flaws. Players irresponsible enough to offend more than once, often do so more than twice. The trend would be less frightening if the consequences weren't so severe.
In order to appreciate the appropriateness of Cooke's latest punishment, it's important to consider both the man responsible for the precarious blow, and for the team that employed him while he did it.
In a nutshell, Cooke is a veteran enforcer currently ranked 215th in points scored this season. His 129 penalty minutes in 67 games are the most obvious contributions he brings to table for the 2009 Stanley Cup champions. Cooke has been with the Pens for three seasons now, no stranger to success and a behind the scenes role with some of the NHL's top teams.
Though it feels like a lifetime ago, Cooke once ran briefly with Marcus Naslund and Todd Bertuzzi on an imposing Vancouver Canucks first line, proving that even a brain injury-causing clock is right twice a day.
But he who once was a gritty forward who provided a physical presence for an intimidating team, has devolved into a reviled punch line infamous for his inability to control his aggression on the ice.
It took the crippling of Boston Bruins star Marc Savard's career for the public to truly recognize the consequences of Cooke's actions, but that wasn't the first time he'd drawn the scorn of the NHL.
Since joining the Pittsburgh Penguins for the 2008-09 season, Cooke has been suspended four times for irresponsible hitting; two games for his shot against Scott Walker in 2008-09, two for a tasteless collision with Artem Anisimov in 2009-10 and four for a hit from behind against Fedor Tyutin last February. Now this.
The list of players affected by hits that didn't result in a suspension is even longer.
Though the league is consistent in prescribing suspensions to those who deserve them, (as described by their ever-changing rulebook), is it unreasonable to point out how obvious it is that no amount of "time off" will conceivably affect Cooke's behavior? At what point does the NHL stop acting like the supply teacher continually duped by the rowdy student who likes staying inside for recess anyway?
If you weigh the benefits of an enforcer who protects his team with the occasional suspension he gets as the result of a careless hit, is the risk somehow worth the reward of having him on the ice?
Not in the case of Matt Cooke.
Prior to the incident with McDonagh, Cooke had played 67 games with the Penguins. Admirably, he made it through 35 of those games without a penalty. Pittsburgh's record while their enforcer was on his best behavior? 22-7-6 (compared to 20-16-2).
The concept of penalty-takers making their teams better is an illusion, a myth propagated by wishful thinking and ignorance. In no case is it clearer than with Matt Cooke.
In the eight games Cooke has missed over the past three seasons due to hit-related suspensions, the Penguins have gone on to post a 5-2-1 record. If the admittedly small sample size doesn't convince Cooke supporters that his absence makes the Penguins better, it certainly doesn't make them any worse.
Since suspensions clearly don't get through to Cooke, and since Cooke, the player, serves as little more than a risky investment with little reward, why not throw him in the front office and be rid of the nuisance altogether?
The forced retirement may not sit well with Penguins fans or the professionals who represent him, but imagine how the next victim in line will feel when he's relearning how to skate because the NHL refused to put an end to the disconcerting trend once and for all.
NHL executives can keep their heads down and follow the protocol they've established for repeat offenders, but eventually they'll be faced with a decision that can make or break their supposed commitment to player safety.
Maybe next time it will be the league's negligence on trial rather than Cooke's incapacitating elbows. The former knows betters, the latter's simply earning a pay cheque the easiest way he knows how; by putting up with the occasional slap on the wrist.
[php snippet=1]