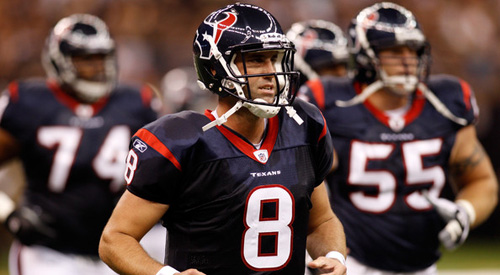 Answering the Matt Schaub question
June 30, 2011
In the Lone Star State, the Houston Texans unquestionably play second fiddle to "America's Team," the Dallas Cowboys. Amidst the shadow of "Big D" lurks a team and a fan base trying to figure out what its true identity is. Perhaps the man with the most questions about his identity is the one who lines up under center, quarterback Matt Schaub. Just how much of the blame is he to take for the club's less-than-stellar recent history?
On paper the Texans look like a team that can outscore most anyone. Now, with the emergence of bruising tailback Arian Foster, they can run as well. In 2010 the Texans ranked ninth in total points (390), fourth in total yards per game (386.6), fourth in total passing yards (4,144), seventh in total rushing yards (2,042) and first in rushing touchdowns (20).
With numbers this impressive, you would think they were a marquee offense. However, despite the fact that players like Schaub and Foster are coveted assets in the world of fantasy football, they don't get a ton of attention in the regular football world. Schaub may be chief among the overlooked.
Is Schaub a star in waiting who just hasn't received the support he needs or is he partly to blame for his team's shortcoming?
Schaub came to the Texans in 2007 via a trade with the Atlanta Falcons which would spell the end to the infamous David Carr Era in Houston. Schaub battled injuries during the 2007 and 2008 seasons, but in 2009 became the clear starting pivot and immediately proved that he was a rare talent. That year he led the league in pass completions (396) and passing yards (4770). He's also the only quarterback to pilot the Texans' franchise to a winning record since its entrance to the NFL in 2002.
[php snippet=1]
In 2010, Schaub was at it again, posting terrific numbers and ranking in the top five in passing yards (fourth) and pass completions (third). However, unlike in 2009, the 2010 Texans had another weapon to help Schaub. Foster led the league in rushing yards (1616), yards from scrimmage (2220), rushing touchdowns (16) and total touchdowns (18).
But despite this explosion of offense, the Texans found themselves staring at a 6-10 record at the end of the 2010 season. It almost seems implausible for one of the best offenses in the league to only win six games and find themselves out of the playoffs in a year that many experts had them pegged to dethrone the Indianapolis Colts as division champions.
Rivers McCown, editor emeritus of SB Nation Houston, feels the stats' failure to translate into wins wasn't Schaub's fault, though. Instead, he chalks Houston's issues up to head coach Gary Kubiak's lack of a defensive plan.
"There is a complete lack of accountability when it comes to creating a defense," McCown said. "Gary Kubiak hand-picked a pair of dud defensive coordinators who were in over their heads, and while the majority of their offensive draft picks have turned out pretty well, they haven't put their high defensive picks in a position to succeed."
McCown said Texans management and their single-minded focus on building through the draft is a root of the problems.
"Mario Williams has turned out just fine, of course, but the rest of the Texans roster is littered with players who have either never been good or started out well and regressed," McCown said. "If your entire team philosophy is to build through the Draft, and you don't draft well or sign well-regarded free agents, well, you're going to be stuck with a dud defence."
As you can imagine, Texan fans are growing impatient for continued winning records and a playoff appearance. Often in the NFL, the blame falls to the quarterback. Some have assigned that blame to Schaub in Houston's case despite their defensive issues, which McCown doesn't think is fair. He said some Texans fans are not giving Schaub the respect he has earned or deserves.
"As with any team that doesn't win, there's a vocal minority of Texans fans against Matt Schaub," McCown said. "Most of their complaints around him aren't based in reality. The lack of winning has impacted his stature with the fans and public to the point where he's not considered an elite quarterback."
There are many NFL fans who would consider Schaub "elite" based on his fantasy football output alone, but there are other factors in his favor as well. Steph Stradley, who writes the Texans Chick blog for The Houston Chronicle, said Schaub's tenacity and dedication to training make him elite.
"Schaub is tough, and if there is any chance of him playing, he will," Stradley said. "He's had two seasons of 16 games, and the backup situation is so poor that they will do anything to keep him on the field, even if he is pretty banged up. In a lockout-shortened offseason, the Texans are bringing back most of their offense, with the same offensive system, and will be doing their second year under offensive coordinator Rick Dennison. Schaub has been running off-season workouts and the Texans may have a big advantage over teams that are making many changes."
With that said, Stradley thinks that players of fantasy football were a little frustrated with Schaub's redzone production in 2010 due to the emergence of Foster.
"Last year, there was some frustration with redzone touches going to Arian Foster and the injury to [star receiver] Andre Johnson," she said. "Johnson played most of last season with a high ankle sprain a lot of players can't play through, so if he is healthy, that improves Schaub's numbers. As he gets more separation, the attention [paid to him] frees up the rest of the offense. Schaub can be a streaky player, but when he gets in a good rhythm, he can tear up an offense."
Schaub and the Houston Texans offense seem poised to light up the scoreboard for years to come. Their offensive weapons are all honing in on the prime of their careers and have great on-field chemistry. However, as the old adage goes, defense wins championships.
Both McCown and Stradley acknowledge that the offense is set and thinks the defence might be turning around.
"They're halfway there right now," McCown said. "Wade Phillips gives them their first accredited defensive guru since Dom Capers. To finish the job, they need to attack free agency and come out with a pair of good defensive backs. An established nose tackle couldn't hurt either. Their offense is in its prime right now, and they need to team-build like they won't have more than a three-year window to get something out of it."
As for Schaub, Stradley said an improved defense will likely boost his status around the league, but will have more of a mixed impact on his fantasy stats.
"If the Texans' defense improves, on one hand, he won't be doing any late game shoot-outs trying to catch up to put the points over 30," she said. "On the other hand, if the defense can force punts and better field position, this helps in getting the ball back in the offense's hands and better field position for scoring."
Like McCown, Stradley thinks Phillips will give the defence a fighting chance, but the assumption of a quick turnaround is unlikely. The Texans should fare better, but how much better is the question.
With Schaub at the helm, the future is bright, but the experts that prematurely tagged the Texans as the next AFC South champs in 2010 will have to think twice before making the same decision. Still, if they fall short, regular fans and fantasy players alike should realize it's not all on Schaub.
[php snippet=1]