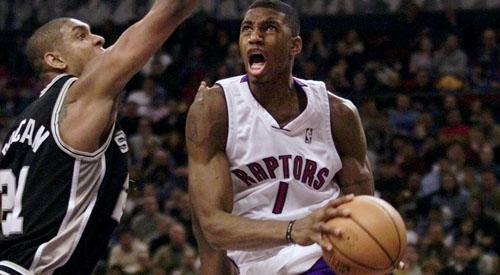 The Grudge: How even 10 years later Raptors fans can't let up
March 31, 2010
Fans of the Toronto Raptors are passionate. They live and die by the team with a full range of emotions based on the club's performance. And while passion has positive results, it also has negative ones too.
There are two players in the National Basketball Association – New York Knicks guard Tracy McGrady and Orlando Magic guard/forward Vince Carter – that are loathed by Raptor fans. Both players, who are actually cousins, began their careers in Toronto and departed in a manner that left a bitter taste in the mouths of Raptor fans. This bitterness is expressed every time McGrady and Carter visit Toronto. Fans viciously boo these players every time they touch the ball.
Sure, there's nothing wrong with the home side booing an opponent. But the hatred dedicated to McGrady and Carter in Toronto is disturbing. It's been almost 10 years since McGrady left Toronto, five-plus years for Carter; and yet, fans continue to spew as much venom at them as they can.
Enough is enough. It's time for Raptor fans to move on.
It's important to consider the factors that led to McGrady and Carter's departures. For T-Mac, he was a rookie during the 1997-98 season, one of the worst seasons in Raptors history. The team finished 16-66 and saw a change in ownership, general manager Isaiah Thomas resigned, coach Darrel Walker was fired and the franchise player at the time, Damon Stoudamire, wanted out. The team was struggling and had a bad reputation. It was way too much drama for an impressionable rookie and would ultimately leave him jaded. Besides, when McGrady chose to sign with Orlando at the end of the 1999-00 season, he cited family reasons. He simply wanted to be closer to his family. Is that such a bad thing?
[php snippet=1]
Then there's Carter. The Raptors were doing a steep nosedive when Air Canada expressed an interest to be traded. Again, there were changes with the front office and coaching staff. Injuries were also taking a toll on the club. Poor decisions (i.e. Rafael Araujo) were made.
Remember this was fall, 2004. This was all before Bryan Colangelo, Maurizio Gherardini, Jose Calderon, Andrea Bargnani, T.J. Ford, Anthony Parker, etc. Chris Bosh was just a young rookie on the cusp of becoming one of the top players in the NBA. It was a different time, a different team and featured different personnel.
Let's not forget the contributions McGrady and Carter gave to the Raptors. Both led the team to its first playoff berth. They also turned the Raptors' reputation around. They brought the club out of the growing pains that were experienced during the expansion years. Carter especially can be credited for developing the Raptors' popularity and foundation with fans.
Besides, it's not like T-Mac and Vince went off and found championship glory (although Carter has a good chance this year with Orlando). And the Raptors were able to re-build and enjoy success post-both of them: an Atlantic Division title and (if they find their way out of current slump) three playoff appearances in the last four years. Sure, it's not an NBA title, but one could argue that it's an improvement from 2003-2005.
Naturally, it's hard for one voice to convince a legion of passionate fans to change their stance on two proclaimed villains. Therefore, the question that should be asked is whether Raptor fans will ever move on.
Scott Carefoot of RaptorBlog.com, part of the TheScore.com's Hardcore Sports Federation, feels the fans are just venting their frustration brought on by a lack of significant triumph.
"The reason why Raptors fans should stop booing Vince and T-Mac has nothing to do with their so-called 'contributions' to the team," says Carefoot. "If the Raptors had accomplished anything since those players left, [booing] wouldn't be an issue. Booing them every time they return to Toronto just calls attention to that fact and that's just sad."
It is conceivable that Raptor fans will never move on. /b> feels there's nothing wrong with that.
Borbath, who pens DinoNationBlog.com, also part of TheScore.com's Hardcore Sports Federation, argues that fans should do as they choose. Fans, according to Borbath, are the ones who invest their time and finances with a team and players like Carter and McGrady. Therefore, fans are more than allowed to express anger, as long as it's not in poor taste.
The Raptor blogger also points to the players' attitude during their final days with Toronto.
"[McGrady] lied to Raptors fans for over a year in saying he would consider Toronto when his contract was up," explains Borbath. "Then he went and signed with Magic at the first possible moment McGrady feels that the attention and boos are proof fans miss him. I have always believed it is just that fans did not appreciate being lied to for the better part of a season."
"Vince is a different case and feelings are much more bitter and jaded," Borbath continues. "The common belief is Vince Carter quit on the Raptors." A reference to a 2004 game against Seattle when it was alleged Carter tipped off opponents about plays the Raptors were about to run. "Fans feel angry and cheated about that. Unfortunately that over shadows some of the good things Vince did for this franchise and the city of Toronto But how he left is how he is remembered, and that is a player that lacked effort and professionalism."
Borbath concludes by reiterating the rights of fans.
"It is no one's place to tell a fan how to feel. They have that right to feel how they want, and in the case of going to games, they pay for that right."
Forgiveness is something that is never given easily. In some cases, it takes years to excuse certain actions. There are also some actions that are unforgiveable. Hopefully, time will heal exposed wounds and Raptor fans, perhaps a new generation of fans, will pardon Tracy McGrady and Vince Carter and honour their on-court contributions. It may take years for this happen. Then again, it may never happen and that would be unfortunate.
A greater, short term concern involves Chris Bosh. How will Raptor fans react if the all-star forward decides to sign with another team this summer? Will the fan base welcome him back with cheers and recognize his departure as a business decision; or will they slot him into the same category as McGrady and Carter, splitting their venom in thirds?
[php snippet=1]