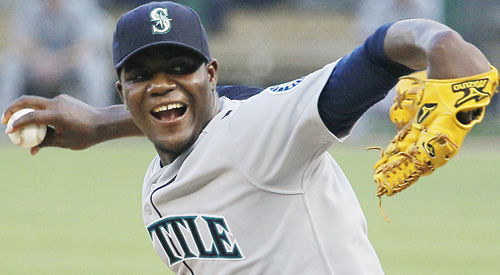 Prince Pineda leaving hitters helpless in Seattle
June 27, 2011
Even though Felix Hernandez is pitching like a reigning Cy Young Award winner and the Seattle Mariners have reaped the benefits of a resurgence from Canadian southpaw Erik Bedard, perhaps the biggest reason why the club remains within striking distance in the AL West this far into the season is because of the unbelievable rookie campaign of right-handed 22-year-old Michael Pineda.
Signed as an amateur free agent in 2005, Pineda is an intimidating force on the mound just on looks alone. Coming in at 6'7″ and 260 pounds, the Dominican Republic native stands tall on the mound and stares down opposing hitters. His large frame allows him to release the ball closer to the plate, which creates an illusion to hitters that his pitches are faster than they actually are.
Considering that Pineda's fastball is routinely pitched in the mid-90s with the ability to touch triple digits, though, his tall frame is merely a bonus.
Since Pineda pitches from a lower arm slot, his release point, combined with already impressive velocity, has a tendency to yield swinging strikes in the upper half of the zone as opposing batters try to keep up. That makes it even easier to generate helpless swings when he follows up with an off-speed offering in succession.
Pineda has excellent command of the strike zone with his pitches and the ability to get ground ball outs when he needs to, but most concerning for the rest of the league are the number of hitters who've flailed desperately and without success at his pitches over the course of the season. The numbers back it up.
With a 66.9 first-pitch strike percentage in 2011 (second in MLB), Pineda is challenging hitters early and getting ahead in the count at an alarming rate. His ability to overwhelm batters has paid off in his first full campaign in Seattle.
[php snippet=1]
As of June 27, a whopping 70% of Pineda's pitches thrown in the strike zone have been swung at (third in MLB) and even 35.3% of his pitches outside the strike zone are attempted as well (fourth in MLB). He also leads the league with a 12.4 swinging strike percentage, suggesting that not only is he bold in his attack, he's downright deadly.
To put the numbers in perspective; when Roy Halladay, arguably one of the top pitchers in baseball, won the NL Cy Young last year, he threw 67.3 percent first-pitch strikes and had 65.6 percent of his strikes swung at, with 9.8 percent of those swung on and missed.
Since Halladay is more of a groundball pitcher, though, a more telling comparison would be to seven-time Cy Young Award winner Roger Clemens, who averaged an 8.6 K/9 across 24 Major League seasons. When Clemens won his final Cy Young in 2004 with the Houston Astros, 63% of his first pitches were strikes, 68.9% of his strikes were swung at, and 11.6% of those were swung on and missed.
It's a little early, obviously, to be mentioning Pineda in the same sentence as Halladay or Clemens, but, needless to say, what Pineda has been doing at the Major League level already this season makes it easy to see that he is quite a special talent.
Projected to slot in behind Hernandez as Seattle's second starter, Pineda's performance this season has given Mariners fans a taste of what the future could be like with Hernandez, Pineda, and 2011 second-overall pick Danny Hultzen leading their rotation.
Through 15 starts this season, Pineda has gone 7-4 with a 2.45 ERA (2.91 FIP) in 95.2 innings, with 94 strikeouts (8.8 K/9) and 27 walks (2.5 BB/9). More impressively, he has only allowed 69 hits all season (6.5 H/9), for a remarkable 1.003 WHIP. It's hard to believe that this is just Pineda's first taste of Major League action, and it's no surprise that he is making a strong case to capture Rookie of the Year honors.
The fact that Pineda is already impressing in the big leagues and hasn't even reached his potential has to excite the Mariners' front office. He's always refining his primary off-speed pitch, a slider with quality tilt, and has been working on integrating a mid-80s changeup and a cut version of his menacing fastball into his repertoire.
Add in the fact that he's just 22 years old and that he'll learn from one of the American League's best right-handers in King Felix for years to come, and Mariners fans should enjoy watching Prince Pineda work his magic every fifth day for quite some time.
[php snippet=1]