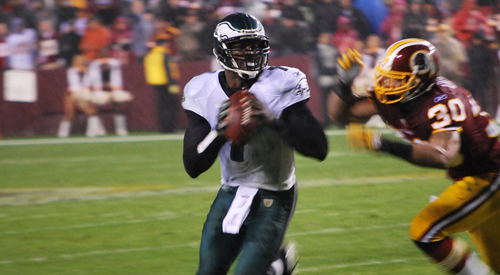 Michael Vick's message to the planet
November 18, 2010
Michael Vick had a message for you on Monday night.
Well, you in a broad sense, you meaning the rest of the NFL, you meaning the haters who call into talk radio and ask why he wasn't banned for life from the sport, you meaning all the people who doubted he could still lead a team after 18 months in prison.
He wanted to let you know you were wrong and he said it in very clear, concrete terms.
Six touchdowns, four in the air and two on the ground. Plus 20 of 28 passes completed for over 330 yards and another 80 yards rushing; a record for most points scored in the first half and another for most points scored by one team on Monday Night Football. Oh yeah, Vick is back and is he ever on fire. And not only did he send a message, he sent it on the very best stage he could have.
Monday Night Football is a singular event in sport. For much of the season it's the lone game not played on Sunday. It's also played on prime time. Think of the hype and bluster that has accompanied MNF even from the very beginning, when one Howard Cosell – himself a man not opposed to hyperbole – was in the booth with Keith Jackson and Don Meredith.
Think of the highly glossed production going into every game: from the halftime highlights (a sports first in 1970) to the flashy score bug (remember when it read Fins vs Skins for a Miami/Washington game?) to the sheer amount of hype ESPN puts into every single broadcast, from the teasers that start on Saturday to the countdown on Monday.
[php snippet=1]
[php snippet=1]
There is no bigger or better place in football to make a statement, as the greats have done throughout the history of Monday Night Football. Was it a surprise when the Chicago Bears lost to Miami in 1985 – their only loss that season – on a Monday night? Or when Brett Favre threw up, down and all over the Oakland Raiders on a Monday night after the passing of his father in 2003? Or how about when an ancient Joe Montana turned back the clock and duelled John Elway on a chilly Denver field in 1994?
Really, should it have been a surprise for Vick to create some new history last Monday? He's a player who didn't show much in 2009; playing essentially as a third-string quarterback. At the time, I thought his signing was a message in itself, especially one for Donovan McNabb. And it was – by season's end, McNabb who was the odd QB out in Philadelphia before he wound up in Washington. Was that a message too – this time to Vick? Yeah.
Vick started this season as number two on the depth chart and number one in hate. A 2009 column in Sports Illustrated suggested he should be banned from the NFL for life. He was backing up Kevin Kolb and, according to a New York Times report, the Eagles didn't even want him there: they had offered him around the league with no takers.
Is it fair to say Vick would have – should have, even – entered the season with a chip on his shoulder? I know I would if I were him; even the team that plucked him from the ether wasn't sold on him.
And how quickly did he set them right. Game one, September 12 of this year. Kolb is hit hard from behind by Clay Matthews in the second quarter. He briefly leaves, returns, and sits after halftime. It's 13-3 Green Bay when Vick takes the field in the third. On the first play, Vick rushes for 23 yards. On his next drive, he completes six of eight passes – as many completions as he had for all of 2009 – as the Eagles score their first touchdown of the game.
The Eagles can't overcome the Packers and lose both their opener (27-20) and their starting QB – Kolb is diagnosed with a concussion and will sit for game two. But Vick was amazing off the bench: 175 yards passing, 103 yards rushing and a touchdown.
It was just the beginning for Vick. This season he leads the NFL with a 115.1 QB rating and is averaging 225 yards passing per game and just under eight yards per rush. His passing has picked apart defences as good as Indianapolis's (218 yards and one major) and as poor as Jacksonville's (291 yards and three scores).
Of course, this was all prelude for last Monday.
Even before the game I was high on Vick – I namedropped him as an MVP candidate in my preview of the game. Given how well he had played all season, it shouldn't have been a surprise if he played well against Washington. After all, this is a team with defensive problems. Asking them to stop both DeSean Jackson and Jeremey Maclin as well as Vick was asking more than they could possibly do.
But to put up one of the greatest QB performances ever? I don't think anybody expected that. Nobody expected Vick to come out like a hurricane, like a hardcore gamer playing Madden on Rookie, and so thoroughly dominate the Redskins. But he did, putting up numbers that are unbelievable even in a box score. Six, count 'em, six touchdowns. Nearly 600 yards of offense.
Not even the Raiders, in their blowout over Denver a few weeks ago, approached this plateau of offensive excellence. I'm hard pressed to remember the last time one player just took over like Vick did – maybe Vince Young did it in the 2006 Rose Bowl, but that was against college players, not pros. This was Kobe-dropping-81 level amazing. Darryl Sittler's 10-point game amazing.
This feels like so much more. This was Vick showing the haters he's not just relevant in the NFL, but he's perhaps the best in the league. Maybe even one of the best of his generation – there's certainly nobody like him.
Take note everybody. Listen to the message. The Michael Vick Experience is open once again. Better start lining up now.
[php snippet=1]