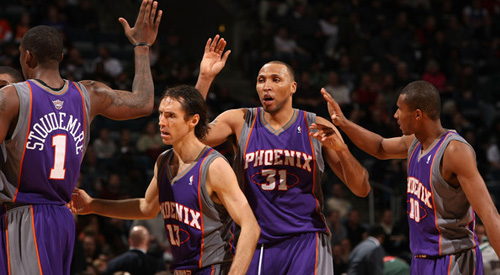 Zero titles or less: Looking back at Mike D'Antoni Suns
August 3, 2011
Moments after Game 6 of the Finals, after thinking about how great it was to see Dirk Nowitzki finally win a championship, I started thinking about the rest of the team.
As I wrote a while back, the 2011 Mavericks were a team made up of people who had been close before but had never gotten over the hump. Nowitzki lost in the 2006 Finals and Jason Kidd's Nets were defeated back-to-back in 2002 and 2003.
Shawn Marion had been close, too. As part of the famous Seven Seconds or Less Phoenix Suns, he played among some of the best talent of his generation on some good teams. But he'd never been to the Finals before.
And, as I thought about it, neither had most of his former teammates.
Between the 2005 and 2007 seasons, the Suns were one of the hottest teams in the NBA. They had a two-time MVP winner, were on TNT seemingly every Thursday, had one book directly written about them – Jack McCallum's :07 Seconds or Less – and another inspired by them*.
Surely it's a matter of time before HBO makes them the focus of a documentary.
I don't mean to suggest the Suns didn't deserve the attention. The 2004-05 team was a great story: they went from 29 wins in 2004 to 62 that season as Steve Nash won his first MVP award. More importantly to the casual fan, they were a fun team to watch: they led the NBA in pace, offensive rating and points per game.
[php snippet=1]
"The Suns have always been a fast-paced team, but that first year they just overwhelmed teams with their style," said Michael Schwartz of Valley of the Suns. "From Day 1 of training camp they sought out to be the best-conditioned team and they just ran teams off the floor. They ran on makes, they ran on misses, they ran in transition, they ran for layups, they ran for threes, they ran for everything. It was just such a fun style of basketball."
Between 2005 and 2007, they kept up that style of play: for three seasons they averaged the most points per game and were among the NBA's leaders in pace and offensive rating.
The 2006 postseason was their moment in the spotlight: they roared back from a 3-1 series deficit against the Lakers, outlasted the Clippers in a seven-game series and fell just short against Dallas in the Western Conference Finals. With Nash coming off his second MVP award and Amar'e Stoudemire coming back from microfracture surgery, they looked to be on the rise.
But instead of a continued ascent to the top of the basketball world that era of Suns basketball began to close. On Monday, May 14, late in an eventual Suns victory in Game 4 of the Western Conference semifinals, San Antonio's Robert Horry checked Nash into the scorer's table and both benches cleared. For leaving the bench, the NBA followed the letter of the law and suspended Stoudemire and Boris Diaw for Game 5. The Suns lost that game, then Game 6 and ended their season. The Spurs went on to win the NBA title.
"The Suns were on the verge of winning what seemed to be a franchise-changing game," said Schwartz. "The suspensions stymied all that momentum and were ultimately devastating. I honestly believe the Suns would have won at least that Game 5 had they not been suspended and perhaps the whole theme of this story would be different."
The next year, the Suns traded Marion and reserve Marcus Banks for Shaquille O'Neal, all but ending the run-and-gun era.
Since then, the team has shed most of the key parts of that stretch. Mike D'Antoni now coaches Stoudemire in New York. Leandro Barbosa plays in Toronto – where former Suns GM Brian Colangelo is also employed – and Diaw is in Charlotte. And still, the only players from that era to win in the Finals are Marion and Eddie House.
One assumes that, of all the former 7SOL Suns, Stoudemire is most likely to go to the Finals. This season the Knicks made their first postseason since 2004 and their first .500+ record in a decade. They're an improving team in a weakening conference.
There's also James Jones, Suns forward from 2005-07 and current bench player for the Miami Heat. With the depth of talent on Miami, it's not hard to see them winning whenever the next season tips off.
But still, whenever I think about those Suns teams, I think of Nash, the motor that made them go. He's 37 with a birthday in the middle of next season. He's spent 14 seasons in the NBA, the majority of them starting every game he played in and has struggled with injuries.
If he never wins a title, does it matter in the grand scheme of things? Sportswriters and casual fans will have their lists and pyramids, but with his awards and exciting legacy – including a memorable piece by Chuck Klosterman – does anybody seriously think he's going to be looked back on as flawed?
Schwartz doesn't think Nash would.
"If you ask him," he said, "he'd tell you he played on great teams with great teammates who gave it all they had and had a ton of fun together but just came up a little short."
What Schwartz thinks Nash should be remembered for range from his outspokenness on social issues to "ushering in a new era of basketball when the hand check rules changed in 2004 and being a part of so many fun teams."
But never winning a title will always be lurking just behind those.
"Unfortunately for Nash, more people judge legacies like Bill Simmons, so I feel he will be dinged for it."
Still, those Suns teams were more fun to watch than anything else in the NBA at the time. They exploded the same year two defensively-oriented teams – the Spurs and Detroit Pistons – played a forgettable seven-game final. They ushered in three great postseasons and, I'd argue, some of the best basketball of the decade. Titles or not, that should be enough to remember them by.
*If Paul Shirley ends up playing in Charlotte, does he get a book deal?
[php snippet=1]