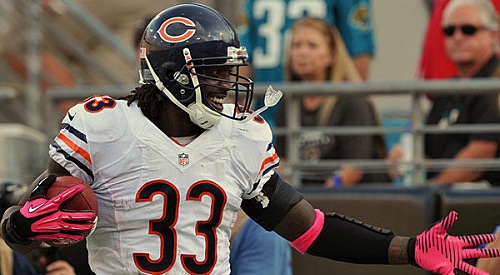 Now comes life
November 26, 2012
The starting point here should be Pro Football Talk's Mike Florio, but it won't be. I'll start it with the starting point to Florio's comments, rather, I'll start it with the Charles Tillman.
Tillman, a 10-year cornerback with the Chicago Bears, is currently enjoying perhaps his finest season in the NFL. He has made 56 tackles, has two interceptions and, with seven forced fumbles and two touchdowns, is a legitimate candidate for the Defensive Player of the Year Award. And yet, that only tells part of the tale. Earlier this month, before a game against the Houston Texans, Tillman floated around the idea that he might not play because his wife was expecting to give birth around that same time. (Of course, by now you know that Tillman did play against the Texans.)
Cue here the unfortunate logic of Mike Florio, who thought then that the Bears shouldn't have to suffer because of this. Florio believes that NFL teams deserve that every last one of their players be available for 16 Sundays every fall, despite whatever else may be happening in the players' lives. It's as if he thinks that players can miss a game if they're injured, but not otherwise, like for a celebrated family moment. (Since, Florio has nuanced his opinion a little bit.)
[php snippet=1]
Florio is wrong, but hopefully you already know this. Of course, Charles Tillman isn't the first professional athlete to be chastised for seemingly wanting to enjoy a life beyond his respective sport. Once upon a time, Vancouver Canucks goaltender Roberto Luongo made headlines because he passed up on the opportunity to start an NHL All-Star Game in order to spend time with his pregnant wife. Likewise, back when the Raptors were an adequate NBA franchise, Torontoers were incensed with their superstar Vince Carter because he attended his graduation ceremony at the University of North Carolina on the morning of a Game 7 of the second round of the 2001 NBA playoffs. During the game, the newly-graduated Air Canada scored 20 points while playing the entire 48 minutes of the game, but he missed a shot with two seconds left and the Raptors lost.
Their logic says that Game 7 is a big game, but there will potentially be plenty more ahead. That's what pro athletes hope for anyway – that they manage to play and compete in big games on a yearly basis. Meanwhile, there's only one (maybe two) graduation day in the life of a person. What's important, too, is that Vince Carter didn't miss any games to attend his graduation ceremony, so really, why was this a problem? Just as well, the birth of a child is an event that only happens so often in a person's life.
It is true that athletes, for the most part, make a healthy salary to play sports and that this should come with some sacrifices. But that's the flaw in Florio's logic, saying that an NFL player should miss the birth of his child to play a game, is to hold professional athletes to a different standard than the rest of us are. If athletes are supposed to live up to ideals that the rest of society isn't asked to meet, and if there are different social standards for them, then it's no wonder that they think that they don't generally need to abide by traditional social rules and norms.
If you don't believe it, you should try the following: Next time you're expecting a child, skip on it and instead go to work as you would for your regular schedule. You'll be looked at as the village idiot. But, of course, you're not. And neither are pro athletes, and this is why they make those decisions.
Instead, Tillman should be celebrated for being willing to skip a game in the matter that he almost did. Fans should be proud if the players they support are willing to step off the court in order to step up elsewhere.
That's because sports are great, but they're pointless. Sports, whether amateur or professional, are only a hobby. There may be clear benefits associated with sports, but they remain foolish in nature. Sports don't make sense and, ultimately, don't matter. They're pointless, and that's why it's so easy to be a starting pitcher or a backup linebacker. By comparison, the birth of a child is that much more difficult, messy and complicated. And if it's so complicated and difficult, it's because it's so much more important.
Playing football is easy, just like it is so easy to give yourself entirely to any sport that has often given you so much. And if it's easy, it's because it doesn't matter. By comparison, it's much more difficult to establish yourself as a man of honesty, respect and integrity – if it's so much more difficult to start a family, it's because there's nothing else that matters more.
It's so much easier to tackle someone, or to go out at night after games or to score 50 goals in a season. But no one said it would be easy.
[php snippet=1]