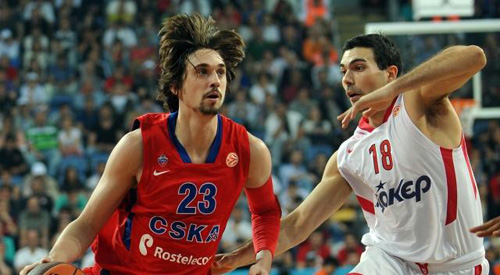 Shved and Kirilenko: From the fence to Minnesota
September 14, 2012
The Minnesota Timberwolves have never really been considered among the most exciting teams in the NBA. They had a string of Kevin Garnett-led playoff runs in the early 90s and late 00s, but haven't become a legitimate Finals contender year-in and year-out. Even at the height of their success with Garnett, the team failed to generate much interest outside of their own fanbase.
In the years since the departure of KG to the Boston Celtics in 2007, conditions have only worsened. The Timberwolves, having graduated from simply mediocre to truly awful, have averaged a paltry 21 wins over the past five seasons.
Despite the disappointing recent results, most NBA fans recognize the potential in the current roster. During the three-year reign of embattled General Manager David Kahn, the suddenly buzz-worthy Wolves have undergone an international revolution. Last season, Montenegrin big man Nikola Pekovic turned heads with his scoring and efficiency, while Spanish rookie point guard Ricky Rubio was a league-wide sensation before tearing his ACL in March.
This upcoming season, those two players will be joined by two more intriguing imports: Forward Andrei Kirilenko and guard Alexey Shved, both hailing from Russia.
Kirilenko, of course, has already had a long and productive career in the NBA with the Utah Jazz and is a known commodity. But it's the 23-year old Shved that is somewhat of an enigma to many NBA fans. For that reason, many among the Timberwolves faithful closely watched the performance of Team Russia and Shved in the 2012 Summer Olympics.
Those who watched him play in London likely came away impressed by the young Russian guard. His Olympics were marred somewhat by an unfortunate incident when he was benched during the fourth quarter of a game against Australia for talking during a timeout. But he was dazzling against Great Britain when he contributed a double-double (no easy feat in international play) with 16 points and 13 assists. And he demonstrated laudable poise in scoring an incredible 13 points in the 10-minute fourth quarter of the bronze medal game against Argentina. 
[php snippet=1]
Of course, Shved's poise should come as no surprise, given his remarkable pedigree on the international stage. Though only 23 years old, Shved has, like many European players his age, been playing professionally for several years.
The youngster first started drawing attention from the NBA as far back as five years ago for his standout performances at Reebok Eurocamp in 2007 and the U-20 European Championships in 2008. Since then, he has only added to his resume with great play both for his Russian team, CSKA Moscow, and for Team Russia. He was named the 2012 BEKO PBL Playoffs MVP by Sports Express for his part in leading CSKA Moscow to the Russian National Championship. He has also led CSKA Moscow to four league championships and a EuroLeague title in 2007-08. They were runners-up in 2008-09 and 2011-12.
As impressive as those various accolades may be, Timberwolves fans are probably less interested in Russian league titles and more interested in what Alexey Shved can actually do on the court to help Minnesota win games next year. Fortunately for those fans, the answer is a lot. The big question is how much time he will have to do it in. With Rubio, Brandon Roy, Luke Ridnour and J.J. Barea all fighting for minutes in Minnesota, the T'Wolves have a fairly crowded backcourt rotation before Shved even enters the picture.
Of course, that situation may actually prove beneficial for Shved, though, as it will allow him to play in a relatively low-pressure environment. No one expects him to start right away or to be a franchise savior (things that were expected by some of Rubio last season). In fact, it may be a while before Rubio is up to full speed following his ACL tear last season, and we don't know yet exactly how much Roy can be relied on given his injury history as well. Both Ridnour and Barea have their limitations as well.
For all these reasons, plenty of playing time could open up for Shved. It helps that he can easily play either guard position. The 6'6" Shved may even play some small forward when the Timberwolves opt to go for a small lineup based on matchups.
So it isn't a stretch to predict that, similar to Rubio last year, Shved could earn more playing time as the season goes on based on his play. He could even eventually move into the starting lineup.
Whenever Shved does get on the floor, Timberwolves fans will like what they see. He has a natural charisma and an intuitive feel for the game that can't be taught. Although he'll likely end up as a shooting guard in the NBA, he has played almost entirely at point guard for CSKA Moscow and Russia, and it shows. He sees the floor very well; a trait bolstered when he does play point guard by his great height for that position. He does display some questionable decision making at times and has had his struggles with turnovers, but that isn't uncommon for young guards and it should improve with time.
Overall, his decisions at this early stage of his career have been solid, particularly in the pick-and-roll. Because of the impressive shooting ability of both Shved and forward Kevin Love, the numerous pick-and-roll and pick-and-pop combinations involving Rubio, Shved and Love could prove devastating for Minnesota's opponents in the future.
Because Rubio is such a poor shooter at this point in his career, T'Wolves supporters will be delighted to know that Shved can compensate for that deficiency in the backcourt, as he is a decidedly above-average shooter. In the EuroLeague last season, he shot a blistering 49.3 percent on three-pointers. Of course, the three-point shot in international play is essentially a long two by NBA standards, so that skill may not entirely translate to the NBA. But mechanically his jump shot looks good, so there is cause for optimism.
Offensively, aside from solid jump shooting, Shved has an entertaining, Manu Ginobili-esque type of game. His herky-jerky style of movement when the ball is in hands, coupled with lots of hesitation moves and effective use of the so-called "Euro Step" dribble drive, make him very difficult to guard.
Shved will need to add some muscle to his frame, however, if he hopes to have success in getting to the against physical NBA defenses. Adding size will also aid defensively in trying to contain some of the other guards he will face off against. Defensively, Shved will not be good as the surprisingly effective Ricky Rubio proved to be last year, but he can be solid in one-on-one situations on the perimeter. He's susceptible to screens and has a short wingspan, so he'll have to learn to compensate for these limitations as well.
In the end, it appears that the much-maligned Timberwolves GM David Kahn has added another gem to his roster in Alexey Shved to complement Love and Rubio. For the first time in a long time, the future is bright in Minnesota. Fans of the NBA – and of the beloved NBA League Pass – should celebrate. A Ricky Rubio/Alexey Shved backcourt is one that has potential to excite and entertain for many years to come.
[php snippet=1]