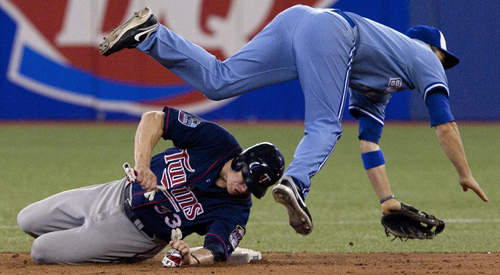 All-Star Twins have eyes set on Toronto
March 16, 2011
Spring Training is meant to be a time for players to regain whatever shape they may have lost in the offseason. For the Minnesota Twins, nothing could be further from the truth.
Right now, three of the biggest Twin names are coming back from various injuries. Joe Mauer had off season surgery on his left knee, Joe Nathan missed all of 2010 after having Tommy John surgery, and Justin Morneau is recovering from a concussion he received last July in Toronto.
All three of these guys may be ready to play on Opening Day.
Mauer will almost certainly be good to go, as he is catching bullpen sessions with minimal discomfort. He's been receiving fluid injections to keep his knee loose. Nathan and Morneau have the bigger questions marks above their heads.
Tommy John surgery usually requires 12-15 months of recovery time for pitchers. Nathan's one year anniversary for the procedure will be on Mar. 26. If he's not ready come the Twins' Apr. 1 date in Toronto, manager Ron Gardenhire will be more than willing to give Nathan some extra time to get back to 100 percent.
Nathan averaged 41 saves per season from 2004 to 2009. Jon Rauch and Matt Capps combined for 37 saves last year, but the Twins lost Rauch in the offseason to – you guessed it – Toronto.
[php snippet=1]
Nathan has been throwing in games this spring, which is a great sign for Minnesota. Capps has decent closer stuff, but for the time being, the job is Nathan's to lose, not Capps' to win.
Morneau received his concussion after taking a knee in the head while trying to break up John McDonald's double play attempt. A concussion is a difficult thing to diagnose, let alone set a timetable for recovery. Sometimes a player will continue on like nothing happened, sometimes he'll go months experiencing symptoms and dizziness even after light workouts.
Toronto's Aaron Hill was concussed after playing just 55 games of the 2008 season. He didn't return until the following season in which he was named the AL Comeback Player of the Year. Morneau was having an MVP-like season of his own last year. If he can come back and do what he was doing before his injury, he'll be in line for his own Comeback Player trophy. He started the journey last Friday, playing in his first game since the accident and is reportedly feeling good.
With 94 wins, the Twins topped the list of teams in the AL Central last season, and many think they look poised to clinch another division title in 2011. The return of any of their injured roster members will help make those predictions a reality.
Between the three of them, there are two AL MVP honors, 12 All-Star Game appearances, six Silver Slugger awards, three Gold Gloves and two appearances on the cover of MLB: The Show. Putting that kind of star power back on the field is essential for the Twins in their journey for a World Series championship.
[php snippet=1]