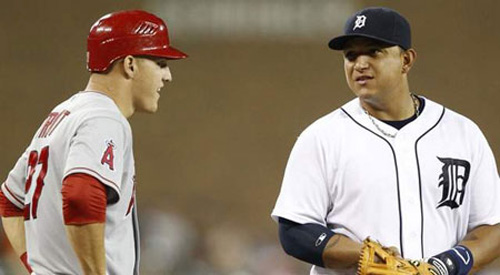 MVP – Media Valued Players
September 24, 2012
The American League MVP race isn't just about who's the better player, it's about how the media is evaluating advanced baseball metrics.
It started with .OPS. It was easy enough to understand (OBP + slugging) and if anything, it saved on word count because writers could just list one statistic. From there, more advanced metrics started making their way in. Terms like: UZR (Ultimate Zone Rating), FIP (Field Independent Pitching), ISO (Isolated Power), and the controversial WAR (Wins Above Replacement) began sheepishly popping up in paragraphs.
This year, an entire Rays broadcast was devoted to outlining some of the advanced metrics to the fans. Sabergeeks were treated to a 'Sabermetrics Sunday' where Sam Fuld sat in the booth and acted as an advanced metrics advisor.
More and more advanced metrics are appearing in the player-evaluation discussions, too.
Mike Trout's candidacy for MVP has centered on his astounding WAR (9.5) and the fact that he's doing it all as a rookie. But his WAR is being overshadowed by the grouping of three traditional statistics.
Miguel Cabrera's campaigners talk about the hitters' Triple Crown, and how if a player wins it, he must be the MVP. They talk about Cabrera's RBI lead over Trout and how this gives Cabrera the edge (which it doesn't).
The MVP race is coming down to an old-school versus new-school showdown.
[php snippet=1]
There's no mistaking that Cabrera's statistics are spectacular, whether you're measuring them with traditional statistics (average, home runs, RBIs) or advanced metrics (.ISO, wOBA [weighted on-base average], WAR, etc). The problem is that Trout's value is higher, and the best way to prove it is to use the statistics that writers don't usually consider, such as his zone rating, base running ability, etc.
Trout is the golden child of advanced metrics; he rates off the charts in every important category.
Cabrera is the golden child of traditional statistics; he hits a ton of home runs and his RBI totals suggest a 'clutch' factor which writers love.
Trout is the best baseball player.
Cabrera is the easiest choice to defend.
There is an easy out for the writers: if either the Angels or the Tigers make the playoffs. The team that makes it gives the writers an excuse to select Trout or Cabrera, saying that the player was the catalyst for his team's playoff push.
Writers rarely like to vote for a player on a non-playoff team.
The last American League player to win an MVP without his team making the playoffs was Alex Rodriguez when he was with the Rangers in 2003; Albert Pujols also won the 2008 NL MVP despite the Cardinals missing the postseason.
If neither Cabrera nor Trout make it to the postseason, it will force the writers to think about as much information as possible when making a decision.
One of their arguments for Cabrera will be the Triple Crown. He's just taken the lead in each category and is having a torrid September while Trout has slowed somewhat statistically. Cabrera voters will talk about momentum, and if the Tigers make the playoffs (they're more likely than the Angels), voters will highlight Cabrera's hot finish.
Trout backers will argue that the season has to be looked at as a whole. One hot month doesn't make an MVP. They'll talk about Trout's incredibly young age and how he's measured by advanced metrics. This is where they might find themselves talking to walls.
The average baseball fan has a rough understanding of advanced metrics, but it is far easier for them to look at Cabrera's RBI and home run totals and compare him to previous great players. They understand that WAR is important, but they're just not sure why it's important, whereas home runs and RBIs have always been around.
Fans can tell you how many bombs Ken Griffey Jr. hit in 1997, and they'll say that 'yeah, Trout has stolen bases, but they're not as important.' But Trout's stolen base total is just a fraction of how valuable his speed is; how much pressure he puts on the defense or how many outs he avoids just by getting up that line like his heels are on fire.
This is where advanced metrics help, but they're not quite 'hip' enough yet. The old school seems to be in charge. Writers remember their audience. They are a reflection of the larger fanbase, and because of this, advanced metrics lovers are still fighting for significant mainstream recognition.
Cabrera will win the MVP, especially if his team overtakes the White Sox and he's able to claim the first Triple Crown for a hitter since Carl Yastrzemski in 1967. Trout has the Rookie of the Year, there's no doubting it. He deserves more though.
Ted Williams hit .400 in 1941 but lost in MVP voting to Joe DiMaggio because of DiMaggio's legendary 56-game hitting streak. The hitting streak was special, definitely more so than a triple crown, but even it didn't mean DiMaggio should have been MVP. Cabrera hitting the first Triple Crown in 45 years would be an incredible accomplishment, but it doesn't mean he should be the MVP.
When the award is announced – and more importantly when the writers justify their picks – we'll have an understanding of how far advanced metrics have come in mainstream media.
[php snippet=1]