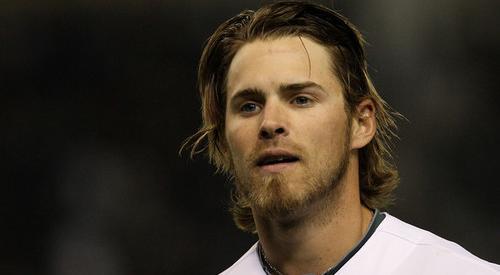 Evaluating the postseason dropouts
October 18, 2012
Ten teams made the playoffs, four teams remain. "Math" tells us that six have been eliminated, but which of the unlucky six have the best chance of trying again next year?
1) Washington Nationals
This team is going to make the playoffs every year for a long time. It's that simple, and it's not just because they have the best young talent in the majors, but because the NL East, once one of the baseball's top divisions, is quickly becoming a joke.
The Mets are, as per usual, unpredictable. What to do with David Wright? What to do with Jason Bay's contract? Can R.A. Dickey repeat? Can the young pitchers in the system blossom? The Nationals don't have that many questions, and most of them have answers that support a long run at the top. The Marlins are a mess, with zero direction and multiple bad contracts that hinder the team's Miami reboot. Philadelphia, despite its big-named pitching staff, is clearly on the downswing and are a seven-game losing streak away from total rebuild. The Atlanta Braves are the only team that can challenge Washington, but more on them later.
Even if the Nationals found themselves in the American League East next season, they'd still be a divisional contender for years to come.
Not many teams can boast 19-year old outfielders that can hit 22 home runs, have a cannon in place of a throwing arm, and single-handily saved the eye-black business from going under.
Not many teams have a 23-year old ace pitcher who had an 11.1 K-rate, and whose value is so important they sat him at the end of the season to preserve him for future years. Right or wrong (wrong, but that's a different argument), it's an incredible testament to the team's belief in his skills.
There's a 21-game winner in the rotation and a bad-ass bullpen. There's a revitalized Jayson Werth, an emerging Ian Desmond and the better LaRoche brother. The Nationals, despite an epic collapse in Game 5 of the NLDS, are built for a long ride at the top. 
[php snippet=1]
2) Cincinnati Reds
Similar to the Nationals where there is a strong, young, growing team coupled with a weak division that should prove beneficial to the Reds's long-term playoff plans. Joey Votto, Jay Bruce and Brandon Phillips, while not getting any younger, aren't reaching a point where their offensive and defensive contributions will prove to be liabilities. Ryan Ludwick (26 HR's, .531 SLG%) seems to have found his power stroke after losing it in the caverns of PETCO in San Diego. Todd Frazier and Zack Cozart aren't bad building blocks for the future. The talent exists, and there's no reason to believe it's going anywhere.
As for the rotation, the Reds traded away the farm system to grab Mat Latos from San Diego, and for the first half of the year there were serious regrets. Up until June 18, Latos was sporting a 5.20 ERA. In the second half, he became the Latos they traded for: 19 starts, 2.43 ERA and 115 strikeouts against just 38 walks. Batters hit a meagre .201 off him in that span. He was the ace they needed, and he delivered. And who knows what would have happened had Johnny Cueto, a legit Cy Young contender for most of the year, not been hurt nine pitches into the playoffs? Quite possibly the San Francisco Giants would be in this column instead of the Reds.
The rotation and lineup are set for the Reds, and it can rival most teams in the league. St. Louis doesn't get hot until the last two weeks of the year and then decide to win it all, so they won't be much a problem for the Reds through the first five-and-a-half months of the season. The Brewers and Pirates pose threats, but aren't good enough to take out Cincinnati over a 162-game span. The Cubs and Astros were never a threat, but unfortunately for Cincy, they won't have Houston to kick around anymore, as the 'Stros are headed to the AL West for 2013.
3) Atlanta Braves
The three National League teams that occupy the top three spots on this list all have one thing in common: lack of competition. Obviously, the Braves now have to deal with the top-ranked Nationals in their own division, but Atlanta still has a better shot at winning another Wild Card spot than the three American League teams on this list do.
There's Kris Medlen's unbelievable season (0.97 ERA, 84 K's, 9 BB's and a .265 opponents SLG%), Jason Heyward's re-emergence (.351 wOBA [league average .315] and a 6.6 fWAR), and Freddie Freeman. The possible mid-season return of Brandon Beachy from Tommy John surgery (and judging by the way Medlen returned from the same surgery, put money on the Braves knowing how to handle Beachy's return) helps too.
The Braves have holes (like how to replace Chipper Jones in the locker room), and having a couple more arms in the rotation couldn't hurt. But the competition isn't there to truly challenge them. Atlanta ran away with the top Wild Card spot this season, and the lot of the Brewers, Dodgers and Phillies don't seem like legit threats to take it away anytime soon.
4 and 5) Oakland Athletics and Texas Rangers
Oakland and Texas are here together because of their shared division and similar talent level (the Nationals and Braves are too far apart in that category to put them in the same group). Both teams can miss the playoffs next year and no one would be too surprised, and it's the same for if they both make it. The AL West is a strong, strong division, and likely regressions by both Texas and Oakland, plus the probable improvement of Los Angeles, will make 2013 once again a three-way race to the finish line.
Oakland's inclusion in the 2012 playoffs was surprise enough. An all-rookie rotation and an offense fuelled by castaways don't usually make the playoffs, although GM's of said teams are rarely played by Brad Pitt in movies.
The Athletics went 51-25 in the second half for a reason; they were a damn good team. But teams that don't make sense to be playoff contenders usually don't enjoy more than a year or two in the spotlight, and that's where Oakland falls. A 2012 playoff team that featured starring performances from Josh Reddick, Brandon Inge and Seth Smith can't be a formula for long-term success. Yoenis Cespedes is a legit stud in the league, and can be a player that a team revolves its future around; it just depends on who hits with him.
Chris Carter and Derrick Norris are good, but are they that good? As for the rotation, it's gold. Tommy Milone was brought over in the Gio Gonzalez trade and proved his worth. Jarrod Parker, A.J. Griffin, Brett Anderson, Brandon McCarthy: all legit starters in the majors, and if they all stick around (McCarthy is rumoured to be traded), they can all grow together to be one of the best rotations in the league. But the rest of the team will have to step up to their potential level if the playoffs are to be a recurring theme.
The Rangers are much harder to figure out. The talent on their roster is undeniable, both on the hitting and pitching sides of the ball. Adrian Beltre is a legit MVP candidate every year. Elvis Andrus is one of the best shortstops in the league. Jurickson Profar is one of the best prospects in baseball, and Mike Olt is no slouch in that department either.
The question is the outfield, where a Josh Hamilton-sized hole is about to open. Nobody believes the former MVP will be returning to the Lone Star Sate, which takes away 43 home runs from the lineup. Despite his end-of-year struggles, his presence will be hard to replace. The rotation is set for the next little while, and you can never count out the Rangers from spending money or using prospects to bring in another top flight pitcher (see Greinke, Zack).
As for either team's chances to return to the postseason, much depends on how the Los Angeles Angels perform in 2013. A horrid start to 2012 led to a much better second half that saw legit contention for the AL West crown. A more consistent rotation and another year of should-be-MVP Mike Trout will bode well for a team that also has nine more years of Albert Pujols to look forward too. Even with the inclusion of the Astros, the AL West will be the most exciting division in 2013.
6) Baltimore Orioles
The Orioles were not supposed to make the 2012 MLB Playoffs. They were supposed to be contenders much later in the decade, if ever. But these guys never said quit, and instead won 16-straight extra-inning games and went 29-9 in games decided by just one run. They went 18-9 in August and 19-9 in September to finish one game back of the AL East champion Yankees. They were exciting to watch, and it was good for baseball to have one of its premier franchises return to relevance. But this team is not built to last.
The Orioles were lucky to win all of those extra inning games; any team would be. Finishing 29-9 in one-run games is also not a recipe for long-term success; logic and statistics dictate that won't happen every year.
This is a good team, with good players and a couple of strong prospects in the pipeline (Manny Machado and Dylan Bundy). But Baltimore came out of nowhere and didn't put up the kind of numbers expected of successful playoff teams. Boston and Toronto may not be contenders in the AL East, but Tampa Bay and New York are still put together much better. There are three teams in the AL West that can claim the same thing. Baltimore was a nice team in 2012, but will be hard to say the same thing in 2013.
[php snippet=1]