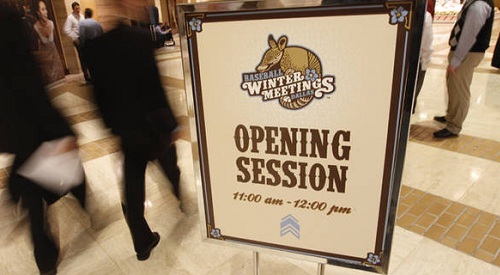 How to win at the Winter Meetings
November 28, 2012
Listen. The Baseball Winter Meetings start up next week at the Gaylord Opryland in Nashville, proceeding from Monday through Thursday.
If you want to work in baseball, update your resume, polish your nicest shoes and get your act together.
There is, sincerely, no better way of gaining an entry level position in baseball than through the Winter Meetings.
If you're unaware, the Winter Meetings is Valhalla for any baseball fan. Recognizable network personalities, national journalists, and a who's who of executives, managers and former players mingle throughout an enormous venue; the annual Trade Show features every clothing distributor, baseball card manufacturer, food vendor and in-game diversion you could imagine, and the closing Gala finishes things off in memorable fashion. (Last season's Gala, for example, was held at Rangers Ballpark in Arlington.)
Every major and minor league team is in attendance, with Independent League teams covertly present as well. As part of its to-do list in Nashville, each team will enter the Meetings looking specifically to fill certain positions for the 2013 season. The hiring process varies from team to team; some teams shake hands with their newest employees as soon as Tuesday, Wednesday or Thursday, while others wait until after the Meetings to finalize the details.
[php snippet=1]
A few words to the wise:
Suit up. Seriously, dress to the nines, then hold your resume materials to the same high standard. Every prospective employer will be deluged by prospective candidates from similar backgrounds offering similar skill sets. A poor resume or unkempt appearance makes it all the easier for them to pare down their list of possibilities by dismissing you. Nicest suits/dresses and one-page resumes only. If you want a job, you have to want it. Quality teams don't just hand positions away.
Enter with a plan. If asked, "What do you want to do?" don't respond "I'll do anything!" Teams want specifics. Whether you choose Marketing, Box Office, Stadium Operations, Sales, Broadcasting/Media Relations, etc., you have to go for it. It might sound good on paper to tell a team that you're willing to do whatever they need of you, but they'd rather hear how your specific skills, experiences and motivations have led you to determinedly pursue a career in groundskeeping.
Lose your shyness. Talk to everyone, everywhere. It doesn't matter if it's at the airport, the bar or in the elevator, strike up conversation with anyone and everyone. Befriend your fellow job-seekers. Politely approach a Minor League general manager and introduce yourself. Walk around the Meetings, stay extroverted, collect business cards and work actively to keep your time productive.
Keep your chin up. The hidden secret at the Winter Meetings is that frustration is everywhere, and it grows more and more pervasive as the days pass by. Top notch baseball reporters become frustrated chasing the next big free agent/trade story. Teams become frustrated in contract/trade negotiations. Trade show vendors become frustrated if they don't draw a certain level of interest. And job-seekers especially become frustrated when they see their counterparts receiving interviews and job offers while they get ignored. The days can grow rotten in a hurry, changing from the awe of the first morning to the bitterness of the final long afternoon.
My first Winter Meetings was in Anaheim, December of 2004. I was fresh-faced and petrified, and I spent the majority of my time sitting quietly in huge rooms filled with fellow job-seekers, waiting hour after hour for something good to happen to me.
In the end, I received two interviews over the course of three days. During one of the interviews, I answered every question with comfort and ease, and I walked away feeling good about myself. The second interview featured such questions as "Who is your favorite of the seven dwarves?" ("Bashful," I said); "Would you mind if you barely watched any baseball at all this summer while performing this job?" ("Yes, I'd mind," I said); and "Would you mind working in a cubicle all day long?" ("I wouldn't like that," I said.) I was sure I had bombed it.
As it turned out, I was wrong. I didn't hear a thing from the former interview, but the latter led to a job offer from the Brockton Rox to be their media relations intern in 2005. I had a blast during that initial season, and my foot was now in the door of the professional baseball world.
So, no, maybe I didn't do everything perfectly, but I went to the Winter Meetings. That's the first step. Except for 2010, I've attended every Meetings since. This year, I intend to make it eight of the last nine Winter Meetings.
If you too want to work in baseball, I'll see you in Nashville.
[php snippet=1]