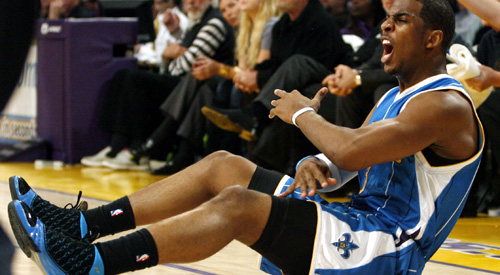 Away with democracy
January 13, 2009
Over the past two months I have made cases for the players which I believe deserve to represent their franchises in February's talent showcase in Phoenix. My selections have been based on both speculation and merit, and as such have been accompanied by statistical analysis, popularity considerations, and an overall examination of their value to both their respective team and, by extension, the National Basketball Association.
With just a little over a month remaining before the next chapter of the illustrious and highly-anticipated All-Star weekend commences, it seems only fitting that rather than updating my opinion as to who is most deserving of getting the nod, that I examine who, in all likelihood, will actually make the trip to Arizona.
With the voting process well underway, it once again appears that the players chosen by fans to start and those who most deserve the honour are not one and the same. That being the case I will present the players most likely to start for each conference, look at the probable backups by position and examine this year's class of potential snubs.
[php snippet=1]
Eastern Conference:
Guards Dwyane Wade and Allen Iverson
Wade's season to date has been superlative, averages of 28.7 points, 5.1 rebounds, 7.0 assists, 2.2 steals and 1.6 blocks solidify his genuine place amongst the starters in Phoenix.
Iverson on the other hand appears to have ridden the coat tails of his popularity all the way to Arizona. His season averages of 18.1 points, 3.5 rebounds, 5.6 assists and 1.6 steals are all below his career averages, and the disparity between his numbers and Wade's are indicative of one players merit and another's lack thereof. Nonetheless, the fans have spoken, and with over a 400,000 vote lead on Vince Carter (who also has no place starting) Allen Iverson will be on the court to start the game.
His most deserving replacement, and a player who will with no doubt be added by the selection committee as a reserve is Joe Johnson. His averages of 22.5 points, 4.8 rebounds, 6.1 assists and 1.1 steals have led the oft-lowly Hawks all the way to a plus .600 record.
Look for Devin Harris to also make the trip. In all likelihood Harris will garner the league's Most Improved Player award when the season concludes, in the meantime his 23.1 points, 3.2 rebounds, 6.6 assists and 1.6 steals per night should be enough to get him to Arizona.
Well, the above four guards are nearly a lock it appears that deserving reserves like Rajon Rondo, Ray Allen, rookie Derrick Rose, Vince Carter and Jose Calderon will not be making the trip.
Forwards LeBron James and Kevin Garnett
The fans got one pick right, be it a no-brainer or not. LeBron James is the league's MVP favourite at this point, and on his way to earning his place in the greatest player of all-time discussions. He continues to stuff stat sheets with season averages of 27.4 points, 6.6 rebounds, 6.6 assists, 1.9 steals and 1.3 blocks, all while shooting over .500 from the field and leading his team to a league-best 29-6 record.
KG is difficult to argue with also. Despite the recent slump that has all but removed the Celtics from any possibility of challenging the '96 Bulls for the best record in league history, the South Carolina kid has remained a productive model of professionalism.
Another player on a sliding team who will likely be coming off the bench is Chris Bosh. While his Raptors have been anti-climatic to start the season, he's been able to maintain averages of 23.6 points, 9.8 rebounds and 2.5 assists per game that still stand out amongst the thin frontline players in the East.
Danny Granger has been making a push for his first All-Star appearance also. The New Mexico product has put together an impressive couple of months and is averaging 26.4 points, 5.1 boards, 3.4 assists, 1.1 steals and 1.4 blocks per night.
Paul Pierce and Tayshaun Prince have also made strong cases and could be picked up by the selection committee.
Center Dwight Howard
The clear-cut favourite by nearly two million votes over Samuel Dalembert, Howard is more than deserving of this spot. His numbers have dwindled a bit since the start of the season, but still his averages of 20.1 points, 13.9 rebounds and 3.3 blocks while shooting .563 from the field stand head and shoulders above all other Eastern centers.
In fact, it's difficult to even select a back-up center in the East, as few have been deserving of recognition. Charlotte's Emeka Okafor, who ironically enough was drafted second overall behind Howard in 2005, appears to be the most deserving of the bunch with averages of 13.8 points, 10.9 rebounds and 1.8 blocks per game.
Toronto's Jermaine O'Neal is likely also in contention numbers wise, although recent injuries could limit his chances.
Western Conference:
Guards Kobe Bryant and Tracy McGrady
Kobe is fresh off an MVP year and hasn't skipped a bit while leading the Lakers to a great start. His 26.9 points, 5.3 rebounds, 4.3 assists and 1.4 steals make him an unquestioned starter.
McGrady on the other hand doesn't even factor into my picks as a top six guard in the west. His popularity has always been fairly high, but it appears that being paired with Yao Ming has awarded him many international votes that I dare say are undeserved.
Chris Paul should be starting. He's been the hands down best point guard in the league to start the season, and is undisputedly a top five player in the association. His averages of 20.7 points, 5.2 rebounds, 11.5 assists and 2.8 steal (he leads the latter two categories league wide) make McGrady's season averages of 15.4 points, 4.6 rebounds, 5 assists and 1.2 steals per game look incredibly out of place.
Look for Brandon Roy and Chauncey Billups to fill out the backcourt, with Steve Nash likely suiting up also, especially considering the venue.
Forwards Tim Duncan and Carmelo Anthony
Mr. Fundamental continues his consistent play again this year. Duncan is averaging 20.8 points, 10.3 boards, 3.3 assists and 1.7 blocks per contest for the Spurs, and the fans continue to recognize his excellence.
The battle for the second starting spot has been between Melo and Amare Stoudemire, with Anthony currently holding a slight 10,000 vote advantage. Both players are enjoying all-star calibre seasons, with Melo averaging 21.1 points, 7.3 rebounds and 3.6 assists.
Stoudemire will be there, whether starting or coming off the bench, behind his 21.8 points, 8.5 boards, 2.1 assists, 1.2 steals and a block per game.
More deserving than both however, has been Dirk Nowitzki, posting 26.2 points, 8.5 points and 2.6 assists per night for the Mavs. Pau Gasol is also making a strong push with the Lakers.
Center Yao Ming
As long as the voting system is in place Yao will start in the West. Fortunately, his 19.5 points, 9.5 rebounds and 1.7 blocks per night are probably good enough to get him to Phoenix anyway.
Al Jefferson is the most deserving back-up center at this point in the season behind averages of 22.5 points, 10.4 boards and 1.8 blocks per night for the Wolves.
Golden State's Andris Biedrins remains in contention also with impressive numbers of 14.0 points, 12.0 rebounds, 1.6 blocks and 1.3 steals nightly. The 'Big Cactus' Shaquille O'Neal is second in overall voting, but despite his impressive season averages of 17.4 points, 9.0 rebounds and 1.5 blocks, it seems unlikely that he'll be suiting up for this instalment.
The voting process is dated and unreliable, as evidenced by more than one of the fans' selections. With the shortage of viable Western Conference centers, the Yao Ming selection is a problem that is easily masked at this point in time. However, the by-extension-selection of Yao's teammate, Tracy McGrady, is based in no way on merit, but is in all likelihood the result of the Rockets' large Chinese following. Chris Paul is by far the more deserving player, and little reason need be stated; he is the clear cut superior performer. The fact that such a top tier performer has been marginalized, and by the fans no less, provokes utter disgust and disappointment in both the system and in the general computer-owning public.
Away with the voting process. Fans continue to prove that they are either too ignorant, biased, uninformed, or flat out stupid to hold this responsibility. The NBA is not a democracy, but is rather a talent-based, survival of the fittest business, and it is time that its All-Star game reflects its nature.
[php snippet=1]