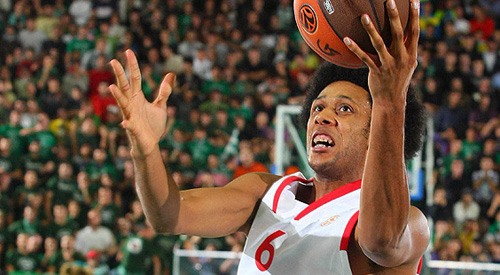 Keeping NBA talent in the Association
December 2, 2008
This past summer a new trend emerged amongst the NBA's annual crop of free agent talent. Led by formidable Atlanta sixth-man Josh Childress, a number of players opted to take their games overseas in exchange for lucrative contracts, the perception of enhanced playing time and, by extension, more vital roles in the success of their respective teams.
Following in their footsteps was the top point guard recruit in the nation Brandon Jennings, who elected to forego his commitment to the University of Arizona in order to prepare for the 2009 NBA Entry Draft in Rome, as a paid professional.
The precedent set by this series of new breed transactions is three fold.
First of all, traditionally the NBA has been viewed as an unrivalled showcase for the greatest basketball talents in the world, with international players leaving home to pursue the highest level of fame, riches and competition that their sport has to offer. However, with strict salary caps and maximum contracts (not to mention American taxes) the NBA can no longer offer its players salaries comparable to those being offered by the wealthy clubs of the uncapped Euroleague. Losing a mid-level talent like Childress is one thing, but the prospect of a LeBron James or a Kobe Bryant bolting to Europe for a year or two at around $50 million per season have become very real threats to the association's talent pool.
Furthermore, the security once held by NBA franchises in the form of protected free-agency has eroded. In years past, teams held a right of first refusal to match any contracts offered to their restricted free agents; if they matched the offer then the player's services remained at their disposable, and if they declined then the player assumed his position on a new NBA roster. However, the stipulations on restricted free-agency apply only to teams in the association, and as such, European basketball clubs are able to sign restricted free agents away from their current franchises, who are unable to match the offer tendered to their once seemingly secured commodity. 
[php snippet=1]
A third dimension has also surfaced from the recent exportation of talent; the possibility of foregoing college and playing professionally in Europe for one season before declaring for the NBA Entry Draft. This allows players to hone their skills against a higher level of competition and receive financial compensation for their contributions, while simultaneously satisfying the one year removed from high school requirement implemented by the NBA. The guinea pig for this experiment is Brandon Jennings, who seems to hold the future in his 19-year-old hands. If last year's number one guard prospect is successful in his sole campaign with Lottomatica Roma, then his experiment could become a trend amongst top recruits looking to earn directly out of high school as early as next year. Conversely, if he is not successful, then the likelihood of others taking such a risk becomes extremely doubtful.
So far, it seems to be working. Jennings is averaging 18.5 minutes per contest over the first five games of the season, and averaging 9.4 points per game while still learning the European system. While his contributions may not compare to the numbers being posted by freshman recruits, Jennings is holding his own against a higher level of competition, overcoming a language barrier and displaying the control and responsibility that franchises look for when considering the first round selection of young talent. Doing so while earning approximately $1,000,000 US between his contract and sneaker endorsements, compared to the $0 offered to its players by the NCAA. Add to this the absence of academic requirements and practice time limitations implemented by college programs and it is easy to see the appeal such an opportunity would have to a player disinterested in completing college anyway. Many think senior phenom Lance Stephenson could follow Jennings' lead as soon as next year, and the implications for the future of the NCAA's talent pool cannot be ignored.
In order to combat the threat of this new trend, the NBA needs to take precautions immediately and make changes that limit risks for its franchises and ensure the quality of its game play is not compromised.
Faced with a three-fold problem, the league's solution must also be multi-dimensional.
Working in commissioner David Stern's favour currently are the record books. Although, offering no guarantees, it seems unlikely that top tier talents like the aforementioned James and Bryant would jeopardize their positions amongst the all-time league leaders just to pursue greater financial compensation. However, with no guarantees, the potential always exists, and as such it is the NBA's responsibility to ensure their marquee names remain in North America. The solution is not so simple however. My suggestion would be the implementation of a three year rule, where any player who leaves the NBA for Europe while being concurrently offered a contract from an NBA team may not return for three years. The three year duration would effectively diminish any chance that player may have had at ranking among the all-time greats statistically. This solution may not dissuade everyone, but it should keep the greatest players in the league.
As for the restricted free-agency issue, the solution would appear to be much more simple than the first, though still lacking in guarantee. In all future contracts the stipulation need only be made that the restrictive nature of the contract not only applies to NBA teams, but to international clubs also. Meaning that each franchise is provided the right to match any offer made to their restricted player, whether domestic or foreign. Of course, with the league salary cap in place it could often be nearly impossible for a team to match the offers made to their players anyway, but it would at least offer them the opportunity to do so, and supply back to the team some of the security meant to be associated with restrictive contracts.
The third problem seems to have the simplest solution: remove the one year rule. In my opinion, this should never have been implemented in the first place. It seems irresponsible to allow a player like LeBron James to enter the association directly out of high school one year, watch him dominate in his inaugural season and then institute a rule that allows no player to do the same in the future, just a year later. Players who can't meet the NCAA academic requirements have been forced to attend community college programs, which limit their potential to grow due to less qualified coaches and a highly diminished level of competition. Their only other option has been to join the NBDL for a season without the eligibility to be called up by an NBA club. To these, Europe seems an appealing alternative. Therefore, level the playing field once again and allow players to declare for the draft directly out of high school. The European, community college and D-league alternatives will still remain available for those players not ready for the association, but those who are ready will have the opportunity to develop their skills at the highest level and potentially flourish in a league in which they are destined to play in but a year later anyway.
Eleven NBA players and one Brandon Jennings left for Europe this past offseason. Precautions need to be taken in the immediate by the association to ensure the number that leaves next year is minimized, or risk losing their greatest talents to the highest bidder.
[php snippet=1]