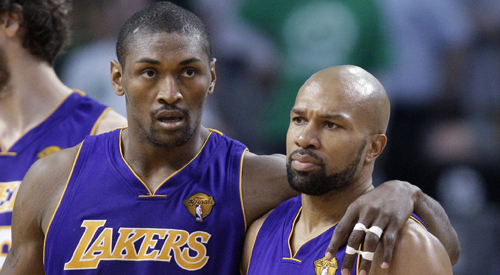 Jazz fusion and the NBA Finals
June 14, 2010
One of my favorite basketball cliches is that 'basketball is jazz.' It's an especially apt one for middle-aged sportswriters to make since both seem to involve improvisation on top of a structured bottom; what good would Kind of Blue have been if Miles Davis hadn't just come off the more structured Porgy and Bess?
Like all cliches, there is a kernel of truth. So let's take that cliche and bust it out to the breaking point by determining which albums correspond to the major players in the 2010 NBA Finals?
Ron Artest: Miles Davis – On the Corner
Poorly received when first released, On the Corner is probably the most confusing of all of Davis' albums – no easy feat! It's a collection of strange rhythms, of beats and samples and repetition and, like Artest, it's maddening at times. Why is there a sitar? What does that blast of noise at the start of Black Satin mean? And why does Miles play so little on one of his own albums?
But give it a few listens and it grows on you. Its heavy, beat-first sound anticipated the direction music would go in the next decade. Between the odd shifts and beats were snippets of something great, something awesome; Wayne Shorter's sax, John McLaughlin's guitar. This album is best experienced when it sneaks up on you – it surprises you with something unexpected and, frankly, really good.
Sounds a little like Ron, doesn't it?
He's frustrating and hard to anticipate. He makes strange, inexplicable decisions – like jacking up a three with almost the whole shot clock left near the end of Game 5 of the Western Finals. But then he does something out of the blue, like bursting up from the ether under the basket and hitting a game-winning layup as the clock expires.
[php snippet=1]
Kevin Garnett: Miles Davis – Live-Evil
Unstoppable and ominous, Live-Evil is a real beast. Spilt nearly in half between freewheeling live recordings and studio cuts, it's one of Davis' most compelling albums, but quite confusing as well.
It's almost like a puzzle with too many pieces – it starts mid-swing with the band in full flight, then jump-cuts to an electric piano/guitar jam, which is a radical change in pace. There's a moody, spooky-sounding cut with whistling that sounds like something off of a western. At first listen, you have almost no idea where it's headed at any moment. It's almost schizophrenic.
That's what KG has been like during these 2010 playoffs.
At time, he's shown flashes of brilliance, but has vanished in other games. In the second round alone, he posted three double-doubles; in the rest of the playoffs, he's had just two. He's almost like two players – one who (as Bill Simmons usually says) still has some gas in the tank, and one who is at the end of his career. He's limping, having coming off knee trouble.
Yet I almost feel it's that flaw that makes him all the more compelling. For years, KG toiled away in relative obscurity; for years, Davis was playing his stuff mostly for one kind of audience. But by the late 60s, venues like the Fillmore or Family Dog started booking Davis. He wasn't just playing to a whiter audience, he had all kinds of new sounds and tools in his disposal; but his definitive album, Kind of Blue, was long behind him.
It's kind of the same with KG. His best years are long since past, but he's never had a team quite as good as these Celtics have been. He can't simply dominate like he used to, but he's got experience on his side. Like what Davis did when he went electric, I'm curious to see where he will go from here.
Rajon Rondo: Weather Report – Heavy Weather
Heavy Weather came out at a weird time in jazz. By 1977, rock's passing flirtation with jazz had more or less ended. Dinosaur rock, as exemplified by self-indulgent, plodding prog-rock acts like Emerson, Lake & Palmer – keen on producing arty, pretentious music – were dominating the landscape and punk was still largely underground.
And then came Weather Report's Heavy Weather, an album featuring tight, poppy arrangements like Birdland or Teen Town. The band had been around for a while, but it was newcomer Jaco Pastorius (making his first appearance as a full member) that really pushed the album over the top. Although Pastorius had previously been on two tracks on Report's previous album (and had a solo album to his name, too), Heavy Weather was the one that really pushed both the band and Pastorius into the stratosphere.
Like Pastorius, Rondo has been around for a little while, too. He was part of the 2008 Celtics team, but was behind the Big Three, only occasionally showing flashes of something larger – a 20 point, 13 assist game against Cleveland, 21 point, eight assist, seven rebound performance in the clinching game over LA.
This postseason, though, he's really began to shine. His triple double (29 points, 18 rebounds and 13 assists) in game four of their series against the Cavs was his Teen Town, his moment where everybody took notice of the potential and excellence. His PER of 18.4 is a team high, as are his 2.4 Win Shares. He's averaging a double-double (nearly 17 points and 10 assists) per game, too.
One needs only to look at game two of these finals to see this: yes, Ray Allen was the one who exploded out of the gate, setting an NBA record for three-point shots, but it was Rondo who made a succession of key plays when the Lakers had battled back in the second half. It could be argued that he won the game by taking the Celtics on his back in a 19 point, 12 rebound, 10 assist night.
Kobe Bryant: Frank Zappa – Hot Rats
Improvisation doesn't happen all on its own, you know. Realize the hard work that goes into something as polished and shiny and excellent as Hot Rats.
Between the shorter pieces of almost-baroque jazz are three extended workouts, each with long gaps of solos and improv, each something great in their own way.
But it's a little misleading to think that Hot Rats is an example of anything but hard work and dedication.
After disbanding the Mothers, Zappa hired a bunch of studio hands to put together his first instrumental masterpiece. Don't let the jams fool you – this was an album Zappa laboured over, layered with edits and overdubs and extra tracks. Putting together an album this good was the result of a lot of work.
So is Kobe Bryant.
Everything Bryant does, the little things that he makes look so easy, are the result of great basketball skill, but also of a lot of hard work. Like Zappa, Kobe is almost all business – he's in it to win it.
Take his last-second shot against the Suns in Game 5 of the Western Finals, which came with less than five seconds left, after the Suns just came back and tied the game on a three – their third attempt at a game-tying basket.
Kobe wasn't rattled by this comeback, like I would have been. And even though everybody – I remember seeing something like 15 billion tweets all saying something like 'here comes Kobe' coming all at once – knew who was getting the ball, he wasn't affected. He dashed to his right, moving away from the basket, took the inbound pass and – in one motion – jumped, spun around 180 degrees and shot. It was on line, if short, but I still think getting it that close under those circumstances is really something – shades of Larry Bird's last second three in Game 4 of the 1987 Finals.
So yeah, like Zappa's second solo album, Kobe is a polished example of hard work leading to something great. Maybe it seems a bit soulless – I wouldn't be the first to think that Kobe doesn't play with the same emotion as, say, KG – but that's hardly a real criticism.
[php snippet=1]