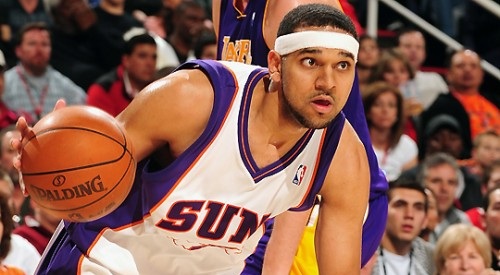 The NBA Social Media Awards
November 9, 2012
The 2012 NBA season has begun and, as with every year, many players have changed teams and many new faces have entered the league.
With the new season also comes the inevitable talk of postseason awards. Around the All-Star break, the debate will intensify. MVP. Rookie of the Year. Sixth Men of the Year. NBA fans and analysts will endlessly discuss the various candidates and espouse the virtues of their own personal favorites.
That's all nice enough. In fact, it's NBA tradition. But the NBA is constantly growing and evolving, and the need for new traditions sometimes arises. One enormous factor in the recent evolution of the NBA has been the rapid growth of social media platforms such as Twitter, Facebook and Instagram. The young players of today are very media-savvy and often garner as much attention for their web-related exploits as they do for their play on the court.
The NBA acknowledged this development last year with their own Social Media Awards, broadcast on NBA TV and hosted by Tas Melas and J.E. Skeets of The Basketball Jones. On that program, players competed for honors such as the LOL Award (most shared or liked blooper by a team or player), and the Best in Game Award, for the player who best utilized social media. Goofy award names aside, this was a big pretty big step for the NBA, and a nice way to encourage growth of the NBA brand on the various social media platforms, something the comparatively stodgy NFL has often failed to do. The Best in Game (BIG) award, the equivalent of a 'Social Media MVP' award, if there could be said to be such a thing, was given to Phoenix Suns forward Jared Dudley.
[php snippet=1]
Dudley deserved the accolade. Not only is he very active on Twitter (150,000 followers and 12,000 tweets) and Facebook (where his page has nearly 15,000 likes), but he has appeared on several podcasts (including The BS Report with Bill Simmons), and has his very own web series modeled after TMZ called JMZ.
But, as we know, the landscape of social media is constantly changing, and popularity can be fleeting. Thus, the likelihood of Dudley taking home the Social Media MVP award again in the future is slim. And with all the new rookies beginning their careers in the league, now is the perfect time to take a look at the players who could be unseating Mr. Dudley as NBA King of all Social Media in the coming years. Last year, the Social Media Rookie of the Year was probably Cavaliers guard Kyrie Irving. On his way to earning real-life Rookie of the Year honors, Irving, who has nearly 300,000 Twitter followers, generated tons of YouTube-worthy highlights with his exciting play, and even starred in a bona fide hit viral video with "Uncle Drew," which currently has nearly 17,000,000 YouTube views.
So who could be this year's Kyrie Irving? When considering an award like this, there are a number of factors you need to take into account. Among them are prominence and location. Some players may have the chops to be social media standouts but are buried on the end of the bench, or are playing in a relative social media dead spot (like Charlotte).
Another is share-ability, for lack of a better word. This is the ever elusive "it" factor. Some players simply have a knack for racking up major views on popular social media services. No matter what they upload or Tweet (or is uploaded or Tweeted about them), people want to check it out themselves, but also tell their friends about it too. It can be for a variety of reasons. Some players like Blake Griffin get the nod because of all the spectacular plays he's involved in. Others, like JaVale McGee, are noticed just as often for bone-headed or nonsensical reasons. Some, like DeAndre Jordan, are funny. Still others, like Delonte West, are just weird.
Of course, many players in the league, like Griffin and McGee, fall into multiple categories. They get attention both for highlight plays on the court and for funny or wacky contributions to the social media world as well (Steve Nash being another great example). Obviously those players who can diversify themselves across several platforms score bonus points in the social media recognition game.
A third, underrated factor is self-promotion. This is an area where a soft-spoken player like Irving falls short, but a brash one like Jared Dudley excels. There is hope for players with shortcomings as shameless self-promoters, though. Non-descript Pacers center Roy Hibbert, for example, has recently gone all Don King on us with his numerous podcast appearances, Parks and Recreation cameos, and viral videos.
Enter the current crop of NBA rookies. The time has come to look into the crystal ball and determine who could emerge victorious as Social Media Rookie of the Year, and potential future MVP contender.
Because of the initial criteria of prominence and location, we can immediately narrow our selections down to the 2012 lottery picks. Few late first- or second-round draft picks will garner enough playing time or attention to warrant consideration for this accolade in their first year. Furthermore, in looking at the lottery picks, some players don't deserve consideration because of their situation. Among them are Michael Kidd-Gilchrist (plays in Charlotte, not a willing public speaker), Terrence Ross (stuck in Toronto, doesn't have a very exciting game), and Austin Rivers (not likeable enough; not even in a love to hate him way, like McGee). Upon examining the lottery picks, and keeping in mind the previous criteria, we can further narrow down the field to only a few elite players, those who are well-known and will be playing big minutes in relatively social media-friendly markets like Anthony Davis, Bradley Beal, Damian Lillard and dark horse Kendall Marshall.
Any discussion of the 2012 NBA Draft must obviously begin with the player who was the consensus number one pick, Anthony Davis. He may be playing on a less than-desirable location in New Orleans, but he will get all the minutes he can handle. He also possesses a natural advantage in that he is a big man whose style of play is naturally suited to shine on YouTube. He is a lob-grabbing, shot-blocking athletic freak who will generate tons of buzz-worthy video clips and no doubt set League Pass and Twitter afire on several occasions this season. Davis already boasts the most Twitter followers of any rookie (nearly 300,000) and has shown some media savvy by trademarking some catchphrases associated with his famous unibrow, including "Fear the Brow" and "Raise the Brow."
Next up is Wizard guard Bradley Beal. Unfortunately for Beal fans, while his game on the court may be exciting, his social media presence is far less inspiring. With a paltry 50,000 Twitter followers and no significant presence on Facebook or Instagram, he has a long way to go before being considered among the social media heavyweights. Beal may have the most tattoos of any lottery pick, but he hasn't shown much personality otherwise. It seems that the young marksman likes to let his game do the talking, which doesn't bode well for his social media standing, but is probably a welcome development to Wizards fans who want to distance themselves from the bygone era of the negative headline hogging JaVale McGee. Sadly, we'll have to settle for his ability to play the game well.
Hailing from little-known Weber State University in Utah, Portland's Damian Lillard would initially seem like an outside shot to claim this award. Upon further examination, his pedigree says otherwise. Lillard is a point guard who calls Oakland home, meaning he follows in the footsteps of long-time NBA loudmouths and newsmakers like Baron Davis and Gary Payton. In his first NBA game, Lillard recorded 23 points and 11 assists, becoming only the third player in history to record those numbers in his debut, and the first since LeBron James in 2003. Obviously, the kid will get some attention for his play.
His resume off the court is solid, too. Although his Twitter follower count of 50,000 isn't immediately impressive, Lillard has a Facebook page with 23,000 likes. And he is the only lottery pick to boast his own YouTube channel, where he has a web series cleverly titled "License to Lillard." He (with Davis) also took part in the "NBA Rooks" video series on NBA TV and NBA.com.
The final contender, Kendall Marshall, a late lottery pick, is perhaps a bit out of left field, too. But Marshall deserves consideration for several reasons. First, he has over 130,000 followers on Twitter, more than number two pick Kidd-Gilchrist. Secondly, during his college days, Marshall started a full-fledged Twitter movement associated with the hashtag #pass5irst, a reference to his uniform number and style of play. Finally, we know that the kid has big aspirations. Upon arriving in Phoenix, Marshall challenged teammate Jared Dudley, the reigning Social Media MVP himself, for the title of self-proclaimed Twitter "sheriff." Although he is unlikely to get much playing time in Phoenix, Marshall certainly deserves some credit for setting his aims high and could be a big player in the future.
Clearly, the race for 2012 NBA Social Media Rookie of the Year figures to be a tight one. After all, in addition to the players detailed above, a previously obscure rookie could always emerge from nowhere to challenge for the crown (Piston Andre Drummond certainly has some Javale McGee-like potential).
That said, Anthony Davis would seem to be the safest choice for this award. But Davis seems to lack a certain charisma and hunger for the spotlight that could really push him into the upper echelon of entertaining NBA personalities on the web.
For that reason, Lillard has to be the choice. Lillard has the network on YouTube and on Facebook already. He also seems to possess a little of the bravado and penchant for smack talk that many of his Oakland-area NBA predecessors displayed. His Twitter account could easily become a must-follow at some point this season.
Additionally, Lillard plays in Portland, which is not a huge market but is arguably the most blog-friendly city in the entire NBA. Portland fans are very active in social media and very passionate about their Trailblazers. Those fans made Brandon Roy seem interesting once upon a time; they will surely do their part to promote Lillard.
Finally, Lillard has the starting point guard position all locked up and the Blazers seem ready to give him major minutes. So far, he has delivered. If he continues to perform this way off the court and on, we may just have ourselves a lock for 2012 NBA Social Media Rookie of the Year and a future competitor for that coveted Best in Game Award.
Watch out, Jared Dudley.
[php snippet=1]