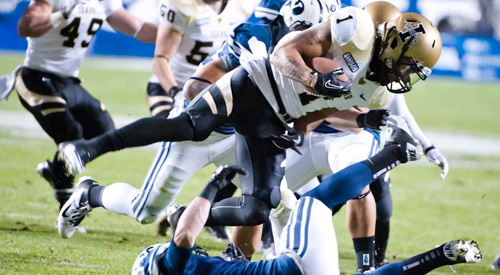 Idaho's under-the-radar quest for independence
July 9, 2012
There's a vast discrepancy in the amount of attention the world pays to conference realignment in NCAA football. When a big school like Nebraska, West Virginia, Texas A&M or Colorado moves to a power conference, it's a huge deal that everyone talks about. The flip side is when you look at the schools shut out by the politics of realignment which, after all, is about much more than purely on-field concerns; their struggles in suddenly-weakened conferences are largely overlooked, and even decisions to move down a level or abandon football don't always receive a ton of coverage.
What happens when the cascading effects of realignment cause a league to collapse, though, as could happen with the Western Athletic Conference in football as early as 2013? Do the football-playing schools accept their doom and move down to the FCS level, or even fold their programs, or do they fight back? The University of Idaho Vandals appear set to pursue the latter course, and that decision could make for one of the most interesting stories of this offseason, even if it won't be noticed by many.
Why should one care about Idaho football, you ask? Sure, it's hard to summon worldwide interest in a program that only returned to the top level of college football in 1997, has only made two bowl games since (both inside their own state, even) and is just 19-43 overall since 2007. The university has just 11,180 students on its Moscow campus, and it's not even the biggest college football presence in its state (see Boise State) or its area (see Washington State, reinvigorated under Mike Leach and less than 10 miles down the road). 
[php snippet=1]
In fact, when the Vandals looked set to go gently into that good night by stepping down a level or abandoning football, that was mostly an interesting note reflecting some larger themes within the NCAA. The news that the school is so focused on staying at the FBS level that they're even considering independence takes things to a new level, though, and it really illustrates just what an unfortunate situation schools like Idaho have been placed into.
The WAC never really was a power conference during the Vandals' tenure, but it had some good days. Boise State, TCU and Hawaii all went on impressive runs, and the conference also held teams like Utah and BYU until 1999. On-field success in college football, combined with the proper combination of TV market, alumni  base and political pull, can allow a school to move to a more prestigious conference, though, and the current expansion-heavy environment saw many WAC schools do just that. As they moved on, the Vandals were left behind, and it looks like the conference rug may be about to be pulled out from under them; the projected next wake of defections in 2013 will leave the WAC with only two football-playing schools, Idaho and New Mexico State.
As it's quite difficult to find enough FBS-level schools to replace those departed members, the conference may wind up dropping football altogether, which would leave the Vandals without a home. However, that hasn't quelled Idaho's spirits and Vandals head coach Robb Akey in particular has been quite fervent about his desire to stay at the FBS level. Here's what he told Brian Murphy of The Idaho Statesman:
"We've been trying like a son of a gun to find a home. The best place for us would be the Mountain West. They don't want us right now. I understand all those things. Hopefully, it's going to re-allocate. I would expect there would be a change again in a couple more years," Akey told the Idaho Statesman on Tuesday.

"I wouldn't be surprised if we end up having to operate as an independent for a few years. We're just looking for a home, my brother."

Akey acknowledged it would be difficult for the Vandals to schedule games, particularly later in the season when other conferences are playing league games.

"Is it the ideal answer? Absolutely not. I think it's a necessity if we can't get ourselves into a conference situation. It's a necessity to remain at that level," Akey said. "If some of the gurus are right and people are jumping around again in a couple years, you need to keep yourself in a position to be an option."
Akey's not wrong there. Although some schools have gone from FBS to FCS and back again the way Temple did, most of the time, a demotion becomes permanent. People complain for a while, but then adapt to the new realities, and it's awfully hard to build up the momentum (and the money) needed to jump back to the top level.
If Idaho can stay as an FBS independent and start to find some actual on-field success, they'll likely be a much more compelling future expansion option than if they dropped to the FCS level. When a conference like the Mountain West loses teams down the road to bigger conferences, something that seems almost inevitable in the current environment, a successful independent Idaho program might just look like a worthy replacement candidate.
Getting there won't be easy for the Vandals, though, as independence can provide scheduling nightmares (especially for lower-tier teams; Notre Dame does just fine, but it's tougher to find people who want to play Idaho in a non-conference game). Going independent could cause plenty of challenges for the school's other sports as well.
Still, if they decide to make that move, it will be a bold one, and one worthy of praise. The stories of conference realignment have largely been about big conferences getting bigger and powerful schools getting more money, with those who lose out quickly retreating out of sight and out of mind. Independence won't be a smooth road for Idaho, but it might just be a nice way for a little school to fight back. Now we just have to wait and see if anyone notices.
[php snippet=1]