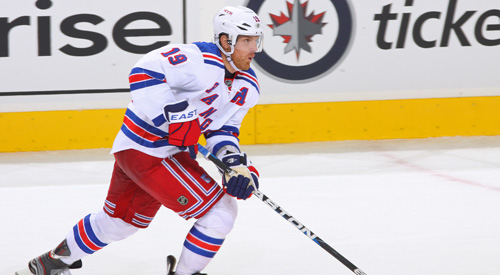 Young Rangers learning from experience of others
January 16, 2012
For years the New York Rangers have been in disarray, drafting poorly and signing past-their-prime free agents. But now it looks as though they have finally started to put the proper pieces together to form a true Stanley Cup contender. A run to the Stanley Cup Final likely won't happen this season, but with the way this team has been put together, a long run is probably not too far off.
It starts in net with team backbone Henrik Lundqvist, arguably the most technically sound goaltender in the league. He has yet to put together a huge playoff run, but that has largely been a product of the team in front of him.
Last year, the Rangers were knocked out in five games against the Capitals in the first round, even though Lundqvist posted a 2.25 goals-against average and .917 save percentage. The problem was the Rangers only managed to light the lamp eight times.
The defense in front of him is still young, but skilled enough to overcome their lack of experience. Not a single blue liner among the 10 who have suited up for more than one game is 30 years old. The average age is 24 years, 10 months and the most senior defenseman is Jeff Woywitka at 28 years, four months. Steve Eminger is the most practiced, having played 441 games over the course of nine seasons, more than double the average experience on the back end of four seasons and 205 games.
There are no superstars patrolling the blue line. Rather, it is a group of guys capable of playing solid defense. Michael Del Zotto has recovered from a dreadful sophomore year and is leading their back end players with five goals and 23 points. Dan Girardi and Marc Staal are two of the top defensively-minded guys in the game. Staal has improved every year, only being derailed by a concussion this season, and Girardi is highly physical; one of only six players so far with 200 combined hits and blocked shots. 
[php snippet=1]
Up front they have a top center in Conn Smythe winner Brad Richards and a legitimate sniper in Marian Gaborik. While the latter has limited playoff experience and only three points in his past 11 postseason games, don't forget he was Minnesota's best skater in their run to the Western Conference Final in 2003 with nine goals and 17 points in 18 games.
Captain Ryan Callahan and Brandon Dubinsky are just entering their primes. Both provide grit, scoring and leadership. Callahan is the Rangers' most complete player and while Dubinsky only has five goals this season, he is coming off two consecutive 20-goal seasons and has been a consistent supplier of offense each time he has entered the postseason.
They have improving secondary scoring as well in Derek Stepan, Artem Anisimov and rookie Carl Hagelin, and grit in Brian Boyle, Brandon Prust and Mike Rupp. And, of course, there is Sean Avery waiting in the AHL, even if it looks as though his time with the Rangers has come to an end. That's a great example of addition through subtraction right there.
Perhaps most importantly, the entire team is buying into head coach John Tortorella's system. Only the Los Angeles Kings have recorded more hits than the Rangers' 1,219 and they are third with 692 blocked shots. And with the Rangers sitting 10thdin goals per game (2.83) and second to Boston in goal-against average (1.98), Tortorella has the Rangers firing on all cylinders.
Where the Rangers really lack is playoff experience. They average only 19 games of postseason experience and only three have played more than 40 playoff games: forwards Richards, Rupp and Ruslan Fedotenko, who leads the team with 88 games including two championship runs. They need to grow together and gain that experience as a team, but that can happen with a good run this year. For an example of how this can work, see the Boston Bruins.
The Bruins made it to Game 7 of the semifinal two years in a row only to suffer heartbreaking losses at home. They were defeated by the Carolina Hurricanes in overtime in 2009, then fell victim to the Philadelphia Flyers' miracle comeback the next season. The Bruins learned hard lessons those years, but were able to put everything together and became the first team to win three Game 7s last season.
The Chicago Blackhawks made the playoffs for the first time in seven years in 2009, reaching the Western Conference final before bowing down to the Detroit Red Wings. They used that experience to bring the Cup back to Chicago for the first time in 49 years in 2010.
Crosby and Co. won it all in 2009, but that was only after a crushing defeat at the hands of the Red Wings in the 2008 Stanley Cup Final. Those Wings represented a new era in Detroit, as the young guns were becoming the grizzled veterans. They were not without their own growing pains, losing to the eventual champion Anaheim Ducks in the 2007 Western Conference final, the same Ducks who lost the 2006 conference final to the upstart Edmonton Oilers.
There are few players with a proven playoff pedigree in New York, but don't forget Henrik Zetterberg and Pavel Datsyuk only had a combined 12 goals and 26 points in 64 playoff games before 2007 and now they are considered two of the top clutch players. The Rangers still have some holes to fill, but if they can manage to gain that valued experience this year, watch out for them in 2013 and beyond.
[php snippet=1]