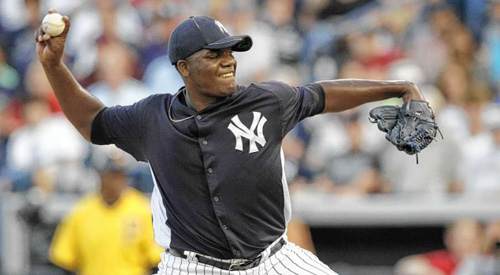 Chronicling the future success of the New York Yankees
March 27, 2012
ALCS game seven, top of the 9th, Yankees vs. Red Sox. Alex Rodriguez is up.
In the front row of Yankee Stadium behind the plate, a child is gently being nudged awake by his dad. He yawns and leans forward against the net. Alex Rodriguez runs the count full.
The father winks at his kid. They're both wearing pinstriped jerseys adorned with number 13.
Two-seamer in on the hands. Alex Rodriguez swings. Alex Rodriguez strikes out.
The kid goes back to sleep.
Bottom of the 9th, Manny Banuelos comes on for the Yankees and finishes his complete game shutout, guiding them to the World Series.
Not exactly the bang you were looking for? Yankees fans better get used to it. The offense – which has long carried them into postseason after postseason – is aging and deteriorating. 
[php snippet=1]
And with their hands somewhat bound – think the Hulk being tied down with twine – by the massive contract of Rodriguez, the Yankees will be limited in bringing in offensive talent. Yankees fans needn't stress though.
A shift in the farm philosophy has left them with a deep stable of high-end pitching prospects. The Yankees will continue to dominate; there will just be fewer long balls for which chicks may dig.
To be clear, the transition is a few years away. The Yankees have Robinson Cano and Brett Gardner right in the middle of their prime years. Curtis Granderson and Mark Teixeira are also performing well, but are likely to soon see signs of decline.
It's the Yankees' old guard of superstars, Alex Rodriguez and Derek Jeter, who have well and truly said goodbye to their best. And with their respective contracts, the Yankees will need to carry their aging bodies for the foreseeable future. The Yankees offense will never be a weakness but by their standards, anything less than a juggernaut is a disappointment. The shift away from hitting shouldn't alarm fans. The Yankees know what they're doing.
Their DH spot was originally slated to be filled by their top hitting prospect, Jesus Montero, but the Yankees need a vacant DH to rest their weary sluggers. This, combined with their new pitching orientated approach, meant Jesus Montero was available to be shipped to the Seattle Mariners for young pitcher Michael Pineda. Pineda helps a pitching staff that was already well equipped in CC Sabathia, Ivan Nova and comeback hopeful Phil Hughes. The Pineda trade highlights their new strategy: pitching is the new pinstripes.
The Yankees aren't completely devoid of farm bats. They have a few decent catchers (further facilitating the Montero trade), as well as a number of high-ceiling outfielders (Mason Williams & Ravel Santana). They also have a potential Rodriguez replacement in Dante Bichette Jr. – an offensively-minded player still a few seasons from making a big league appearance.
For years, Yankees fans have been turning up to see Alex crush bombs and watch Jeter go the other way. Their focus will soon shift to the mound, where the Yankees' new waves of superstars are ready to toe the rubber.
Here's who to look out for:
Manny Banuelos, LHP: Draws some Johan Santana comparisons and is the Yankees' top pitching prospect. He's a bit undersized at 5-10, but he has outstanding stuff. He strikes guys out, and if he can reduce the walk issues will be a solid starter behind Sabathia and Pineda.
Juan Campos, RHP: Also acquired in the Montero deal with Pineda. The Yankees love his high-end arm. He has a dominant fastball but his other pitches are still very much in development. He could bring nightmares to Jack Zduriencik.
Dellin Betances, RHP: The Yankees have enough pitching depth to be patient with Betances. He suffers from command issues but could become the Yankees' top farm arm. He's the kind of incredible talent that if he is able to turn a corner, he'll become dominant.
With the depth of pitching, Hughes could become a bargaining chip in a trade if he rebounds well. They know in the future they'll be winning with good pitching and the best friend of good pitching is good fielding. Hughes, as well as some of the catching prospects, should bring in a few excellent fielding prospects to maximise their pitching strength. Jeter may shift to the outfield as his range has been severely overrated for too long, and even the Yankees can't deny that watching Jeter go to his left is like watching, well, Rex Ryan go to his left. It's not pretty.
The Yankees' new image will keep them in contention for the long term – especially with the new wild card – and they'll always have the pockets to add a premier slugger. But Alex Rodriguez has left a sour taste in Brian Cashman's mouth, as he'll be unlikely to hand out that much money to a player in decline. We need only look at how he's treated the Yankees' farm system to understand the new pitching focused long-term approach.
The adage goes that great pitching will always beat great hitting and the Yankees are definitely investing in it. And with a stack of great arms on the way, they'll be winning a lot of game sevens.
[php snippet=1]