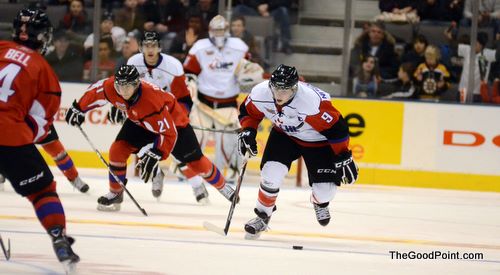 The Epic of Ryan Nugent-Hopkins
January 21, 2011
Ryan Nugent-Hopkins is the type of player that makes you reconsider what you stand for. The hockey prospect that makes midseason misfortune and sub-.500 seasons in general that much more bearable.
Like few before him, he's a future pro capable of turning fans against their very own team; of convincing life-long devotees to openly root against their idols and pray to the lottery gods that their respective general managers will be fortunate enough to land him when the 2011 NHL Draft rolls around next summer.
As it stands, the 17-year-old Burnaby, BC-bred playmaker is ranked third amongst North American skaters behind Swedish import Gabriel Landeskog and QMJHL star Sean Couturier, so why is the WHL Red Deer Rebel such a compelling candidate to go number one?
With 56 points in 43 games, Nugent-Hopkins isn't the type of scoring machine that Couturier is or Taylor Hall and John Tavares were, but his value lies deeper than that. When the nation's top NHL prospects lined up in the annual Home Hardware CHL Top Prospects Game in mid-January, it became abundantly clear.
Nugent-Hopkins didn't tear the roof off the ACC in his first game on professional ice, but he did put together a one-night portfolio comprehensive of all the various strengths he brings to the game.
"It was my first time being in the ACC," said Nugent-Hopkins, having grown up on the West Coast. "So it was a lot of fun. Anytime you get to play in an NHL rink it's pretty special."
[php snippet=1]
Nugent-Hopkins recorded a pair of assists on the night, the natural result of his playmaking ability in combination with the scoring prowess of his world-class linemates. Over the course of the showcase, Nugent-Hopkins showed, as he's shown all season, the ability to spot open wingers and the coordination to drop off passes at whatever speed or angle necessary to catch those skating alongside him in stride.
But it wasn't just on offense where the prospect flourished.
"I'm starting to take as much pride as I have in the offensive zone into the defensive zone," said Nugent-Hopkins after the game, a comment reflective of his performance.
Not only did he and his Team Orr teammates crunch their Team Cherry opponents 7-1, they played the tough, gritty hockey that you would expect from a pile of teenage athletes squaring off against each other in front of dozens of NHL scouts.
"I think defense is just as important as offense in this one, a lot of scouts are watching," he said. "All the kids took this game very seriously."
Though Nugent-Hopkins walked away from the game with a pair of points and a convincing win to write home about, the most impressive part of the young center's game was the intangible presence he brought to his team.
The leadership that will undoubtedly make Nugent-Hopkins an NHL captain before his 25th birthday was in full effect in the CHL showcase, even amongst a series of fresh faces and unfamiliar teammates.
Whether hitting the ice to complete plays or standing up for opponents behind the net, Nugent-Hopkins was everywhere he had to be while his Team Cherry opponent, and NHL draft counterpart, the aforementioned Couturier, was a relative non-factor.
Though you'd be hard pressed to get the two to engage in any friendly rivalry, it's hard to ignore the fact that Couturier and Nugent-Hopkins (as well as Landeskog more recently) are the names at the top of everybody's list when it comes to the upcoming Entry Draft.
Unlike either Couturier or Landeskog, however, Nugent-Hopkins didn't have the chance to hone his game at the 2011 IIHF World Junior Hockey Championship in early January. He was cut before the tournament began. Fortunately the forward has taken the motivation from the surprising snub and put it to good use.
Despite the absence from the international tournament, Nugent-Hopkins has just as good a chance of making an NHL team and staying there as any one of his peers next October – and hopefully, for his sake, as the reigning number one pick.
Last December, Nugent-Hopkins told The Good Point that going first overall meant something to him. The majority of kids in his position don't. Ever since, he's been watching out of the corner of his eye to see how the NHL standings unfold.
Though he's determined not to let pre-draft hype affect his performance with the Red Deer Rebels as they close out the season, and sheepishly relents that his draft status will all come down to what exactly the teams and general managers are actually looking for when they're on the clock this summer, Ryan Nugent-Hopkins has a bright future ahead of him.
Perhaps the brightest of any player eligible for the 2011 NHL Draft.
[php snippet=1]