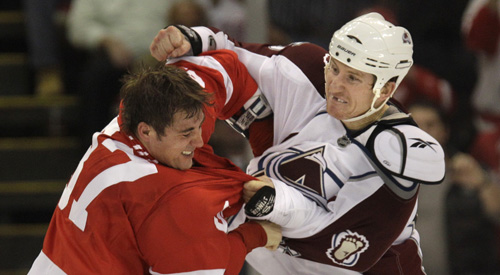 The disappearing act of the NHL goon
April 24, 2012
It's the NHL Playoffs, the time of the year when hockey writers go all out in their coverage. Every shift of every game is analyzed, and every mistake is thoroughly dissected to the point where a player is only as good as his last shift. Even ESPN admits hockey exists at this time of year. However, there is one thing missing this season, a staple each and every spring.
That, of course, is the annual 'there's no fighting in playoff hockey' column that inevitably makes its way in to each newspaper, magazine and website. This year all those writers have had to tentatively delete that column or save it for next year in hopes that players keep their gloves on once the calendar turns to mid-April 2013.
Through Sunday night's games, 25 fighting majors had been handed out, already one more than in 89 games all of last postseason. The reason for the odd number this year of course is due to Ottawa Senators defenseman Matt Carkner throwing punches at fallen New York Rangers center Brian Boyle.
It is a very odd postseason because, up until the 25-game suspension handed to Raffi Torres, players were effectively given a green light to do as much damage as they could get away with in waning seconds of Game 1 of the Nashville-Detroit series.
"The Weber non-suspension gave everyone the message it was open season," Adam Proteau, columnist for The Hockey News, told The Good Pointrecently. 
[php snippet=1]
But even with all the brawls, sucker punches and cheap shots, there was still one thing missing. One part of the regular season still fails to find any sort of relevance once the games truly begin to matter: The one-dimensional goon.
Despite their popularity in the regular season, they just never seem to stick around much in the playoffs, which shows they are now, to quote Mike Rupp, "irrelevant."
Jody Shelley of the Philadelphia Flyers has been a full-time NHLer since the 2001-02 season. Since then, he has played 626 of a possible 820 regular season games (76.3 percent). This season he was relegated to the press box a total of 46 times as a healthy scratch. In the playoffs though, he has managed to get into nine games in his career, out of 36 he could have played in (25 percent). Ironic how the player there to protect his teammates is no longer needed once the playoffs – the most physically-aggressive time of the season – begin.
The Anaheim Ducks employ George Parros, one of the most popular goons in the league, but when they won the Stanley Cup in 2007, he only found his way into five of 21 post season contests. In his career he has only managed to get into 19 of 46 possible playoff games (41.3 percent), a substantial decrease from the regular season in which he has played 413 of 574 games (72 percent).
Cam Janssen of New Jersey is another. With all of 11 points in 308 regular season games, he has only played in 10 of 29 playoff games (34.4 percent).
Even when a member of that trio is in an important game, he's usually riding the pine even more than usual. Parros has averaged 5:56 during the regular season in his career and drops to 4:29 in the playoffs. Janssen drops from 4:48 to 3:45 and Shelley's time is cut almost in half from 6:08 to 3:17.
"That they aren't used in the playoffs is an indictment of their overall talent level," Proteau said. "Bob Probert played 81 playoff games because he could actually play. But for a player to be all but excluded at the most important time of year tells you everything about how crucial his role actually is."
Probert, who is widely remembered for his fists and widely regarded as the best enforcer the game has ever seen, played in 89 percent of his teams playoff games because he had actual skill as a part of his hockey package. In 1988 he led the Red Wings in postseason scoring with 21 points in 16 games, finishing his career with a total of 48 points. Shelley, Parros and Janssen have combined for exactly zero points in 38 games.
This is not to say that every enforcer is just some knuckle-dragger though. Shawn Thornton of the Boston Bruins and Arron Asham of the Pittsburgh Penguins are dominant forecheckers who excel at controlling the puck down low and are defensively responsible as well. Thornton's certainly not the most skilled guy out there, but no one-dimensional goon is going to pull off this move on a penalty shot, and when he went to the Stanley Cup Final as a member of the Philadelphia Flyers, Asham played with Claude Giroux and James van Riemsdyk and didn't look out of place at all. He even led the Penguins in postseason scoring last year.
Even better are when skilled players can stand up for themselves. Mike Richards, Jarome Iginla, Scott Hartnell, Corey Perry, Milan Lucic and David Clarkson can all put the puck in the net and will drop the gloves when they have to. Not necessarily often, but they can take care of themselves without a big behemoth behind them. So why are enforcers only welcome when it doesn't matter most?
 "Enforcers are tolerated in the regular season because a number of NHL owners believe their one contribution to the game is needed to sell tickets," Proteau said.
Others believe goons help them win games.
"I'm sure people out there have constructed some statistical analysis to argue fighting benefits a team, but I have yet to see one that convinces me it's anything other than vague hockey establishment dogma," Proteau said."If teams saw a direct correlation between fighting and winning, the league would've evolved into a huge 'arms race,' if you will. They don't, so it hasn't."
So why aren't they featured in the postseason if they are apparently so critical to a team's fortunes?
There's always the argument that jobs will be lost if the enforcer goes the way of the dodo and that's the reason goons are still employed. Of course, this holds no bearing to anyone who thinks about the issue for more than a minute as these players are already taking jobs from those who have worked hard to improve in all areas, not just throwing punches.
"What about the 'jobs' of those career minor leaguers who might be considered too small for the NHL? I'd rather see those guys get a shot to make more of themselves than one-dimensional players getting it," Proteau said.
It's true nobody goes for popcorn during a fight, but no one has ever complained about a fast-paced back and forth game either. Pavel Datsyuk and Henrik Zetterberg both had their starts on the lower lines in Detroit where they learned how to play a complete game while showing Red Wings management what they are capable of. Just imagine if more skilled guys were given a chance instead of losing a roster spot to a goon much better the NHL could be.
[php snippet=1]