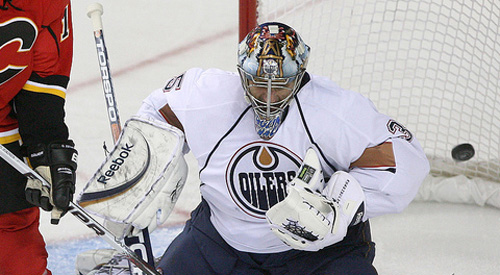 The Oilers and their reconstructed Bulin Wall
November 16, 2011
The Edmonton Oilers are leading their division.
The last time you may have heard somebody say that was in the 1980s. Today, with about a fifth of the season now played, this statement is not false.
The Oilers are off to one of the hottest starts in the NHL and one of their best starts in recent history. This back-to-back last place team has accumulated a wealth of young players that are growing with every game played. However, there is one constant, one reason, one wall separating the previous young teams from this one. Nikolai Khabibulin has put up Vezina-like numbers thus far and given the Oilers organization – and their fan base – reason for optimism for what once looked to be another long, rebuilding year.
Juha Mikkola , former owner and operator of a successful, highly-viewed Khabibulin fan website, discusses Khabibulin's journey to get to where he is today.
"Being an NHL fan in Finland, I naturally followed the careers of Finnish players," says Mikkola. "With Teppo Numminen and Teemu Selanne having excellent starts to their careers in Winnipeg, I took a liking to the Jets. Beginning with his days in Springfield as a Falcon for the Jets' American Hockey League affiliate, there was something special about Khabi."
If critics were not convinced after his 79 games played over the course of his first two seasons, maybe his 51-save performance during the 1996 playoffs made it clear that Khabibulin was going to be around for a long time.
[php snippet=1]
It definitely has not been the smoothest of careers for the net minder, now playing at 38 years of age. Khabibulin relocated with the Jets to Phoenix when they became the Coyotes. He led the league in save percentage in 1997 and was named to the all-star team in 1998. After the 1999 playoffs, Khabibulin engulfed himself in a season-long contract dispute with the Coyotes, resulting in the longest holdout in NHL history. During this span, he earned MVP honors with the Long Beach Ice Dogs of the International Hockey League.
The holdout ended when Khabibulin was traded, and subsequently signed by the Tampa Bay Lightning.
"During the Tampa Bay tenure, the team took interest in the website. Any interest in any of their players was something that this small-market team's PR department embraced" explains Mikkola.
The Lightning's Stanley Cup in 2004 was undoubtedly the pinnacle of Khabibulin's career and the climax of Mikkola's website.
The NHL lockout began immediately after the Stanley Cup was awarded to Tampa Bay. A year later, Khabibulin was still the most recent Stanley Cup-winning goalie, yet he did not have a contract. Naturally, he became the highest paid goalie in the league, signing with the Chicago Blackhawks.
"It's hard to find news about a losing goalie," Mikkola says about the terrible Blackhawk teams that Khabibulin was a part of, which paralleled the condition of the fan website.
Another criticism he endured came as a result of his lack of loyalty. Khabibulin always seemed to leave town after a contract was up to maximize his next one. In fact, all three of his major contract signings were to teams that were coming off awful seasons.
"He hasn't left money on the table, that's for sure. Maybe he would make a good GM," Mikkola jokes about Khabibulin's ability to move to teams that go from the bottom of the standings to the top.
Finally, and the most recent dilemma, is Khabibulin's troubles with the law. In February of 2010, Khabibulin's vehicle was pulled over. He was subsequently charged with speeding and impaired driving. After everything was said and done, he spent 30 days in jail in July 2011.
Mikkola feels that Khabibulin's physical and psychological state has all the makings of a "bounce back" type of situation for the 2011-12 season. Health problems and personal scrutiny now aside for the first time in many years, Khabibulin's only focus is keeping the puck out of the net.
Who says worst to first is impossible? Probability would state that it is highly unlikely, but at this rate, is a playoff berth or at least some meaningful games in March a stretch?
"It has been a team effort so far," says Mikkola. "Devan Dubnyk's stats are not too bad and Ladislav Smid leads the league in blocked shots."
A healthy Khabibulin and continued strong play from the young core and reliable veterans such as Ryan Smyth could propel this team to exceed expectations.
However, nobody likes mediocrity. There will be a point in the season when the Oilers need to determine whether they are ready to compete ahead of schedule, or whether the long-term rebuild is still in order. If it is the latter, Dubnyk may receive some extra games between the pipes in order for the Oilers brass to finally determine whether or not their 2004 first round pick will form the new wall in Edmonton, while the old one waits to be inducted into the Hockey Hall of Fame.
[php snippet=1]