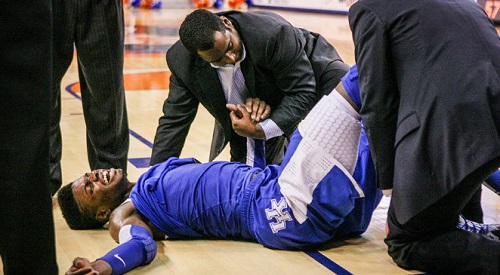 The One-and-Done Rule Revisited
February 18, 2013
When Nerlens Noel tore his ACL last Tuesday, it set off one of the most talked about, controversial and least impactful rules in sports: the age limit for the NBA Draft, usually called the one-and-done rule.
It happens any time a high-profile college player gets injured: are they a casualty of the rule? Soon the talking heads, columnists and bloggers are all abuzz with how the limit is killing college basketball (since so many leave after one season), how it makes a mockery of college educations and how if someone as great as LeBron James didn't need college, why should other talents?
There are 486 active players this season, an A-Z list that goes from Toronto's Quincy Acy to Cleveland's Tyler Zeller. The vast majority of these players spent some time in college. After all, NCAA basketball acts something like a development league. And since 2006 every North American prospect has spent a season there.
But what about the pre-2006 players who made the leap from high school to the pros? What can their careers tell us about this rule? Let's go all the way back to the beginning.
[php snippet=1]
Kevin Garnett: Fifth overall pick, 1995 NBA Draft
1307+ games played. Career averages: 19.2 pts, 10.5 rebounds per game. League MVP in 2003-04.
The first player in the post-merger NBA to jump straight in from high school was Kevin Garnett. There'd been a few who came to the league without much college before: Moses Malone, Shawn Kemp, Darryl Dawkins.
But Dawkins and Malone spent time in the ABA and Kemp more or less took a year off. Garnett came right from high school to the pros. And to be fair, he made an immediate impact in the league, starting 43 games as a 19-year old and made the All-Rookie second team.
He was enough of a success that in the 1996 draft, both Kobe Bryant and Jermaine O'Neal were taken right of high school. O'Neal didn't make quite as much of an impact as KG, but what 18-year-old would? Well, okay, maybe Bryant, who made the All-Rookie Second Team. But again: exceptional talents.
Korleone Young: 40th overall pick, 1998 Draft.
Three games played. Career averages: Four points, one rebound per game.
Only a couple more teams took chances on players coming straight from high school in 1997. The next year, it was even more conservative: Al Harrington was drafted 25th overall. In the second round, with the 40th pick, Detroit drafted Young, who had also declared while in high school.
In a 1997 story, Sports Illustrated called Young "a 6'8" manchild… one of the best players in the class of 1998." He might've been had he not declared so early. A few years later, his high school coach called his decision to declare a total surprise.
Unlike Bryant or Garnett, he wasn't physically ready to play in the pros and his career ended before it began: the Pistons let him go after one season and he never played in the NBA again. At least he fared better than Ellis Richardson, who declared and was never drafted.
DeShawn Stevenson, drafted 23rd overall, 2000 NBA Draft
802+ games played. Career averages: 7.3 points, 2.2 rebounds
Not many more players went out of high school over the next couple drafts. One example is Jonathan Bender, taken with the fifth pick in 1999. After a promising start in Indiana, his career was derailed by injuries. He was out of the NBA by 2006, save a comeback attempt in 2009.
Next year's draft also had just two players taken out of high school: Darius Miles, taken third overall and DeShawn Stevenson, taken 23rd. Miles is maybe best remembered for his outbursts in Portland and Stevenson for his defense and neither are especially memorable players, though to be fair, few from this draft are.
Still, Stevenson's an interesting case: he's in his 13th NBA season and is still a regular player: he's started 17 games for a good Atlanta team and is getting more minutes than he has in a few seasons. He's an interesting case for the age limit: would a year in playing NCAA basketball helped his development?  Or is someone with his skill set better off playing against tougher competition?
In 2001, three of the first five players taken came out of high school: Kwame Brown, Tyson Chandler and Eddy Curry. And both DeSagana Diop and Ousmane Cisse were taken later in the draft. This wasn't only the most high schoolers drafted to date, but the first time one was taken first overall. It's too bad Brown's legacy is of being a bust. The careers of Curry and Diop were little better, but Chandler developed into a pretty good rebounder and eventually an All-Star.
This seems like where the tide turned. Six years after Garnett went straight to the NBA and five after Kobe Bryant did, more players were declaring and they weren't always ready. Brown wasn't, even if he had enough talent. And players like Bender and Young didn't even have that. It can be hard to project someone out of college, choosing them even younger is harder still.
Maybe that's why some of the teenagers drafted over the next couple of years were all can't miss players: Amar'e Stoudemire, LeBron James and Dwight Howard.
Looking through the success rate of these picks, it's not hard to see why some were successful: they were outstanding talents of their generation. They didn't need to spend time at college (or even the D-League) to be successful. They were the exception. And when players not at their level tried, it didn't work. And the interesting thing is how little this generally happened. It certainly happened no more often than college athletes busting in the pros. The one-and-done rule hasn't stopped players from not panning out and it hasn't destroyed any careers yet, either. Ed Davis, for instance, had a serious wrist injury in college and it didn't wreck his career.
That's why if the one-and-done rule goes, and I wouldn't expect it to, it's not likely to have much of an impact on either the NBA or NCAA. College ball wasn't destroyed by missing out on LeBron and it's not as if teams are destroying their drafts on teenagers. The NHL and MLB both take players out of high school, too. The one-and-done is a foolish rule. It's too bad it took such a serious knee injury to get us to think about it.
[php snippet=1]