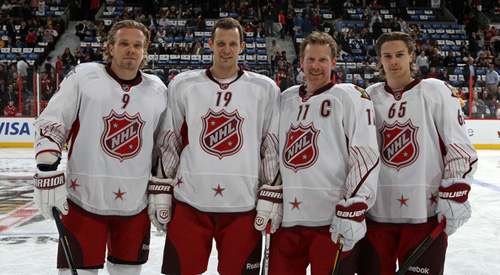 The remarkable return of the Ottawa Senators
March 22, 2012
In September, the Ottawa Senators were languishing at the bottom of the standings, buried by the media; given no chance of finishing above a lottery pick position. Of course, that was on paper, before they played any games. Now they sit a few points back of a Northeast Division crown.
The Senators are on pace for 94 points, the same total as in 2009-10 and 2007-08, their last two playoff seasons.
The transformation in Ottawa took many by surprise, especially after the team finished with the fifth-worst record in the NHL last season. It's even more surprising considering the Senators went through no major overhaul; they have hardly even rebuilt. This newfound playoff team is largely the same one that finished near the basement last season.
Gone from last year's roster are mainly role players like Chris Kelly, Ryan Shannon and Jarkko Ruutu. The few skilled players that left, such as Mike Fisher and Alexei Kovalev, were giving the Senators next to nothing, so their departures were almost addition by subtraction.
The main core of last year's Senators team is exactly the same: Jason Spezza, Daniel Alfredsson, Erik Karlsson, Milan Michalek, Nick Foligno, Sergei Gonchar and Craig Anderson (acquired at the trade deadline). 
[php snippet=1]
The easy answer for Ottawa's turnaround is Karlsson, the young phenom who is just the fourth defenseman since the lockout to register more than 70 points. Karlsson has worked his way into Norris Trophy consideration by outscoring everyone else by a country mile.
But Karlsson's amazing season is only partly responsible for the turnaround—the real cause is good health and stable goaltending, neither of which the Senators had last season.
First and foremost, the Senators have sorely missed Spezza the last two seasons. Spezza has produced at close to a point-per-game pace the last two years, but has failed to play more than 65 games in each season. That's elite production lost. His absence left the Sens with a middling offensive attack.
It was never a matter of talent with Spezza; it was a matter of health. This season Spezza is healthy and unsurprisingly, he has produced like he has always been capable of. He is fifth in the league in points and is on pace to score over 80 points. By season's end, Spezza should have close to 10 more goals than he did last year.
The Senators also missed their leader and captain in last year's forgettable season. Alfredsson missed close to 30 games in 2010-11 and never got on track offensively. Of course, Alfredsson is approaching 40 years old and is no longer the offensive threat he was during the Senators Cup run, but he is still a valuable contributor. For the most part, Alfredsson has been healthy this season and is closing in on 25 goals for the year—which, like Spezza, should amount to a 10-goal increase from last season.
The Senators are even getting some production out of Milan Michalek, who was largely ineffectual in replacing Dany Heatley during his first two injury-filled seasons in the nation's capital. Michalek has already scored 32 goals this season, 12 more than Heatley has in Minnesota. He is on pace to score 36, a career high, and more than double last season's output.
After the season ends, the Senators will have increased their goal total from last season by about 40 just through the strength of these three players. Those tallies alone would put last year's anemic Senators team around the middle of the league in goals scored, close to where the 2009-10 Senators playoff team finished.
Even more important than scoring, the Senators are getting decent goaltending this season. In the three seasons after their Stanley Cup run, Ottawa's starting goalie averaged about a .910 save percentage—not spectacular, but relatively stable. Last season, Brian Elliott had an ugly .894 mark to go along with a 3.19 goals-against average. It doesn't matter what team you are, it is no longer the 1980s. You can't win games with goaltending like that.
This season Craig Anderson has a .913 save percentage. If, instead of Anderson, the Senators were receiving the type of goaltending they were from Elliott last season, they would have allowed approximately 31 more goals, which would be only better than Tampa Bay. If the Senators had Anderson's .913 save percentage in place of Elliott's porous 43 games last season they would have allowed 22 fewer goals—which, once again, would put last year's team around the middle of the pack in goals allowed, about the same as the last Senators playoff team.
The Senators have rebounded to playoff form through healthy seasons from Spezza, Alfredsson and Michalek, plus stable goaltending from Anderson. Internal improvements from just four players have led to a net gain of close to 60 goals for this year's Senators squad. Changing nothing but those four players would have transformed a lottery team into one fighting for the playoffs.
Out of those four players, only Michalek is having a career year, so it's not like the improvement came out of nowhere.
No one expected this season from the Senators, but amazingly, it's not surprising.
[php snippet=1]