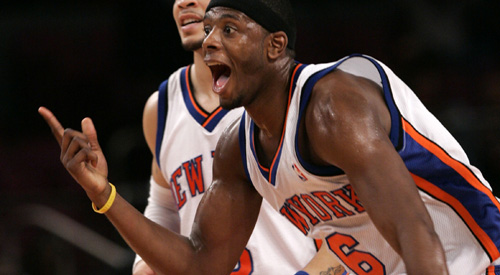 The name of the game
February 12, 2009
His game-time introduction echoes through the arena infinitely louder than all of the others. Spectators and opponents alike stop in silence as the announcement of his name and Alma Matter sends a familiar chill down their spines.
He bears a strikingly undeniable resemblance to the man whose name he shares, and while his current stage may exist in a realm thats dimness contrasts the bright lights of Madison Square Garden he, like his father before him, is who many of those in attendance have come to see.
Patrick Ewing Jr. already looks like an NBA player. His size and athleticism sparked enough intrigue amongst front office officials that the was drafted 43rd overall in this past summer's entry draft, despite only averaging 6.1 points and 4.2 boards in his senior campaign at Georgetown. The 6'8″, 240-pound prospect was then traded twice, before landing in New York of all places for training camp, and winding up the teams final cut.
The Good Point was able to catch up with Patrick Ewing Jr. back when he announced that he had been picked up by the Reno Bighorns of the NBDL. The Bighorns are the Knicks affiliate, and play the same run-and-gun offense that Mike D'Antoni has imposed in New York, and Reno appears to be as good a training ground as any for the budding talent.
[php snippet=1]
Ewing Jr. expressed his belief that he is an NBA calibre player, while acknowledging that time to further develop his skills will only serve to make him more prepared when he gets there. If college basketball differs from NBA basketball, than the D-League certainly falls somewhere within that.
"The D-League is definitely a pro league," said Ewing Jr. "A lot of the players have NBA experience at some point and it's a lot faster paced than college. I'm here to work on everything because in order to become a better player all areas have to be better."
He went on to say that the system they ran at Georgetown didn't have him as a focal point in the offense, and as such his college career high is 16 points. With a D-league debut of 15 points, five assists, two steals and two blocks its certainly clear that he has the potential to do much more.
His name already enters the Gatorade call-up conversation as often as Rod Benson, and Ewing Jr. is available for assignment to any NBA team, though he admits New York would be "special".
In his short time with the Knicks, his effort and hustle were able to win over the restless fans, which for a player with such unjust expectations is a tremendous achievement in itself, but not one hes content with.
"I feel like I am good at a lot of things," said Ewing Jr., "But in order to be a good professional you have to be great at a lot of things."
His name will always be synonymous with the game, but only time will tell if he can add to the legacy it carries. Two things are certain however, hes going to give it everything he has, and his celebrity pedigree will ensure that we all take notice of every step along the way. Judging by the confidence and determination in his voice we may not be waiting very long.
[php snippet=1]