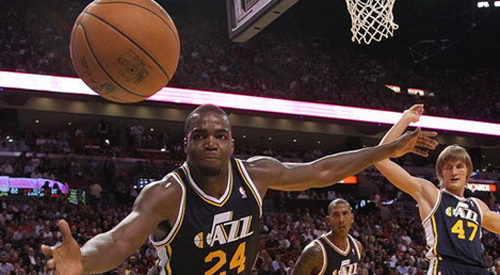 Paul Millsap and the overdue All-Star season
November 23, 2010
If Paul Millsap fell in the woods, would he make a sound? Trick question. Paul Millsap wouldn't fall in the woods because he would be too busy shooting 60 percent from the field while playing the role of most underrated basketball player in the NBA and hoarding enough offensive rebounds to sink a small fishing vessel. Would he make a sound, though, at all?
The answer, unfortunately, is probably not. At least not for as long as people refuse to notice it. I mean, they barely even flinched when he dropped 46 points on the most highly-anticipated basketball team of the 21st century – in a win, no less.
But ladies and gentlemen, Paul Millsap has been making sounds in the woods for the past three years. It's just that nobody, I repeat, nobody has bothered to acknowledge it. Not even his own team. Until now.
This isn't a personal attack on the Utah Jazz, although it certainly could be, but a tribute to a man so efficient, so dominant and just so bloody useful/functional/awesome that it literally embarrasses me to think that he hasn't been noticed sooner.
If you are one of the 6.7 billion people on Earth who have never taken Millsap seriously, I forgive you. It's human nature to instinctively disregard things that sound too good to be true, like Lacey Chabert and MagicJack. You simply couldn't help yourself.
But here's your chance to make right. And to appreciate all the things that the no-nonsense Louisianan has done night in and night out for more or less the duration of his entire career.
[php snippet=1]
As a rookie, Millsap back in 2006-07 did an admirable job of filling the stat sheet as a hustle player in limited minutes. He was a mere whippersnapper back then, plying his trade in the shadow of the great Carlos Boozer. Boozer himself was no slouch at the power forward position.
A predicament was born.
In 2007-08, much of the same continued as Millsap emerged as one of the most formidable reserves on a typical Jerry Sloan team that would go on to become a perennial threat in the Western Conference playoff picture.
The problem – and here's why I don't blame the Jazz for not giving our protagonist starters' minutes sooner – is that Millsap is an undersized power forward at just 6'8″. Boozer, at 6'9″ is no beanstalk either. Neither were of sufficient height to play the five-spot traditionally, yet neither could have moved out to the perimeter as a serious small forward threat either. It was like having jacks of each color in a promising but ultimately mediocre hand of Euchre.
But then Boozer fell with an injury in 2008-09 and Millsap was given his first legitimate opportunity to dominate over a significant length of time. And dominate he most certainly did. Almost as if trump had suddenly changed mid-hand in a mystery game of Euchre that I just made up.
In this, Millsap's third, season, he managed to start 38 games while Boozer nursed himself back to health and contributed genuine starter production to show for it (17 and 10, according to Yahoo!). Go figure. In 38 minutes per game that December, Millsap averaged 19 points and 12 rebounds. Not only was he filling Boozer's shoes, he was stretching them.
But then, like a thief in the night, Boozer returned to the lineup and Millsap was reassigned to reserve duties. He ended up playing 30 minutes per game on the season, but hovered around each of the two extremes more often than the median. His stat line though, still promising thanks to his time as a starter, read 14 points and nine rebounds per game.
At this point – seeing what was painfully, if only momentarily, obvious – the Portland Trailblazers signed Millsap to an offer sheet that would have welcomed him with open arms to the wonderful state of Oregon. It was promptly matched.
To many it appeared as though the Jazz had come to terms with just how awesome Millsap really was and that they had decided voluntarily to part ways with the increasingly-discontent Boozer. But no.
Not only did Boozer return that summer, he stunted the production of Millsap yet again, all the while publicly daydreaming about life in other cities and playing for another franchise. Relegated to back up duties once more, Millsap adapted to coming off the bench, averaging an efficient-as-ever 11 points and seven rebounds per game in just 27 minutes.
The Jazz, of course, not ready to let their Plan B stud grow mould on the bench returned to Millsap with promises of full-time responsibilities. As a starter in a teasing handful of contests in 2009-10, Millsap averaged 15 points and eight rebounds, while adding three assists and two blocks per night.
And then, just like that, the Carlos Boozer era was over.
The era of two power forwards that did virtually the exact same thing was over.
New on the scene was a just-as-prominent big man named Al Jefferson. Only thing is, where Boozer couldn't, Jefferson could switch over to the center spot and suddenly the team was able to take advantage of having two of the elite big men in the NBA.
Let's fast forward to Nov. 2010. The Utah Jazz have new duds now, time travel is awesome! More importantly, Millsap has new duds; he gets to wear starting lineup pajamas to bed every single night. He also gets to wear those shoes of Boozer's that he ruined back in 2007-08 – life is good.
Well, it's good for Millsap at least – and Jefferson, Deron Williams and the Jazz. But not for everyone else.
So far in 2010-11, Millsap has started every single game for the Jazz, logging just under 40 minutes per night and posting 20 points and 10 rebounds per game. On Nov. 9, he hit 19 of 28 shots from the field en route to a 46-point personal best and a win over the Miami Heat in South Beach.
Sounds pretty neat doesn't it?
These are those sounds I was telling you about. The sounds of Millsap in the woods. Maybe you would have heard them all along if it weren't for the sounds of Carlos Boozer complaining all the time.
[php snippet=1]