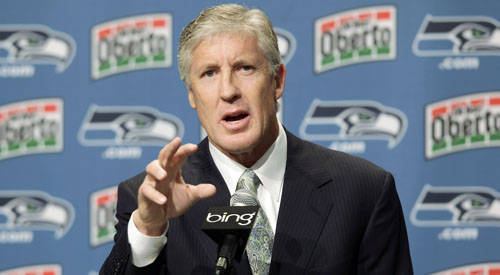 Senseless in Seattle: Pete Carroll's illogical leap back to the pros
January 13, 2010
Coaching in any sport is a difficult job. Generally, when a coach moves from one level to another in a given sport, pieces of the game change. The basic philosophy, however, typically stays the same. Hockey is still hockey, basketball is basketball; it's the gaps off the field that are the most significant adjustments.
In football, when one transitions from the ranks of the NCAA to the NFL, they have to conduct themselves completely differently than what they're used to off the field. NCAA rules dictate the amount of time players are allowed to practice, which in turn limits how much coaches can "coach" their players. When they get to the NFL, they have more duties to complete on a daily, weekly, and yearly basis.
There are less players to manage, but now these players are getting paid. Coaches have to satisfy owners who have them on a short leash if they don't perform well out of the gate, as opposed to college where they get a little more time from boosters and the university to get their program running. In college a coach picks his own players that are subject to NCAA standards of academics. In the pros, the players are chosen by a team of executives, and there are considerably more dealings with team politics.
The gap between NCAA and NFL in terms of coaching is like the Grand Canyon.
[php snippet=1]
Pro teams have hired college coaches, thinking they'll bring their fresh blood into the mix, with terrible results over the last 10 years. Starting with Mike Riley's stint with the San Diego Chargers (he finished 14-34), there are have been eight coaches and seven of them finished with losing records (Dennis Erickson 40-56, Butch Davis 24-35, Steve Spurrier 12-20, Nick Saban 15-17, Lane Kiffin 5-15, Bobby Petrino 3-10). The only winning record belongs to Pete Carroll who finished his pro stint at 33-31 with the Patriots and Jets finishing in 1999.
The closest to .500 of the remaining six is former Dolphins coach, and current University of Alabama head coach, Saban. He left the NFL and moved back to the college ranks after only two years and eventually won a National Championship with the Crimson Tide. The latest, Petrino, left the Atlanta Falcons near the end of the 2007 season to coach the Arkansas Razorbacks.
All eight of those coaches have gone back to college and all have had some degree of success. Two have won national titles (Saban and Carroll). This past season, all but one of them made a bowl game, only Erickson and Arizona State missed out.
All these reasons are why it's puzzling that USC's Pete Carroll would leave the college level to return to the pros with the Seattle Seahawks. Carroll has always appeared as a mentor and molder of men. He takes raw individuals from high school, turns them into excellent college players, which in turn makes them excellent professionals. He may have been offered total control of which players are on his team, but with salaries, bonuses, and an ownership that might be unwilling to spend money in this economy, Carroll will struggle to get the players he wants on his team.
He is also leaving one of the best situations in all of college football outside of working in the SEC. His team plays in Los Angeles where they don't have to compete with a professional football team for fans' hard earned money. You can't get that at many other schools in major college football.
There are coaches specifically designed to succeed at one level or the other, seldom can one do both. Arguably the last one to excel at both was Jimmy Johnson with the Cowboys of the 1990s and before him, Dick Vermeil. Things don't appear to be changing any time soon.
[php snippet=1]