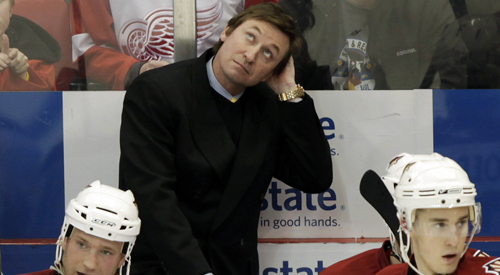 Sympathy for the Coyotes
September 10, 2009
Jim Balsillie is not going away quietly.
He wants to buy a NHL team. He is willing to pay dearly for one, much more than others are willing to pay.
His latest bid for the Phoenix Coyotes is over $212 million, much more than the only other major offer, a $140 million deal put forth by the NHL.
Remember, Forbes recently valued the Coyotes at $142 million, the lowest in the league.
It's perhaps unwise to pay so much for a team that is constantly losing money – Forbes has its operating income at nearly negative $10 million per season – but Balsillie is nothing if not determined and he better be, with the way he's been pursuing this team.
He wants this team and he wants it in his backyard – Hamilton's Copps Coliseum. It's likely his last shot with the league at owning a team – he's burned so many bridges, angered so many owners (they voted 26-0 against him recently) that it's unlikely he could ever get this far again in pursuit of a team.
But no matter how much he wants this team, the league will never approve so long as it involves moving them from Phoenix.
Yes, Phoenix is a black hole of a market, but how much of that is from the Coyotes' awful play? You can sell tickets for next-to-nothing, but if the team stinks why would anybody pay to see them?
[php snippet=1]
Since moving to Phoenix, the Coyotes have been awful, one of the worst teams in the NHL. They are barely .500 since 1997, winning 422 games. They have never won 40 games in a season, never finished first in their division and never moved past the first round of the playoffs (or even made the playoffs since 2002).
Their string of failure this decade is close to unmatched: only the LA Kings and Florida Panthers have had a similar run of futility.
Another problem for the Coyotes is that they don't have a bankable star, either. There is nobody currently on the team that even in a poor season would still draw fans to the team – and there hasn't been in some time, either.
Even the other awful NHL teams have somebody they can bank on: Ilya Kovalchuk, Rick Nash, Nathan Horton, etc. These are players that if nothing else are worth watching, even on a bad team.
The Coyotes, in contrast, have little. Shane Doan has only scored 30 goals twice in his career, appearing in just a pair of All-Star games. Ed Jovanovski is fast approaching the end of his career and his numbers are steadily decreasing – he hasn't posted a positive plus-minus since 2004. Ilya Bryzgalov, the once-promising goalie, has seen his numbers inflate since moving to the desert: his GAA was his highest ever last season as he lost 31 games and let in 187 goals – another career high.
If the Coyotes were able to solve either of those problems – make the moves to position themselves for a playoff run or spend the money to acquire somebody they can market around – surely their situation in the desert could be improved.
But these are problems that would follow the team to Hamilton if Balsillie wins his attempt to buy them. Yes, there will be initial support of the team, but unless the team improves (and quickly, at that) there is precious little to keep people coming to the games.
And for all his talk about the other NHL owners, Balsillie hasn't announced any plans to increase spending on free agents, to increase scouting or the like. He's committed to buying a team, but is he committed to what comes after that?
There's one more thing too: tickets. Currently, the average price of a ticket to a Coyotes game is $39. If the team moves, will the price remain the same?
Or will it increase, more in line with the other local (and bordering) teams:
Buffalo, $33
Ottawa, $56
Detroit, $57
Montreal, $70
Toronto, $88
The best guess is that prices will increase. Keep in mind that when Balsillie took deposits for Predators season tickets in 2007, the prices started at $500 and went up to $5,000. That was before he even knew if he was getting the team – and before about 1,500 people were laid off when US Steel closed their mill in Hamilton.
The decline of the city's main industry is only another problem that the Coyotes would face in Hamilton. If Balsillie does indeed buy and move the team, it's likely that he could end up with a lot more than he bargained for.
After all, he wants the team. But does he want its problems? And more pressing – does he have any solutions for them?
[php snippet=1]