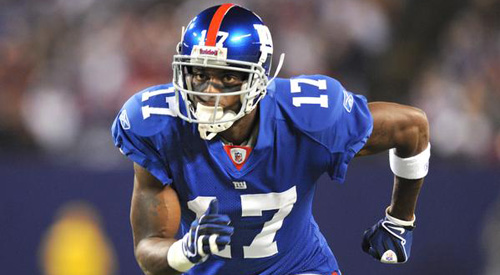 Following prison release, Burress eyes NFL return
June 28, 2011
As of right now, there are 13 wide receivers currently on the New York Giants' roster and nine wide receivers on the Pittsburgh Steelers' roster. Yet, if and when the National Football League finally lifts its lockout, perhaps next month, more eyes around the league will be on a wideout who hasn't taken the field for either team since George W. Bush was still President of the United States.
Plaxico Burress is just short of 34 years old and hasn't played in the National Football League since 2008. He hasn't had back-to-back 1,000-yard seasons as a receiver since 2001 and 2002 or back-to-back 10 TD seasons since 2006 and 2007. Even in his best statistical seasons, he constantly struggled with injuries, and he only caught 35 balls for 454 yards in 10 games in his most recent. So why is he the focus of so much media attention?
According to Josh Katzowitz of CBS' Eye On Football, the hype can partly be explained by Burress' high profile during his time with the New York Giants and the bizarre circumstances that led to his incarceration after an incident in Dec. 2008.
"It was a story because he shot himself," said Katzowitz, referring to Burress' arrest for criminal possession of a weapon after he accidentally put a bullet in his leg at a New York nightclub.
Compared to another wide receiver suspended after running into trouble with the law, former Cleveland Browns wideout Donte' Stallworth, who was charged with DUI manslaughter after running over a jaywalker, Burress's actions might not seem like the bigger story.
[php snippet=1]
Matt Tracy, who writes about the Giants at MattTracy.com, points out that unlike Stallworth, though, Burress was playing in a large media market for a contending team.
"The buildup was huge because the Giants were in the middle of a playoff race and Antonio Pierce was involved and it was a just a huge mess," Tracy said. "The media had a field day with it because there were always new developments in the story."
For all the media controversy over what Burress did off the field, it's what he can do on it that will hold the key to a successful comeback for him. Lahne Mattas writes about the Pittsburgh Steelers at SteelerGurl.com and believes that Burress' abilities as a player will help him get a second chance.
"While he broke the law, what Plax is most guilty of is just being stupid," said Mattas. "In retrospect, I am sure he sees that he was caught up in 'celebrity' and wasn't making decisions based on sound judgment. But that doesn't take away from the fact that he was talented."
Although the Philadelphia Eagles are a popular rumored destination for Burress, Mattas thinks that the St. Louis Rams would be an ideal destination for the former Steelers WR.
"I argue that a team like the Rams could give Plax the opportunity to become a true leader and show that he's grown and matured during his time away from the field," said Mattas.
Katzowitz points out that it's hard to tell with any certainty which teams will make Burress offers, as he carries significant talent without a massive price tag but hasn't played football in years.
"You could say half the teams could look for a guy like that," said Katzowitz. "The hard part is because his risk is so low and because of the lockout, there's just so much stuff lying around [in terms of rumors]."
After almost two years in jail, Burress will have make some changes to his style of play in order to work his way back into the NFL.
"Burress will definitely have to use his size because his legs are probably not going to be the same as they used to be," Tracy said. "Some people are expecting a huge comeback for him, but we have to remember that he is a wide receiver and not a quarterback who can easily last into his late 30s or early 40s."
As tempting as it may be to compare Burress with Michael Vick, who made a very successful return to the NFL after doing jail time, Katzowitz warns that that's not really a fair comparison.
"Vick's younger and always was a much better athlete than Burress," said Katzowitz. "He may make the team but at this point, he's going to have a hard time doing what he did in the past. I'd be very surprised if he goes out and shocks everybody with a great season."
[php snippet=1]