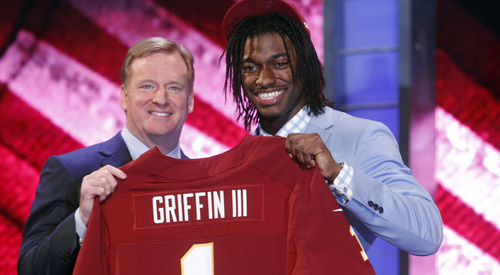 From Me to You: RGIII
April 30, 2012
To every member of the Washington Redskins,
Thank you. I'm happy and proud to join your organization. I'm relieved that the day has finally come, especially considering Mr. Mike Shanahan's remaining 0.1 percent of doubt that he would select someone other than me.
By now, you all probably know me at the very least because you studied me on film and because I have won the NCAA Football 13 cover contest. This will change soon, very soon. One thing that I can tell you is that I'm not a gimmick quarterback. Don't believe it when you hear it, that's all I asked, and you listened–and now I'm a Washington Redskin. This feels right.
In other words, you didn't let the socks fool you–and because of that, I get a chance to compete for a starting quarterback spot in the National Football League. I'm comfortable with who I am, and this is why I wear such socks–make fun of me all you want for the socks, but respect me as an individual and a player, you know?
You drafted me at No. 2 behind another great quarterback in Andrew Luck. For the rest of our careers, we will be measured against one another just like Peyton Manning and Ryan Leaf were–at least for as long as Leaf stayed in the NFL. But it's not right. I play against defenses, not opposing quarterbacks, just like I'm not the only player on the Redskins. I'm one-53rd of our team, and I'll work my hardest every day to make sure our active roster is better than the one we play against on any given week. 
[php snippet=1]
Beyond Luck, I'll probably be compared to Cam Newton as well, who was in a similar situation as me when he came out of Auburn a year ago. He's a bit taller and bigger than I am, but he's not as fast. Otherwise, the similarities are plentiful. We're both athletic, dangerous with our legs as well as our right arm–and because we're so great at running the ball, our throwing ability might be a bit underrated. We both won the Heisman Trophy following a stellar and timeless NCAA season right before we were drafted. Cam and I are also both African American quarterbacks, and that helps explain at least part of the comparisons–just once, it would be nice to see a Cam Newton, an RGIII or a Vince Young be compared to a Steve Young for example. That said, Cam Newton is an unbelievable quarterback, and I'll be happy if I accomplish in my rookie season some of the things that he managed to do.
This will take hard work, which is nothing new to me, and please don't take this as a cliché–either way, I believe that clichés are so because there's a kernel of truth to them. In the third game of my sophomore season, in 2009, I tore an ACL and missed the remaining nine games. A year later, as a redshirt sophomore, I fulfilled the promise shown in 2008 but our 7-6 final record was disappointing.
Everything finally gelled in the 2011 season. Personally, I had my finest statistical season with 4,293 yards, 37 touchdowns and only six interceptions–but of course, none of this would have mattered had our school not been equally successful. Winning 10 games at Baylor is something I'm proud of, because the Bears have been the doormats of the Big 12 Conference for the better part of the last 10 years–at least. After the first three games of the past season, I had more touchdowns than incomplete passes, and I say this not to brag but to show what a magical season this was. We all remember the deflected-completion to Kendall Wright against Oklahoma, right? It was that kind of season in 2011, and I won the Heisman Trophy after the regular season–which is really a team award disguised as an individual one.
I intend to repeat this type of success with the Redskins franchise. It will take time, but not as much as you think. I have been successful everywhere I played, and it's not a coincidence that I graduated early from Copperas Cove High School as well as Baylor. The leadership, respect and determination I show daily are a product of my upbringing as the son of two U.S. Army Sergeants in Robert Jr. and Jacqueline Griffin. I learned to say, "Thank you," "Yes sir," and "No sir" very quickly. I'll bring all of these to my new Redskins family. Of course, I'll need the help of quality teammates for the franchise to be successful once again. And I'm confident this will come soon enough.
Best of all, I will still be wearing the same pairs of socks that I've become famous for. It's who I am, and it's not about to change.
Again, thank you. This means a lot but most of all, it's only a beginning.
Robert Griffin III.
[php snippet=1]