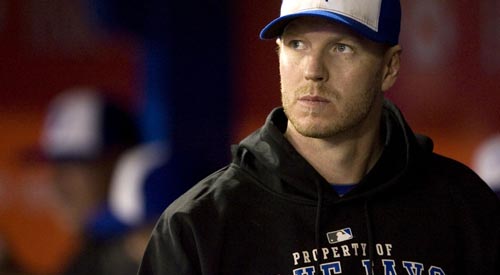 LA Dodgers most logical bet for Roy Halladay
July 21, 2009
At a press conference last week, Bob Costas introduced the starting pitcher the American League All-Star team as a member of the Toronto Blue Jays. In doing so, he touched on a topic that has been on the minds of Toronto fans for some time now; how long will Roy Halladay stay in Toronto?
Baseball's best pitcher has been a Blue Jay his whole career and has been nothing less than a model employee. Having never experienced October play, however, he responded positively to the comments made by the increasingly-unpopular J.P. Riccardi that the Jays were entertaining trade offers for their ace.
If Halladay were to be traded, it would have to be to a team that is a virtual lock to make the post-season in order for him to waive his no trade clause. Of all baseball's top performers, the Los Angeles Dodgers are most likely to obtain Toronto's ace. Here's why:
Top team, top dollars: No team has a bigger lead in their division this year than the Dodgers and accordingly, they are the most likely to make the post-season. If Halladay's premier goal is to play in October, Los Angeles makes sense as there is nothing to indicate that any team in the National League West will catch the Dodgers for the division crown. The Giants have looked good from time to time, but with an injury to Randy Johnson and their offense's struggles it is unlikely they will pose any real challenge.
A team looking to obtain Halladay also has to have the kind of money necessary to take on a salary of just under $15 million a year through 2010. There is no doubt that Los Angeles can afford him. They can afford Manny Ramirez, they can afford to have Jason Schmidt on the DL and they can afford to have Juan Pierre as the best paid fourth outfielder in baseball. If they feel the need to add a big arm the Dodgers would not hesitate to take on Halladay's salary given the return of a dependable ace.
[php snippet=1]
Far from home: J.P. Riccardi has stated that if the Yankees or the Red Sox, two teams potentially in the running for Halladay, want Halladay then they would have to put up an incredible offer. Why? Riccardi doesn't want his team to face Halladay if they don't have to. It is an unspoken guideline that GMs refrain from training stars within their own division. While it is questionable whether there is merit to the reasons they give for this practice, a trade to Los Angeles would help Riccardi avoid seeing his former ace in an opposing team's uniform.
Prospects, personnel: A team that trades for Roy Halladay will have to offer a very nice package if the Jays are to sell. With a team stacked with young stars such as Matt Kemp, Andre Ethier and Russell Martin, Los Angeles could clean out the farm system for Roy Halladay without risking too much down the line. Some have suggested that the Jays could look for Clayton Kershaw in return for Halladay but it is unlikely that the Dodgers would give up a Major League tested, young, talented pitcher for Halladay as his contract is up in 2010 and the Blue Jays have forbidden teams to discuss an extension with him before a trade is completed.
If Riccardi were especially astute, he would consider throwing in Vernon Wells' huge contract in exchange for the cheaper and more productive Juan Pierre. While it is unlikely that the Dodgers would be willing to take on a contract of the magnitude of Wells' considering that they are already full in the outfield, they could view Wells as a valuable fielder and power bat to protect against injuries and add more depth for a playoff run.
Familiarity with teammates: For a trade to be possible, Halladay will have to waive his no-trade clause. Having former teammates such as Orlando Hudson on the Dodgers will make it easier for him to transition to a new team. For some players it can be hard to go to a new team. For Halladay, however, who is a noted club house guy and possesses a world class work ethic, this will not likely be a problem.
Spotlight: Roy Halladay has enjoyed great success out of the spotlight in Toronto where he has quietly amassed 142 wins, a Cy Young award and now a starting spot in the All-Star Game. He has accomplished all of this on a team that is almost never on American national television. Halladay is soft spoken and diplomatic in interviews, preferring to do his work on the field. The Dodgers, on the other hand, play in a big market located in one of America's flashiest cities.
Just because the Dodgers play in a big, baseball-loving city, that doesn't mean that Halladay will have to contend with harsh media critiques and unruly fans. California baseball aficionados, unlike the fans in the American northeast, are notoriously affectionate and forgiving of their stars. Look at how Barry Bonds and Manny Ramirez have been treated. Ramirez specifically provides Roy Halladay with added protection from the media as he is likely to garner most of the attention with his antics leaving Doc to pitch his way in the hearts of Los Angeles.
It is impossible to know for sure where Halladay will play in August, September and October. He has indicated that he thinks that his chances of leaving Toronto are no more than 50/50, but wherever he plays, baseball fans all across the continent should watch as he amasses his Hall of Fame credentials.
[php snippet=1]