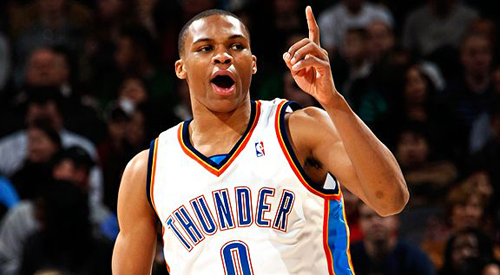 Russell Westbrook: Role undefined
May 19, 2011
Russell Westbrook is sitting on the court, head lowered, arms resting on knees. It's the end of the second overtime in Memphis and the game is going to a third overtime. He's tired and it's not hard to see why, he's been on the court almost the whole game. Before it's over, he'll end up spending nearly 52 minutes on the court, shooting, running, passing, keeping the team alive.
Westbrook will finish the triple-overtime Game 4 with 33 shots attempted, more than Zach Randolph, Kevin Durant or anybody else will have attempted, but will finish with just five assists. He has been maligned for his shooting: he shoots too much or doesn't pass to Durant enough. Tonight, his shooting will have kept the Thunder in the game when Durant's shots weren't dropping.
On this night, things got off poorly for the Thunder. A couple minutes into the second quarter, the Grizzlies had a 18-point lead. If one believes in things like home-court advantage, the Grizzlies had it: a flood had rolled into parts of the city and it wasn't a stretch to imagine that there had been a particular connection between the people in attendance and their hometown team.
More concerning for the Thunder, though, was what was to become of Westbrook. In each of the first three games of the series, he'd taken at least 20 shots and hit about 40 per cent. Depending on the final score, he'd either shot too often or had led them to victory. Obviously, it wasn't that simple: other things, like defending Marc Gasol, had as much of an impact. But it's an easy point to make and one that, when spoken by a TV analyst, seems to make sense.
The thing is, though, that Westbrook couldn't and can't always pass it to Durant, not when he was smothered on defense. So Westbrook sometimes had to shoot; shoot from up close, at the foul line and from 21 feet out. No wonder he's exhausted.
[php snippet=1]
This is Westbrook's third year in the NBA and probably the second one where he could accurately be described as a star. Currently, he's ranked among the NBA's leaders in assists and steals per game, but if you know him for anything, it's for his scoring. It's jumped from under 17 points per 36 minutes to about 28 while only taking about two more shots per game.
Thus Westbrook is a scorer.
But, Kevin Durant is a scorer and, as the scribes like to say, maybe the two can't co-exist. Westbrook shouldn't settle for shots, they say, and should be more of a distributor. He should pass the rock to Durant more, let the heir apparent take the last shot. It's easy to find writing on the series which suggests Westbrook needs to distribute the ball more. Maybe he does: there's an interesting dynamic there. You could look at the situational numbers that appear, like how Durant scores more when Westbrook is on the bench. But numbers are ambiguous and I'm not really talking about Westbrook's shooting, anyway.
What I talk about when I talk about Westbrook is what it's like to watch somebody taking 25, 30 or more shots a game. It's about the attitude and confidence (or arrogance) behind it. You need a lot of the two to shoot 20, let alone 33, times in a game. Watching Westbrook when his game is really clicking is something exciting and interesting; he can shoot from all over or make everybody else better and oftentimes does both. There's some arrogance behind a player taking over, especially when he has a teammate named Kevin Durant, but it doesn't feel forced, it just happens.
The way Westbrook plays, the way he carried himself through three overtimes in Game 5 or how easy he made a triple-double look in Game 7, makes people think more about his contributions on the court than any theoretical OKC pecking order or percieved arrogance.
It's impressive, especially by comparison to the league's best: LeBron James.
James started this season as the most hated figure in sports and has gone out of his way to seem better, nicer, more humble. When he used a bad word in a postgame press conference, he apologized. When he closed out the Boston/Miami series with 10 unanswered points – including a breakaway jam straight out of a high school hoops movie – he started a post-game interview on TNT by praising the other team.
It's nice when a star is humble, and in a way it's refreshing, but people expect James to act like the biggest star in the league. It's hard not to get the impression of insecurity. It's like he was really shaken when people turned on him after The Decision and now wants to prove he's a good guy after all. He's pensive, reflective and utterly not what one would expect a star to be; I personally expect somebody who just finished off a team's season with a sick jam to remind me of the Continental Op, Sanjuro or the like.
When James apologized to the city of Cleveland after beating the Celtics, it rang false. Not because he wasn't actually sorry, but because it didn't feel organic, not after he essentially took over the game in the final minutes.
Meanwhile, Game 7 was Westbrook at his best. Without saying a word, he silenced critics who suggested he shoots too much or that he can't co-exist with Durant with a game in which he attempted the second-fewest shots this postseason. Westbrook capped the series by putting up the first triple-double in a Game 7 since Scottie Pippen in 1992 and only the fifth ever.
He was everywhere on the court, doing what felt like everything: scoring, facilitating, even rebounding. Almost every time ABC went to a commercial, it was on a slo-mo replay of Westbrook sending an arcing, floating ally-oop pass to Durant. When he's taking over, he can set things up for Durant that look easy and he's able to create things for himself, too, when Durant can't.
Essentially, that's what's most charming about Westbrook: he doesn't come off as manufactured, at least not yet. He's young and because he still hasn't defined himself, he's exciting to watch. He won't always shoot 30 times in a game and he won't always have 14 assists. But because he can alternate between the two, he's more interesting to watch than anybody else in the postseason, James included.
[php snippet=1]