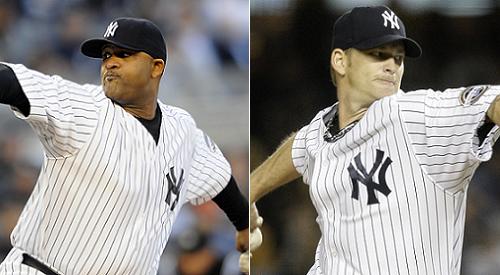 Sabathia, Burnett earning their worth
May 20, 2009
Most of us have never spent $243 million dollars on anything, and in all reality never will. How many of us could feasibly dream of spending $243 million dollars? Probably about as many of us who will ever be in the position to.
But that's exactly what the New York Yankees did this past offseason, by inking CC Sabathia and A.J. Burnett to two massive, multi-year contracts of $161 million and $82.5 million, respectively.
In 2008, the Yankees missed the playoffs for the first time in 14 years, and to help fix that issue, the Yankees addressed their woes the same way they always do – by opening up the wallet.
Sabathia's contract is the highest ever signed by a pitcher in the history of baseball, while Burnett's is just massive in its own rights. The problem with over-spending in sports is that you rarely see the return.
These two are no exception.
Sabathia began his career in pinstripes on the road in Baltimore, giving up six runs in 4.1 innings. It was hardly the dream start that the Yankees had hoped for their new ace. And to the Baltimore Orioles.
April continued, and so did Sabathia's mediocrity. In his first six starts, the 2007 AL Cy Young winner was 1-3 with a 4.85 ERA, 39 hits and 15 walks in just 39 innings, while only striking out 24. In only two of those starts did he give up fewer than four runs.
[php snippet=1]
However, Sabathia has begun to turn it around. Over his last three starts, he is 3-0, having only given up three earned runs on 12 hits and six walks, striking out 20. That's an impressive turnaround. However, two of those three starts were against those lowly Baltimore Orioles, who sport some of the worst offensive statistics in the American League.
Burnett has been a different situation. He's as consistent as ever, and like every other non-contract year of his career, he has not been living up to what his contract demands.
On Sunday against Minnesota, Burnett managed to go 6.2 innings giving up two earned runs, which doesn't look too bad. If you look a little deeper, you'll see the true Burnett numbers. Six hits, six walks, seven strikeouts. That's an average start at best. The two earned runs actually lowered his ERA to 5.02 for the season.
Burnett's 82.5 million dollar contract begs for more than he's giving. His best start was against Tampa Bay on April 14, going eight innings, giving up two runs and striking out nine. In his six starts since then, he's left four of them while the Yankees were losing. In the other two he left the game tied, although one was against Boston where he was lit up eight runs, the other against Los Angeles, where he gave up four.
A starting pitcher's most important job is to put his team in a position to win the game by beating up on the other teams' offense. To this point, Sabathia and Burnett haven't been able to get the job done as much as is expected of them, yet the checks keep rolling in for the two newest Yankee flamethrowers.
These two are definitely earning what they're worth, but unfortunately for the Yankees (and more likely for every other team in baseball once superior pitchers are up for new contracts), they're not worth $243 million.
[php snippet=1]