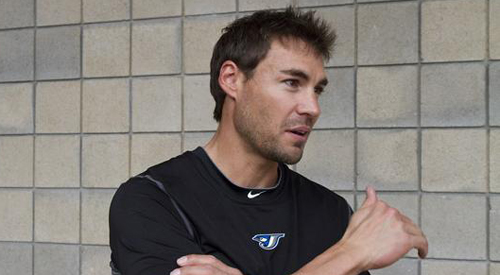 Opening Day not possible for Scott Podsednik
March 22, 2011
Scott Podsednik waited patiently this past offseason for a phone call from a major league team with a job offer. After all, the veteran outfielder was coming off a respectable season split between the Royals and Dodgers where he hit .297/.342/.382 with 40 walks, seven triples, and 35 stolen bases.
You might assume that he expected that call early in the offseason, seeing how he had posted decent overall numbers in each of his last two seasons and would be a solid veteran presence on any ball club. But that call wouldn't come. In fact, it wasn't until the Blue Jays contacted him in February that he got a serious offer, and he jumped at the chance.
"I didn't have a lot of interest out there. The Jays were arguably the most aggressive in trying to acquire me. They made me somewhat feel wanted so it wasn't that hard of a decision," Podsednik said.
Less than one week after signing with the Blue Jays, it was revealed that Podsednik was suffering from plantar fasciitis in his left foot, a painful injury that is difficult to treat. Over one month has passed since his diagnosis and the injury is still bothering him. His foot is now temporarily in a cast, which continues to keep him off the field.
"It's just not at a point where I can go out and play. The cast is just a matter of immobilizing it to give it the best chance of healing," said the 35-year-old outfielder.
Plantar fasciitis is an inflammation of the connective tissue between the heel bone and toes, and is often the most painful on the underside of the heel. It usually takes an extended period of time to fully recover from and time is not something Podsednik has a lot of right now.
[php snippet=1]
He is in an uphill battle with fellow outfielder Corey Patterson and infielder Mike McCoy for a spot on the Jays' bench. Given his latest setback, he'll now have to prepare to open the season in an entirely different way than he had originally thought: at extended spring training or in the minor leagues.
"I won't be breaking camp with the Jays, April 1st is going to be too soon," Podsednik said. "We're going to take [my foot] out [on March 18] and see where it is. I might have to go back in a cast for another week."
"Right now I think it's a little too premature to set an exact date on when I might try to make it back, we're just going to have to play it by ear, and hopefully the cast will kick start the healing a little bit."
This is not Podsednik's first time dealing with plantar faciitis. After he was traded to the Dodgers in July, the speedy outfielder was forced to miss the final 25 days of the 2010 season because of it. He feels his previous experience with the injury will help him during his stint with the Blue Jays this time around.
"If I was a younger player going through this, it would no doubt be a little tougher, but I've been through this before and I understand what's going on so yeah, being a little older and experienced makes it a little easier to deal with," Podsednik said.
Just because Podsednik is getting older does not mean he's enjoying his extra time off, though. He drew two walks and stole second base in his first and only Grapefruit League game with the Jays on March 11 and enjoyed that opportunity. For the sake of his professional career, Podsednik is taking it slow, but he still can't wait to return to playing baseball again.
"I can't wait to get back. It was fun just to take the field a few days ago to just get out there and play some ball. I'm itching to get back out there and itching to get both my feet underneath me to where I can go out and run around and play my game."
[php snippet=1]