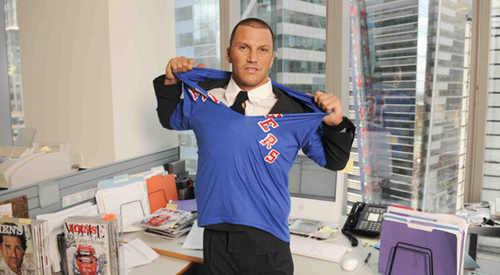 Sean Avery, businessman
November 29, 2010
Under the direction of Ken Holland, the Detroit Red Wings have won eight Central Division titles, four President's Trophies and three Stanley Cups; it's fair to assume the man knows a thing or two about hockey.
When asked about one of his former players – ex-Red Wing Sean Avery – in a 2008 interview with NHL.com, the general manager was quick to make note of what seems so obvious now in 2010.
"Obviously we had him as a young player and our concern was his lack of respect for the game, the people in the game […] He has worked his way through a few organizations now and it's apparent that he hasn't matured".
At 30 years old now and in most likely the tail end of his career, Avery's NHL notoriety comes not from his remarkable skill or scoring prowess, but as a result of his on and off-ice antics. More specifically, his innate ability to draw the attention of the media to a degree where Kim Kardashian pales by comparison.
His now infamous "sloppy seconds" comment served only as a coming out party for a player that the NHL had known all along lacked the integrity required of a professional athlete. Prior to that incident, Avery had been warned repeatedly by coaches and NHL brass alike that both his conduct and comments were unacceptable. For most NHLers, one warning would be sufficient. After all, most appreciate that being in the NHL is a privilege not a right and would avoid doing anything that would potentially jeopardize their career.
Then again, for most NHLers, professional ice hockey is actually their career.
[php snippet=1]
Upon closer inspection, it would appear that to Avery it's merely a means to a completely unrelated end.
To think that Avery's real interests lie outside the realm of professional sport isn't such a far-fetched notion. After a mediocre OHL career, he was signed, not drafted, by the Detroit Red Wings back in 2001.
In the 2001-02 season, he played 36 games for the club, four shy of having his name engraved on Lord Stanley's Cup. Ironically, from there, he moved on to the Los Angeles Kings where he found himself presented with an opportunity to hone his craft.
Hockey?
No, acting. In 2005 he made his big screen debut in the movie The Rocket and went on to appear on MADtv, MTV Cribs, Punk'd and TRL.
In 2006, Avery left Hollywood and his acting aspirations behind when he was traded to the New York Rangers. It was in the fashion capital of the United States that he discovered a new passion.
Hockey?
No, becoming a fashion editor. In the summer of 2008 when most of his NHL colleagues were busy getting themselves in shape for the upcoming season, the man who admittedly enjoyed dressing up dolls as a boy was interning at Vogue. The Rangers, apparently unimpressed with his tireless work ethic when it came to critiquing silk and chiffon creations chose not to re-sign the free agent.
Having to relocate to the Dallas Stars though didn't dampen Avery's interest in fashion.
After eventually being placed on waivers by the Stars, he occupied his time by collaborating with men's fashion label Commonwealth Utilities on a clothing line for New York's Fashion Week. The then year-old label appears to have dropped off in recent years, perhaps a result of having lost their muse to his latest pursuit.
Hockey?
No, entrepreneurship. In 2009, upon returning to New York, Avery along with two business partners opened a sports bar called Warren 77 that is still alive and well in Manhattan.
At one time or another over the course of five short years Avery has been an actor, television personality, fashion designer and bar owner. The one thing he has not been is a dedicated hockey player.
With so many fleeting interests, all of which serve to put him in squarely in the spotlight that he so desperately craves, why does he even bother with the NHL at all? Because, without the moniker of "NHL star" attached to his name, he is nothing in any of those worlds.
And without his outrageous antics, he would be a virtual unknown in the National Hockey League.
[php snippet=1]