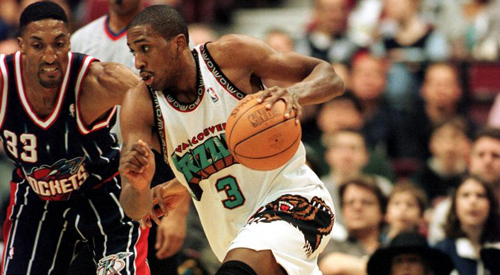 Shareef Abdur-Rahim: Fact, myth or hoax
May 11, 2011
There's a man with a bear on his leg that deserves your respect, not for spending his formative years as a professional athlete toiling in what was viewed by his colleagues as an NBA wasteland, not for his rapid ascent up the business side of the sport he dominated all his life immediately upon retiring in 2008.
No, Shareef Abdur-Rahim deserves your respect, and at least your retroactive acknowledgement, for dropping 20 and 10 stat lines between 1996 and 2003 more frequently than you checked your mail; for bolting through the millennium assaulting rims like a jaguar with a jetpack.
But he won't get it.
Abdur-Rahim was both sleek and uncontainable back before big men were expected to be either. The way he danced through the giants of the 1990s drew comparisons to a fiendishly nimble Sasquatch in pursuit of his prey.
Though it matters looking back, it didn't back then. Not when his skills were wasted on a Canadian expansion team with a better chance of succumbing to mountainpeople than contending for a playoff spot.
As a member of the Vancouver Grizzlies, Abdur-Rahim was no stranger to going unnoticed, if not for a novel rivalry between the Grizzlies and the equally-fledgling Toronto Raptors, you'd be hard pressed to find anyone outside of the Lower Mainland who recognized his (or even their) existence.
[php snippet=1]
The NBA fans and coaches responsible for naming the All-Star teams certainly didn't.
To a tragic extent, the rest of the world wasn't watching when Abdur-Rahim dropped 30 points and 17 rebounds against the Dallas Mavericks in his rookie season. They didn't see him rack up 39 and 13 in February of 1999 or 36 and 22 a year later, either.
Though phenomenally impressive, Abdur-Rahim went, again like Big Foot, mysteriously undetected.
On Draft Night 2001, with the Grizzlies already on the move from Vancouver to Memphis, Abdur-Rahim was dealt to the Atlanta Hawks in a package centered around the No. 3 draft pick that wound up being Pau Gasol.
It was here in his home state of Georgia where Abdur-Rahim was expected to collect on the years of popularity that went wasted in British Columbia. It was here where he would continue to blossom into a star.
Despite an additional three more seasons in which his clubs dragged through more losses than wins, Abdur-Rahim continued to establish himself as a premiere power forward in the NBA. In November of 2001 he hung 50 points on the Detroit Pistons, three months later he played in the first All-Star game of his career. Household namedom, however, continued to elude him. Whether the result of his affiliation with losing ball clubs or even his Islamic name at a sensitive time in America, the popularity that Abdur-Rahim's skills and on-court prowess would typically afford never came to fruition.
He thus continued to forge ahead in anonymity, a devout Muslim imported fresh from the Great White North without a winning season to his name.
After his tenure with the Hawks, which lasted from the start of the 2001 campaign until he was dealt midway through 2003-04 for Rasheed Wallace, Abdur-Rahim's playing days started to head south.
A series of knee injuries plagued the sprightly forward over the course four seasons with the Trail Blazers and Sacramento Kings and over time his minutes and production dwindled to a point where the once-noble Grizzly was but a shell of his former self.
Not one to drag out his fate, Abdur-Rahim played his last game in 2007, retiring less than a year later when rehabilitation from a reoccurring knee injury proved fruitless.
After two years on the sidelines, Abdur-Rahim was hired as the assistant general manager of the Kings alongside general manager Geoff Petrie. Though the club's future in Sacramento hangs in the balance – not unlike the Grizzlies during Abdur-Rahim's stint there 10 years prior – the man is once again at work behind the scenes trying to make a contender out of nothing.
Though it's never too late to pay homage to one of the elite players of any generation, the fact that Abdur-Rahim is about as popular in 2011 as he was in 2001 speaks to how low he flew under the radar leading up to and even during his prime.
It's typical, in retrospect, that the man continues to slip into obscurity despite his involvement with the NBA to this day. Perhaps it will be that same tendency to evade attention that will cause the Legend of Shareef Abdur-Rahim to only grow stronger.
*Yes, Wallace played one single game for Atlanta before being bounced to Detroit, just in time for the Pistons' championship run.
[php snippet=1]